GUATEMALA CITY, Guatemala, March 14, 2023.- The United States battled to down Mexico 3-1 (23-25, 25-19, 25-19, 25-20) on Tuesday in pool A at the NORCECA Boys U19 Pan American Cup in Guatemala.
In the first set Mexico remarkably recovered from an eight-point deficit (8-16) to win the first set, challenging the U.S. in every way. United States slowly gained control but still it was a one-on-one clash. This was the U.S. second tournament win (2-0) and Mexico's first loss (1-1).
United States led 53-39 in kills, 9-6 in blocks and 4-3 in serves. Mexico had fewer errors (32-25).
Opposite hitter Finn Kearney and outside hitter Sterling Foley led United States with 16 points each; Finn on 13 kills and three blocks, Sterling on 15 kills and one block. Outside hitter Sean Kelly also contributed in the win with 14 points on 10 kills one block and the most aces with 3.
Mexico's leading scorer was outside hitter Ines Vargas with 15 points on 14 kills and one ace, followed by Victor Miranda with 11 points on 10 kills and one ace.
United States will face Costa Rica (0-1) and Mexico goes against Belize (0-1) on the last day of the preliminary round.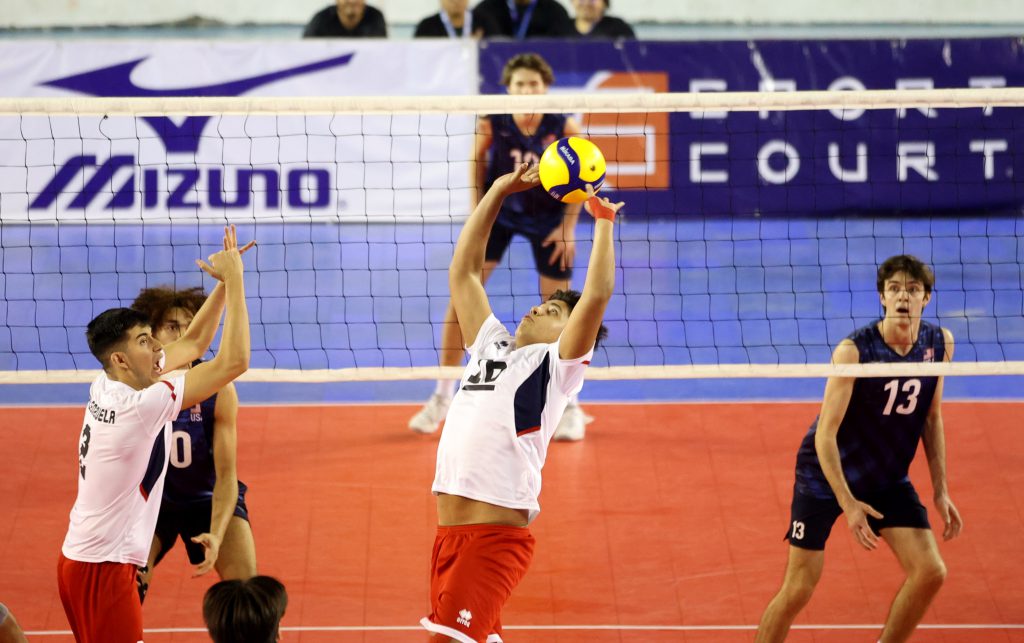 Finn Kearny, top scorer of United States: "The difference from the first set from the rest of the match was our energy and passing, when we were able to get in system, we were unstoppable. Once we got a big lead, and we didn't give up. We expect a lot of wins".
Matthew Fuerbringer, head coach of United States: "We had a high-level match, Mexico was really good and in the first two sets we weren't. In system we were great the entire match, so that was a good improvement from our past match. Mexico dig a lot of balls, they kept everything in play, a well-coached team, a very smart team and that's a great win for us today, they made us compete at a high level the entire match".
Ines Vargas, top scorer of Mexico: "We were focused and more into the game at the start, we tried very hard, we were confident and we came behind from eight points; if we continue to perform like this we might play the final match against them. United States studied us well, our weaknesses and that's how they won".