The Volleyball Nations League 2024 will take the elite of international volleyball to nine countries and four continents during six weeks from May to June, when the Preliminary Phase of the sixth edition of the tournament will take place.
The top 16 female and male national teams in the planet will compete in Asia, Europe, North America and South America before the best eight in each gender battle for titles in the VNL Finals. The women will play from June 20-23 and the men from June 27-30, just a few weeks before the start of the Paris 2024 Olympics, in cities yet to be determined.
Watch the VNL 2024 live and on demand on VBTV.
Besides the host cities (venues will be announced soon), the composition of the six men's and women's pools for the Preliminary Phase was also announced, setting up some exciting duels between the top national teams in every corner of the globe.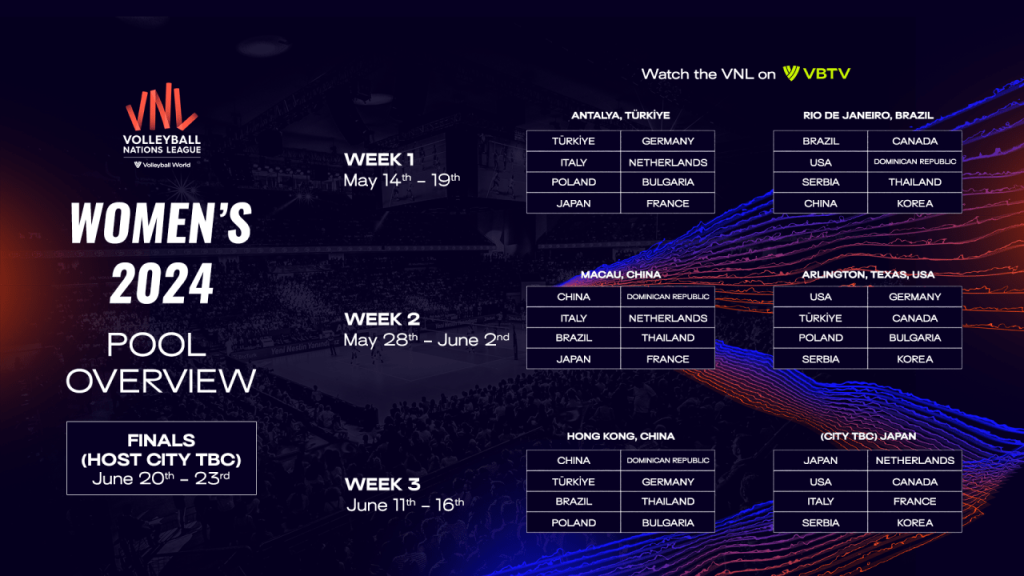 The women will be the first to get on the court, competing in Rio de Janeiro, Brazil, and Antalya, Türkiye, from May 14-19. One week later, the men will start their campaigns at the same locations.
From Europe and South America, the VNL 2024 will head to Asia and North America. The women will play in Macau and Arlington, Texas, USA (the host city of last year's VNL Finals), from May 28-June 2, with the men battling in Japan (with the host city to be confirmed), and Ottawa, Canada, from June 4-9.
The Preliminary Phase will come to an end for the women from June 11-16, with pools hosted in Hong Kong and Japan. In the following week, the men will complete their schedules in Ljubljana, Slovenia, and Manila, the Philippines.
The top seven teams in each gender will advance to the VNL Finals, as well as the host countries.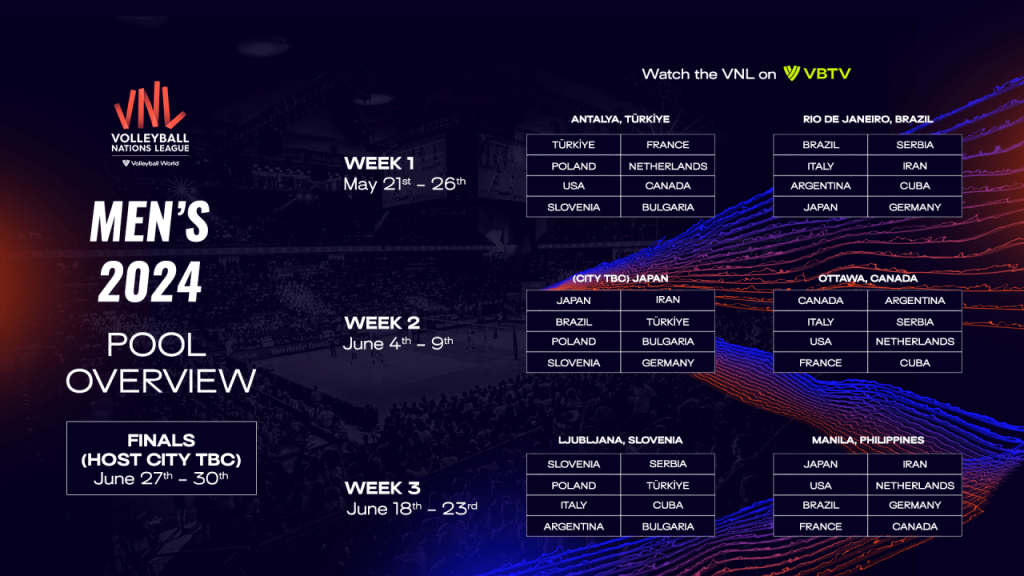 The 16 women's national teams competing in the VNL 2024 will be Brazil, Bulgaria, Canada, China, the Dominican Republic, France, Germany, Italy, Japan, Korea, the Netherlands, Poland, Serbia, Thailand, defending champions Türkiye and the United States.
The men's title will be contested by Argentina, Brazil, Bulgaria, Canada, Cuba, France, Germany, Iran, Italy, Japan, the Netherlands, defending champions Poland, Serbia, Slovenia, Türkiye and the United States.
Olympic Spots in Play
The VNL 2024 will also play a major role in determining the last national teams that will qualify for the Paris Olympics. The result of each match of the tournament's Preliminary Phase will impact the FIVB Volleyball World Rankings, which will determine the teams to occupy the last five spots in next year's Games.
As of now, Brazil, Canada, Germany, Japan, Poland and the United States are guaranteed on the men's side while Brazil, the Dominican Republic, Poland, Serbia, Türkiye and the United States have qualified among the women – host country France will also be represented on both genders.