HERMOSILLO, Mexico, July 23, 2023.- Argentina defeated Peru 3-1 (24-26, 25-19, 25-21, 25-21) to win the Bronze Medal at the sixth edition of U23 Women's Pan American Cup on Sunday at the Sonora Arena in Hermosillo, Mexico.
Argentina ends the event in third place with 4-2 record and Peru in fourth with 3-3.
This Argentina's second bronze medal in the history of the event, they finished third in 2012 and in 2016 they won the silver medal.
Argentina recovered from losing the first set to win the second coming from a four-point deficit (15-19) to win the set 25-19 scoring 10 consecutive points. Peru trailed in the third 16-24 but came off short with Argentina finishing 25-21. Argentina won the fourth and final set 25-21.
Argentina led 53-48 in attacking points. They held a slight 10-9 margin in blocks and finished with a comfortable 11-6 advantage in points from serves. Argentina committed 24 unforced errors and Peru 25.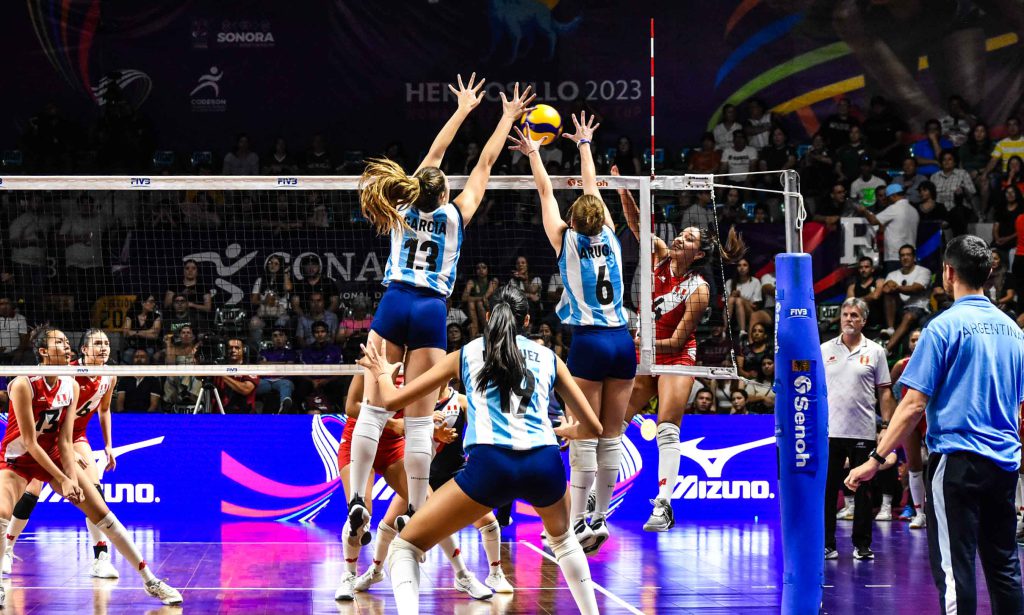 Middle blocker Avril Garcia of Argentina led all scorers with 24 points, on 17 attacks, five blocks and three aces. The other Argentinean player who scored double digits was outside hitter Milena Margaria who contibuted with 13 points.
Three players from Peru finished with double digits, led by opposite Maria Paula Rodriguez (17 points), team captain Alondra Alarcon (15 points) and outside hitter Aixa Vigil (12 points).
Martin Ambrosini, coach of Argentina: "We lost the first set playing better than Peru, but we were a bit shaky in crucial moments, and it cost us. We were trailing in the second set, and some of the girls felt the fatigue from the previous matches, so we rotated the team, and the players who came in did well. That gave us some breathing, and we were able to play our game, which we could sustain in the following sets".
Julieta Aruga, captain of Argentina: "I'm happy with the bronze medal. We started well in the first set, but at one point, we stopped fighting, and they took advantage. We were able to turn the match around by playing well from the second set forward. The serving helped us a lot".