SANTIAGO, Chile, November 1, 2023 – Argentina claimed the top spot in Pool B after defeating Chile 3-0 (25-15, 25-20, 25-21) on Tuesday in front of a packed Arena Parque O'Higgins. Argentina earned a direct ticket to the semifinals of the Men's Volleyball tournament at Santiago 2023.
Defending champion Argentina advanced to Friday's semifinals with an undefeated 3-0 record. Chile, second-place team in Pool B, will face Colombia in Thursday's quarterfinals.
Argentina led Chile with a 41-37 advantage in attacks and a 7-2 margin in blocks. Both teams leveled with 2 aces. Argentina benefited from 25 errors by Chile while committing 15.
Opposite hitter Bruno Lima and captain Facundo Conte scored double digits for Argentina, with 18 and 10 points, respectively. Outside hitter Mauro Zelayeta added 8 points.
Vicente Parraguirre, with 17 points, once again was Chile's top scorer. Middle blocker Tomás Gago contributed 7 points.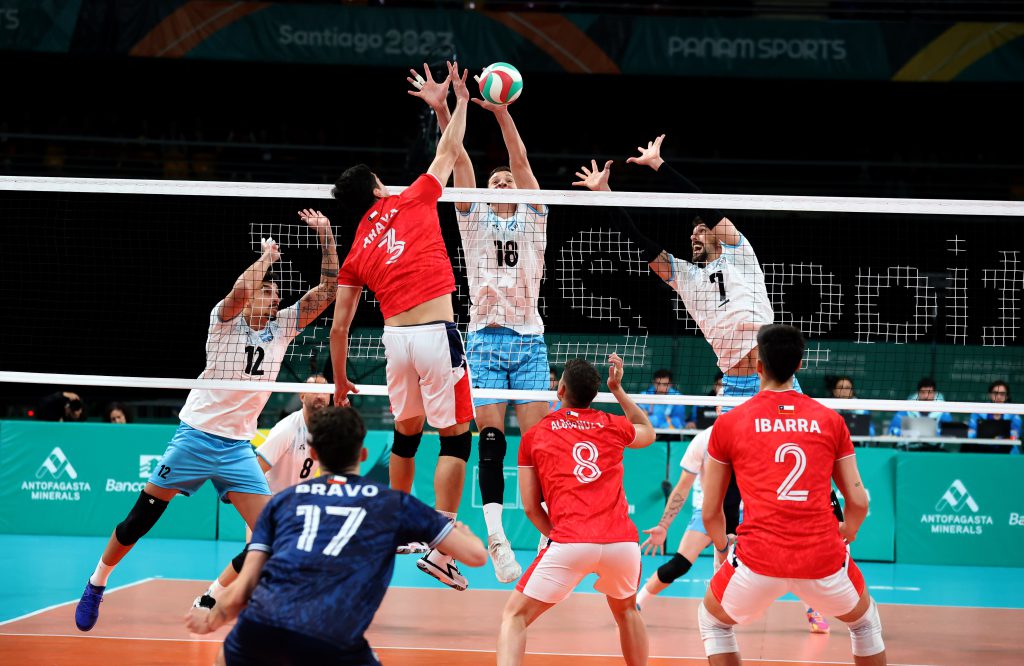 With the offensive contributions of Lima and Conte, Argentina comfortably took the first set. The second set was a different story, with Vicente Parraguirre's efforts preventing Argentina from advancing comfortably. They were tied at 10 points, but Argentina resolved the set with precise blocking and capitalizing on Chile's errors.
The third set was the most contested, with Chile making a comeback on consecutive points from Tomás Gago, resulting in the score being tied on several occasions. Argentina managed to close in straight sets, benefiting from Chile's errors and attacking efforts from Lima and Zelayeta.
Bruno Lima from Argentina said, "We played a good match where everything worked well. Today, we found our best game. We are here to defend the title, and we hope to continue showing our best volleyball in the semifinal".
Middle blocker Tomas Gago of Chile commented, "It's a shame that we didn't find our game. We come from two exciting victories. We need to figure out what happened with the team, analyze where we went wrong, and gather the motivation so that tomorrow we can secure a spot in the semifinals".
Daniel Nejamkin, coach of Chile congratulated Argentina, "They played very well, showed their class, and have players who are Olympic medalists. We were beaten by a team that played better. We need to analyze the situation. I spoke briefly with the players, and we all agreed that we need to turn the page and focus on tomorrow's match, which will determine who qualifies to the medal zone".