SANTO DOMINGO, Dominican Republic,March 7, 2023.- International Olympic Committee president, Thomas Bach of Germany, said to be highly satisfied that the Dominican women's volleyball national team has qualified for three Olympic Games, indicating the Project of National teams of Dominican Republic as "very productive".
Cristóbal Marte Hoffiz, president of the women's project, Alexis García, president of FEDOVOLI and Nelson Ramírez, director of the men's team, explained to the IOC president the way they manage the age-group categories of the institution.
"IOC president Thomas Bach had many questions, which we answered, and he claimed to be surprised that a small Caribbean country is ranked number eight in the FIVB world ranking" , said the FEDOVOLI vice president.
Marte Hoffiz introduced Bach to several members of the women's team, youth, junior, under-23 and some of "las Reinas del Caribe" who are in Dominican Republic, as well as members of the coaching staff. He also learned about the men's volleyball project and beach volleyball.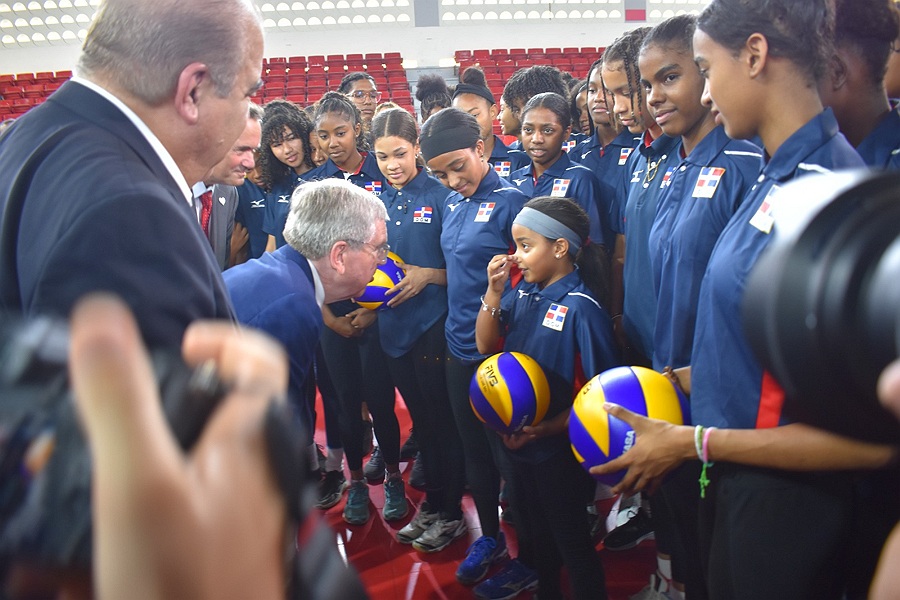 "Welcome, Mr. President Bach", that' how the IOC president was greeted, who said excited: "very well, how are you, come closer, I like to speak with athletes and get to know how they feel".
When he spoke with Niverka Marte, captain of the Senior Team, he learned that she speaks several languages, including German, his native language and laughed of joy. He also spoke with one of the girls of the women's volleyball initiation category and gave them a big hug of encouragement.
"I have seen you on television playing, defending the colors of your country in international competitions and I congratulate you all for being champions at the Pan American and Central American Games", which filled Niverka Marte with joy.
Bach also greeted some of the Executive Committee members, as well as volleyball immortal Heyda Joaquín, Cosiris Rodríguez and Milagros Cabral, who is the current General Director of the National Project.