SANTIAGO, Chile, October 28, 2023.- Head coaches spoke ahead of the Men's Volleyball Tournament at the 2023 Santiago Pan American Games that kicks off on Monday at the Arena Parque O'Higgins.
The competition that runs from October 30 to November 4 will start with three days of pool-play. Pool A consisting of Brazil, Colombia, Cuba and Mexico, and Pool B composed of defending campions Argentina, Puerto Rico, Dominican Republic and host Chile.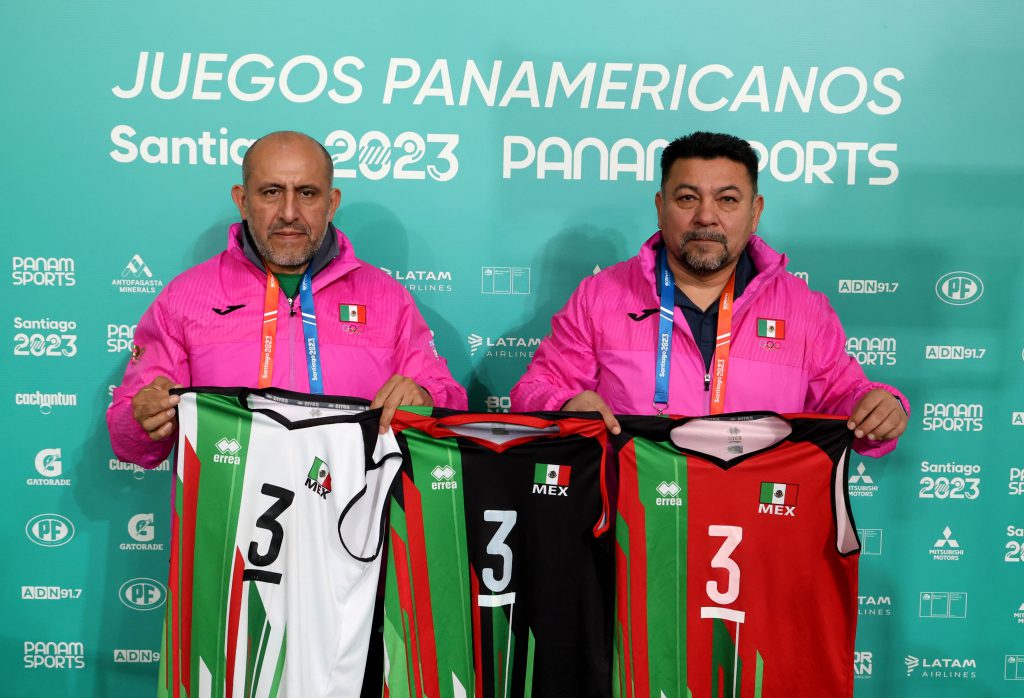 Ariel López Martin, Head Coach of Argentina: "As defending champions, we have a responsibility. Certainly, this time we haven't arrived in the best training conditions, considering the schedules and commitments of the top players competing in Europe. However, we come with the same expectation of trying to have a great tournament. We set short-term goals, one match at a time. Argentina's goal has always been to be a leading contender, and hopefully, the competition allows us to contend for a medal. Our primary focus today is our debut against Puerto Rico".
Giuliano Ribas "Juba", Head Coach of Brazil: "We expect to have balanced games. In our group, there are teams we have already faced this season, in the South American Championship. Colombia even played a very tough match against us. We have prepared as much as possible to have a good debut. Then, the sequence also affects the team in terms of the volume of play, a lot of defenses. Cuba has a very strong attacking power, so we must prepare well in this group qualification phase and then the crossovers that come from the other group. The matches will be balanced from start to finish, and we have to be well-prepared to neutralize the opponent's qualities".
Jorge Schmidt, Head Coach of Colombia: "We come to this tournament opened to learn. Colombia is in a process of evolution, and we see that the Federation, the Olympic Committee, and the Ministry of Sports are showing a lot of interest and have given us a few extra days of training. However, like all teams, we face the reluctance to release our athletes from their clubs, but we don't complain. Our team is competitive, and we're giving it our all".
Daniel Nejamkin, Head Coach of Chile: "We are proud and excited to know that all the tickets to enjoy volleyball are sold out. We are aware that the tournament will be very tough, highly competitive because almost all the countries brought their top teams, and those who haven't have brought four or five key players. We hope to play for a medal, thrilled to play at home and with the thought that with the support of the fans, we can achieve a medal".
Jesús Ángel Cruz, Head Coach of Cuba: "For many of the athletes on the team, these are their first Pan American Games, so the competition has twice the importance. Many of them are quite young, because it was challenging to put a team together due to club season, but those who are here wish to show their quality of play and abilities, seizing the opportunity to be part of the national team. The primary goal, like all the teams here, is to be among the top four".
Alexander Gutiérrez, Head Coach of Dominican Republic: "It's been more than 40 years since the Dominican Republic last qualified for the Pan American Games. Our intention is to enjoy and continue to benefit from acquiring experience because this is a group for the future. We've had an incredible season, and we'll try to do our best to keep showing that we are still growing".
Jorge Azair, Mexico Coach: "I'm happy to be at another Pan American Games. The team is motivated, with the expectation of pursuing a medal. We know that all the teams have the same goal, so we'll take it step by step. We've been working hard, and there have been some changes due to injuries and retirements".
Oswald Antonetti, Puerto Rico Coach: "Half of the players are playing with their universities in the United States and some clubs in Europe, while the other half has been competing on the island in our professional league. We're coming together for this tournament. It's a very intriguing competition, and we see real opportunities to achieve victories. We have a special spirit to represent our island with dignity here at the Games, and that's how we will approach the tournament".