JUANA DIAZ, Puerto Rico, May 12, 2023.- Costa Rica caused a major upset defeating Dominican Republic in five thrilling sets 3-2 (20-25, 28-26, 22-25, 25-22, 15-13) to move into semifinals of the U19 Girls NORCECA Pan American Cup in Puerto Rico.
Costa Rica will face the United States in semifinals, while Dominican Republic will play the classification matches for positions five to eight. The other semifinal will be between the host Puerto Rico and Mexico, who earlier won their quarterfinal also in five sets to Canada.
Costa Rica had the personality and enough energy to keep the scores close dominating Dominican Republic who struggled to find their usual rhythm of play.
The Central American champions held advantage over Dominican Republic on multiple occasions during their performance, solving with a comfortable 13-8 margin in serves and allowing 36 points from errors. Dominican Republic led in attacks 53-21 and 11-10 in blocks, committing 33 unforced errors.
Costa Rican captain Angélica Rodríguez was the leading scorer of the match with 29 points on 25 kills and four blocks. Outside hitter Joselyn Moraga added 10 points on 8 kills and two services.
Dominican Republic's top scorers were outside hitters Katielle Alonzo with 26 points on 23 kills and three blocks, joined by opposite Ariana Rodriguez with 23 points on 19 kills, three blocks and one ace.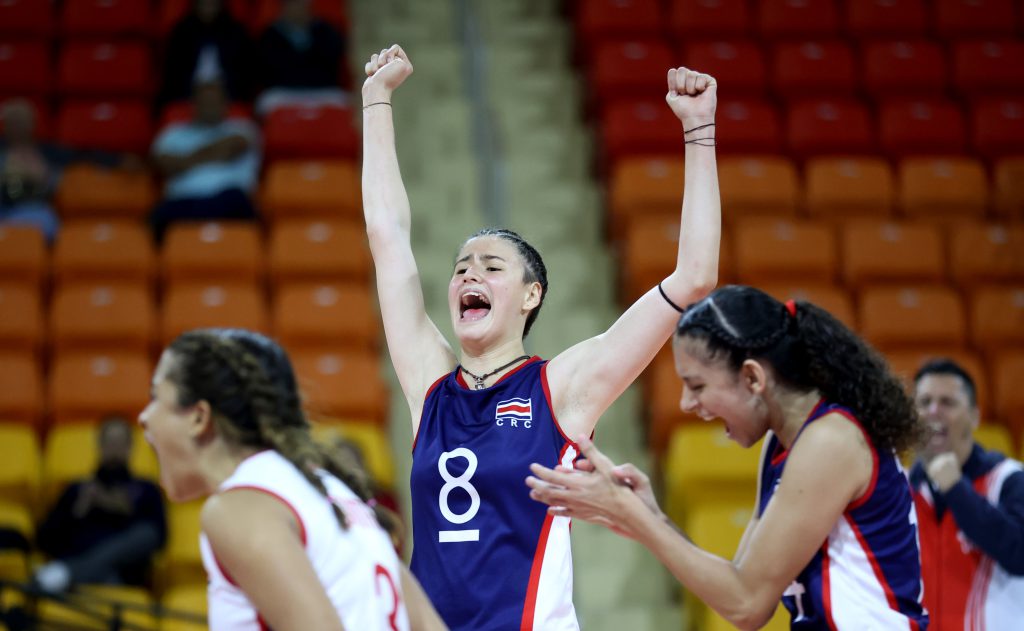 Angélica Rodríguez, captain of Costa Rica: "The key to our success today was attitude. We never gave up. We were aware of the great team they are, the good players they have and their prototype, but we never stopped believing in ourselves. I want to thank my team's effort; I was confident in myself and what I did was transmit that security and confidence to my team".
Ailyn Liberato, captain of Dominican Republic: "Our game level was too low, because of our excess of confidence. Costa Rica had more desire to win, they wanted to battle more than us, they left all on the court, a respectful opponent".
Edivaldo Bonilla, coach of Costa Rica: "As the tournament develops, the team is growing and looking better. Maybe from ten matches we play against Dominican Republic me might win one and it was today, a historic win for our volleyball. I want to thank all the coaches who have taught these girls from little, it's a recognition to their work and today we are enjoying the win. Tomorrow we will face the best team of the area and we will come out to compete".