SAN SALVADOR, El Salvador, June 28, 2023.- Cuba started their 2023 CAC Games campaign defeating Suriname in straight sets 3-0 (25-20, 25-12, 25-19) in Pool A of the Men's Volleyball Tournament at the Sports Palace Carlos El Famoso Hernandez in San Salvador.
Cuba, who finished week 2 at the Volleyball Nations League, rested some key players in their first performance while Suriname battled stronger in the first and third sets.
Cuba outplayed Suriname with 30 points from kills against 21, with a 9-6 advantage in blocks and a 5-0 margin in points from serves. Cuba allowed 31 points from unforced errors and Suriname 24.
Opposite Miguel Gutierrez and team captain Osniel Mergarejo led Cuba's offense with 13 and 10 points respectively. Gutierrez scored from 10 kills and 3 aces, while Mergarejo had 8 kills, one block and one ace.
Suriname's leading scorer was Zefanio Breinburg with eight points on 6 kills and two blocks.
On thursday Cuba (1-0) will face Dominican Republic (1-0) and Suriname (0-1) meets with Mexico (0-1).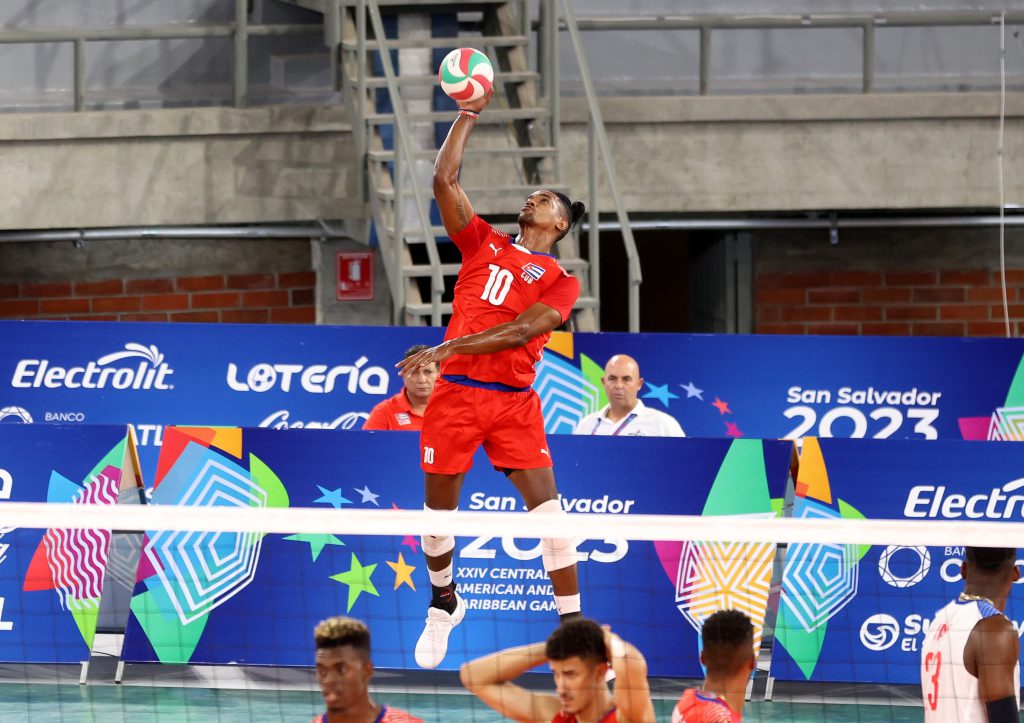 Osniel Mergarejo, captain of Cuba: "The Central American Games are very important for us. Some players rested today because we're coming from VNL, and other bench players played so we can prepare as a team to reach the final. Suriname was excellent, they are improving and it was a good match, their coach is Cuban and we respect them".
Zefanio Breinburg, top scorer of Suriname: "It was a good performance for us, we started great. We came to leave it all on the field, show what we got and to play hard, let's see where we stand against Cuba. The team had good kills; it was a good start".
Nicolás Vives, Head coach of Cuba: "I made some variations to preserve our libero who had a small injury in France, and we want him to be well for the final matches here. The game had a good Flow, our opponent didn't ask much of us, but the guys did well. We are focused on improving some skills to have better results. We are coming for the gold; this group has never been Central American Champion".
Carlos Orta Fellove, Head Coach of Suriname: "I told my guys that they had nothing to lose against Cuba, on the contrary, they had a lot to win. The team performed well against Cuba that has a better game level than ours. This team is amateur, facing a professional team and they did well, showing they can win one or two matches".