HAVANA, Cuba, June 9, 2023.- Cuba became the first candidate to win the gold medal of the U21 Men's Norceca Pan American Cup beating Puerto Rico in semifinals without setbacks in straight sets 25-20, 25-14 and 25-21.
Efficient blocking and a strong serve were the two lethal weapons used by the host against Puerto Rico, in a match where they were also better in kills (37-25) y blocks (15-5), and committed fewer unforced errors (19-22), a difficulty for this team. Puerto Rico was successful with 6 aces against one from their opponent.
The offence of the home team was balanced between its setter Yonni Iglesias and three players who scored double digits, outside hitters José Ramón Gómez (18) and Bryan Camino (12), and opposite hitter Alejandro Miguel González (10). The most productive player of Puerto Rico was opposite hitter Jamal Ellis with 14 tallies.
With this performance the host team improved that of 2022 when they finished fourth place after losing the bronze medal to Canada.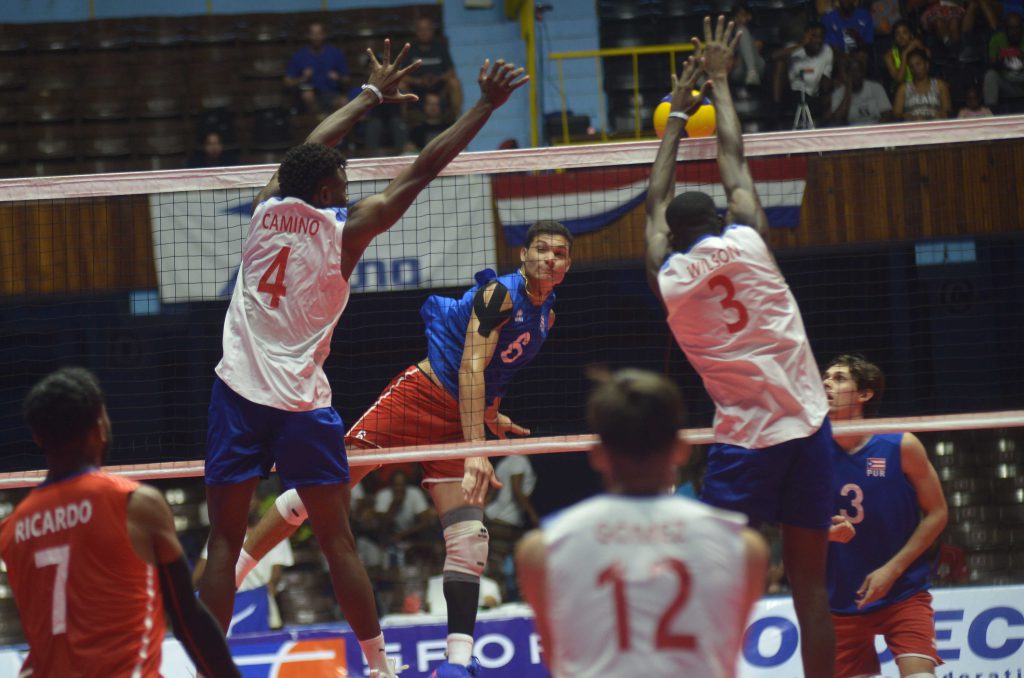 Jesús Cruz, Cuban coach, said that when playing a semifinal there is always tension y even more with young players, "but the match ended like we forecast during the meeting when we studied our opponent. The boys followed instructions, our blocking worked perfectly, and we committed fewer errors in serves".
Outside hitter Gomez said "in the beginning we weren't accurate, while starting every set we were close, but then we moved forward and held the advantage we needed to stay calm. We followed the instructions of our coaching staff, and we carried out the tactical plan. We are satisfied and with all the energy to battle for the gold tomorrow".
Puerto Rico's coach Carlos Rodriguez said "we couldn't control the emotions during the first set, we were 19-19. The emotion and lack of focus made us commit errors, after dominating the first set. I believe Cuba pushed in blocking and serves which hurt us a bit, we tried to keep adjusting and we were able to find something in the third set, but then again, their force damaged us. Now to fight for the bronze".
Antonio Luis Feliciano, captain of Puerto Rico, said "we started well and with lots of energy, but we lost concentration at the end of the first set, and it followed the rest of the game. We were aware that Cuba is a tall team, very athletic and with strength, we prepared well, however our lack of focus made us get away from the match. Nevertheless, our heads are still high to battle for the bronze medal".