POZA RICA, México, November 9, 2023.- Dominican Republic dominated Nicaragua 3-1 (29-27, 16-25, 25-21, 25-21) in its first win at the NORCECA Boys' U17 Continental Championship being held at Miguel Hidalgo Gymnasium in Poza Rica, Mexico.
Dominican Republic (1-2) finished third place in Pool B and will play for the fifth and sixth place of the event on Saturday. Nicaragua (0-3), fourth in the pool, will compete for the seventh place on Saturday, and the loser will have an additional game on Sunday for positions eight and nine.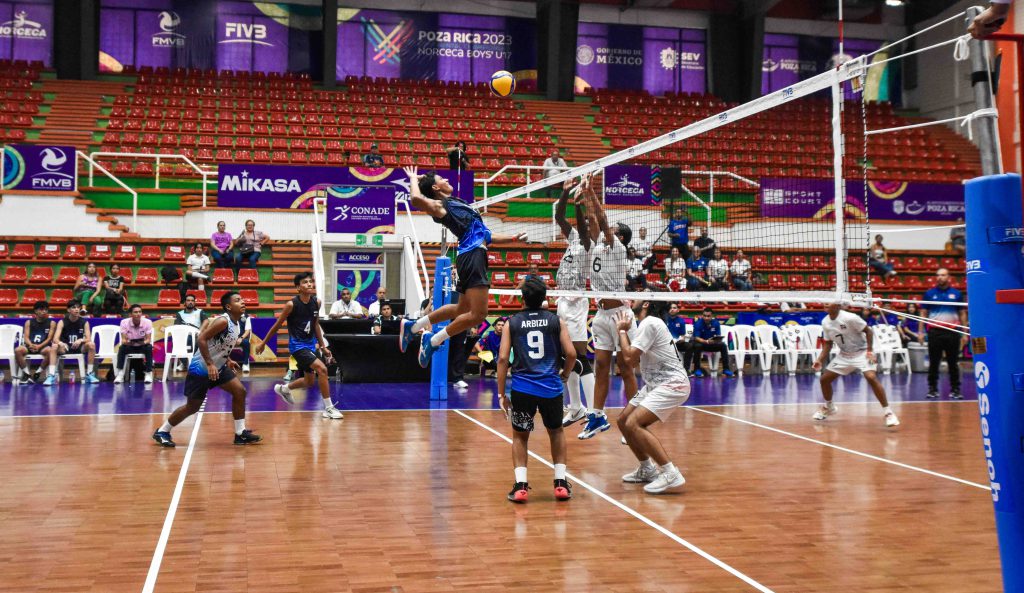 Dominican Malik Britton was unstoppable, scoring 31 points (29 kills, one block, one ace), a tournament-high so far. Team captain Allen Baldera contributed 14 points (11 kills, one block, two aces), and middle blocker Marvin Rodríguez added 13 points (8 kills, 4 blocks, one ace).
Nicaragua's middle blocker Ismael Martínez scored 23 points (22 kills, one block), and outside hitters Bradley Cordon and Joshuan Rivas contributed 14 and 11 points, respectively.
Dominican Republic held advantages in attacks (55-45) and blocks (10-5), while Nicaragua led in aces (7-5). Dominican Republic committed more unforced errors than Nicaragua (37-25).
Before Dominican Republic won the first set, Nicaragua lost two set points and then outperformed the Dominican team in the second set. Dominican Republic recovered from a three-point deficit (16-19) to win the third set and from a six-point deficit (8-14) to win the fourth set.
Michael Ramírez, setter of Dominican Republic, said, "We started the game to slow, into Nicaragua's rhythm. The coach made the necessary changes for us to recover. We all worked together to achieve the victory".
Ismael Martínez, Nicaragua's top scorer, said, "It was a tough match, and we didn't do a good job throughout the game. This has been our best match so far because we are more in sync. Unfortunately, we didn't get the victory".