MANAGUA, Nicaragua, September 12, 2023 – Marcela Araya, team captain of Costa Rica was named the Most Valuable Player (MVP) of the XXII AFECAVOL Women's Senior Central American Cup, which concluded on Tuesday at the Alexis Arguello Sports Complex.
Araya played a crucial role in helping Costa Rica win its 19th title in the history of this tournament, with 16 of them in a row. Araya also received the award for Best Outside Hitter. Her teammate, María José Castro, received recognition as the Best Defese and Best Libero.
The Best Service award went to María Andrea Santa Cruz from Guatemala, the Best Receiver award was given to Carmen Chávez from El Salvador, and her teammate Daniela Sánchez was awarded Best Setter.
From Belize, Nelissa Ramírez was named the second Best Outside Hitter, and Nissan Martínez was the second Best Blocker.
The awards for Best Blocker and Best Scorer went to Ana Gabriela Marcelín from Honduras.
The Best Opposite award was presented to Lolette Rodríguez from Nicaragua.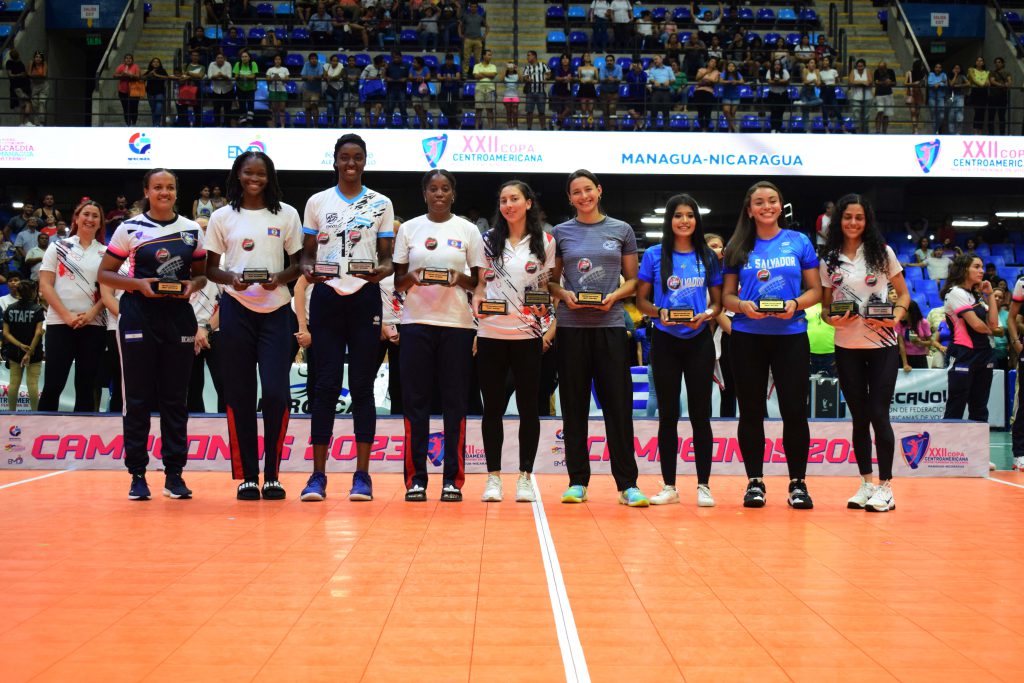 After receiving the recognition as the Most Valuable Player of the event, Marcela Araya said, "It's truly a night filled with many emotions. Thank God we were able to finish strong despite that first set we had. I am infinitely thankful to God for my health, for allowing me to play for almost 17 years with the national team, which makes me proud. I am happy to have ended my indoor volleyball career with this group of warriors; that's what they are, and now it's time to celebrate".
She added, "I also want to thank the coaching staff, each and every person who supports us, and the girls for their commitment, which is reflected on the court, but it's the result of what we have cultivated during our training".
Costa Rica's coach, Pablo Acuña, praised Marcela, saying, "She is a player who is prepared to be the best in every game, with an exemplary work ethic. Today, she bids farewell to the National Team; it was her last game, and she deserves all the highest honors as the best player of the event".