PARIS, France, October 2, 2023.- For a second consecutive time, after the Hamburg Elite16 in August, Taryn Kloth & Kristen Nuss of the United States lost to top-seeded Duda/Ana Patricia of Brazil in the women's final to settle for silver, their second on the Tour.
The second-seeded Americans also have four gold and one bronze medal in their showcase.
The Paris Elite16 Beach Por Tour took place at Roland-Garros Stadium from September 27 to October 1.
The Paris bronze went to last year's Paris Elite16 winners Katja Stam & Raisa Schoon of the Netherlands, who won 2-0 (21-17, 22-20) over Gottardi & Megegatti of Italy.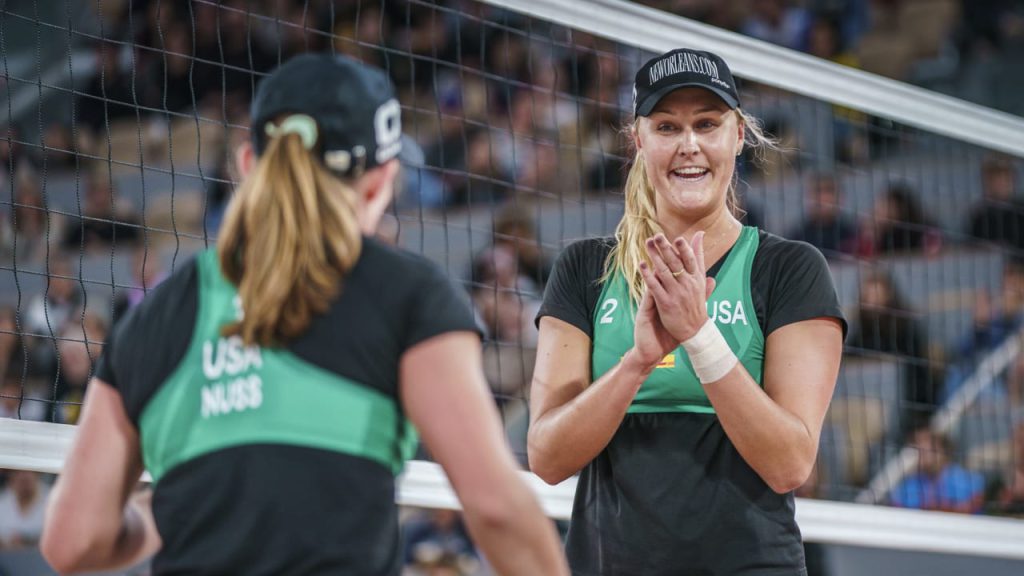 In Sunday's gold medal game, Ana Patricia & Duda and Nuss & Kloth engaged in a three-set battle at the end of which the Brazilians celebrated a 2-1 (21-10, 18-21, 15-13) victory. The South Americans were really convincing during the first set to win it by a wide margin, but the North Americans came back to gain control in the second, level the match and push it to a tie-breaker.
In semifinals, Nuss & Kloth beat Italians Gottardi & Menegatti 2-0 (21-13, 21-17).
VW Beach Pro Tour Paris Elite16: all results
NORCECA teams final standings
Women: 2. Nuss/Kloth (USA), 5. Melissa/Brandie (CAN), Hughes/Cheng (USA), 9. Scoles/Flint, 13. Cannon/Kraft, 17, Pavan/McBain, 21. Alix/Harward.
Men: 9. Partrain/Benesh (USA), 17. Crabb Tr./Brunner, 21. Evans/Brudinger (USA), Schalk/Bourne.