Guadalajara, August 16, 2023.- The United States got its second win in pool A by defeating Chile 3-1 (25-14, 21-25, 25-12, 25-21) at the start of the second day of the XVI Men's Pan American Volleyball Cup.
It was Chile's debut in the tournament, who also will be closing the group stage against Puerto Rico tomorrow.
The United States dominated in attacks, 52-39, blocking, 6-3 and serves 3-2, taking advantage of Chile's 35 errors against their 28.
Parker Van Buren was the top scorer for the United States with 21 points, including 19 on attacks and Kyle McCauley finished with 13 points. For Chile, Tomas Parraguirre finished with 18 points and Vicente Bonacic 12 points.
Chile will face Puerto Rico tomorrow at 2:00 p.m. in search of second place of group A and a ticket to quarterfinals.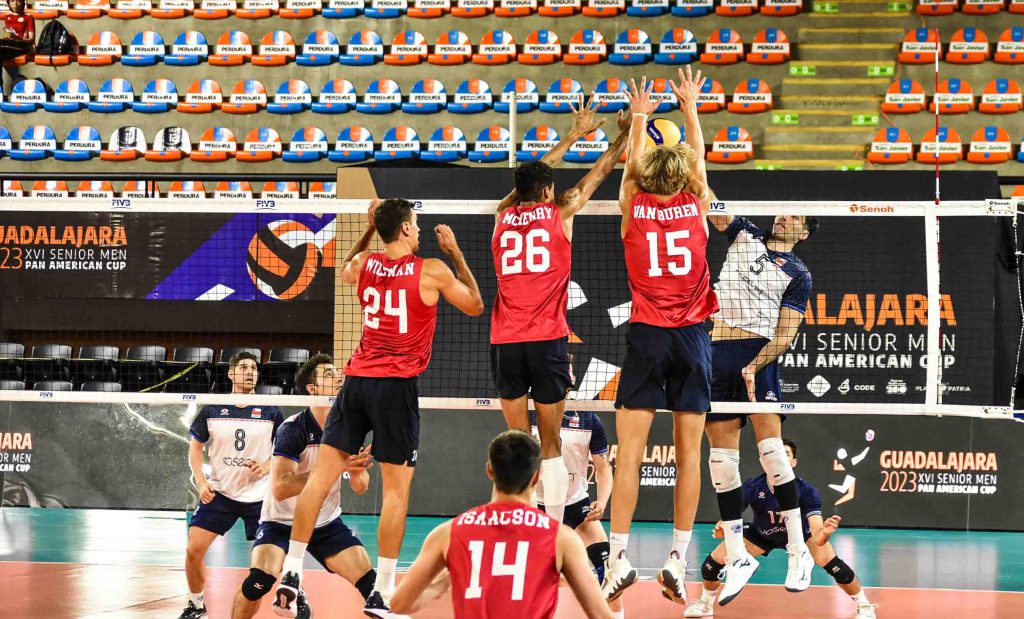 Andy Read, United States coach: "We have good players who do their job in every game, they came in with a very positive vibe, Van Buren, McCauley, Marshman, they all brought something to today's match and that's something very important. McCauley started very well, he was very energetic and that helped us even more."
Kyle McCauley, USA Wing Spiker: "There was a great atmosphere in Guadalajara and that makes me and all the guys on the team feel very good for the game as we came out with great energy. We all contributed a lot to the win today and we feel satisfied about that."
Daniel Nejamkin, Chile's coach: "The United States played very well, we could never find our game; In the second set we managed to find ourselves a little more due to the opponent's mistakes than due to our own successes' points. We hope we can play better tomorrow."