OSTRAVA, Czech Republic, June 2, 2023.- USA's Hughes & Cheng, Cannon & Sponcil and Melissa & Brandie of Canada won their pools to jump into the last eight of the women's Volleyball World Beach Pro Tour Elite16.
Without dropping a single set in pool play, Sara Hughes & Kelly Cheng cruised directly into quarterfinals as one of the four pool winners. So did Canada's Melissa Humana-Paredes & Brandie Wilkerson. Terese Cannon & Sarah Sponcil of the United States and Cinja Tillmann & Svenja Muller of Germany booked the other two direct tickets to the last eight of the tournament.
· Watch all matches at the Beach Pro Tour Ostrava Elite16 event live on VBTV.
Having started off their Ostrava campaign with a straight-set victory over the world's number three team Barbara Seixas & Carol Solberg of Brazil on Thursday, Hughes & Cheng continued their Pool C journey with two more shutouts on Friday. First, the Americans mastered a 2-0 (21-19, 21-18) win over Tokyo 2020 Olympic silver medallists Taliqua Clancy & Mariafe Artacho Del Solar of Australia, seeded third in Ostrava, taking advantage of the many unforced errors of the opponents. Then, they dominated over compatriots Betsi Flint & Julia Scoles on the way to a 2-0 (21-13, 21-11) sweep. The three-way tie between the remaining teams in the pool was resolved on point ratio in favour of Clancy & Mariafe for the runner-up spot and Scoles & Flint for the third place, leaving Barbara & Carol out of contention.
Melissa & Brandie followed up on their two straight-set wins on Thursday with another one on Friday to top the final Pool D standings on a flawless record. The Canadian qualifiers handed another shutout, 2-0 (21-19, 21-16), to fourth-seeded Agatha Bednarczuk & Rebecca Cavalcanti of Brazil.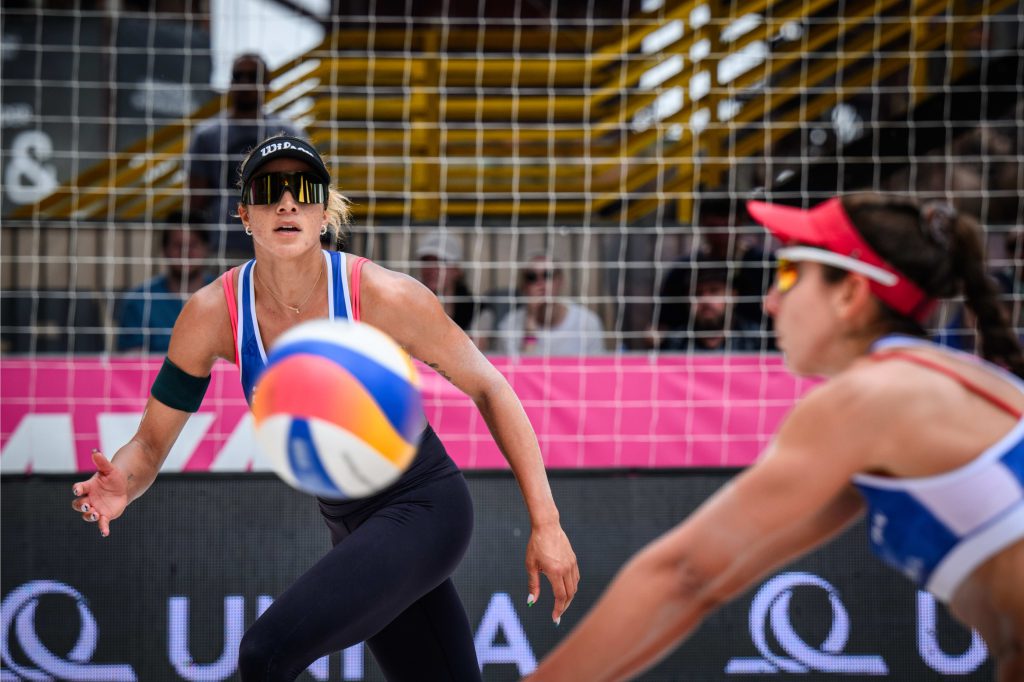 Despite falling 2-0 (21-19, 21-18) to reigning world champions Eduarda Santos Lisboa (Duda) & Ana Patricia Ramos of Brazil, Terese Cannon & Sarah Sponcil kept their place on top of the Pool A table to progress to the quarterfinals. In what proved to be a crucial battle for the third place in the pool, USA's Kristen Nuss & Taryn Kloth claimed a 2-0 (23-21, 21-9) win over European champions Anastasija Samoilova & Tina Graudina of Latvia, their first of the tournament, but enough to overtake the opponents in the standings and send them home.
VW Beach Pro Tour Ostrava Elite16: schedule and results
In men, US qualifiers Miles Partain & Andrew Benesh, finished third in Pool D to stay alive in the tournament, while a three-way tie in Pool A between teams with 1-2 win-loss records was resolved on point ratio which left USA's Crabb & Brunner out of contention.