PONCE, PUERTO RICO, August 10, 2023.- United States earned their ticket to the semifinals of the XX Senior Women's Volleyball Pan American Cup by beating Canada 3-0 (25-17, 25-20, 25 -18) at the Juan "Pachín" Vicens Auditorium in Ponce.
United States, led by outside hitter Simone Lee, unleashed their offense against a Canada who had no points on blocks in the entire game. United States conducted only one block for the point. In attacks, the Americans dominated the Canadians, 40-37, and 8-5 in aces.
American Simone Lee was the best scorer of the match with 16 points (12 attacks, 1 block and 3 aces); Logan Eggleston with 10 points (10 attacks); and Stephanie Samedy with seven. For Canada, Shainah Joseph with 12 points (11 attacks, 1 ace); Vicky Savard with 10 points (9 attacks, 1 ace); and Lay Van Buskirk with eight points (8 attacks).
United States (4-0) finished top of Pool A and will have the day off tomorrow. Canada waits for the closing of the day to know its opponent.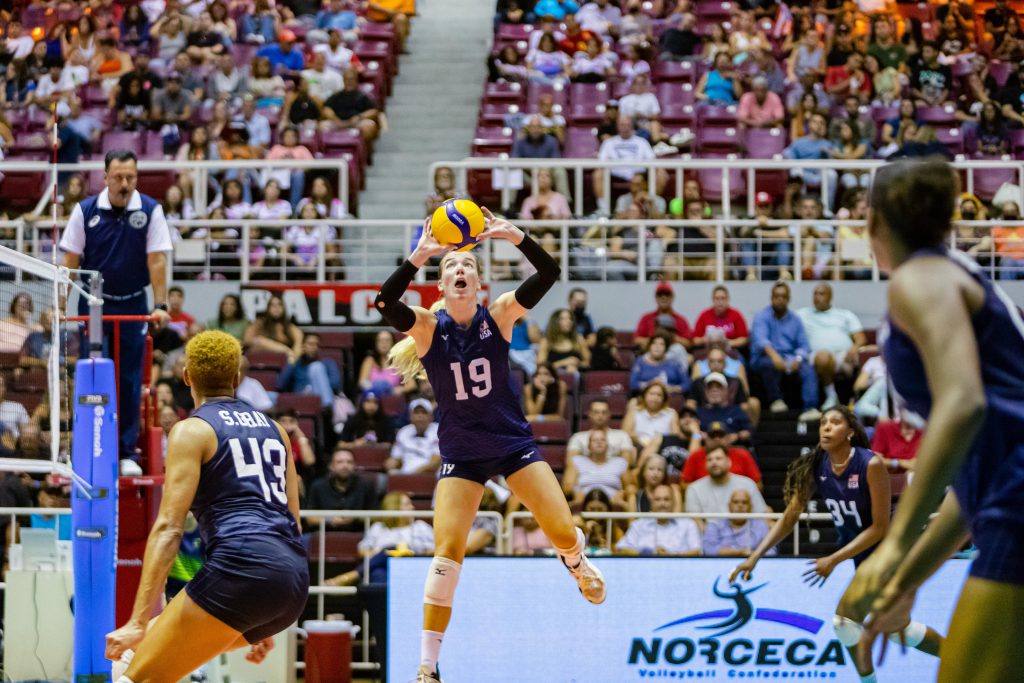 Brad Rostratter, Coach of United States: "It was good. We knew we had the pool locked up, which was great because it allowed us to find a rhythm. And then also continue developing everyone we have and getting lots of work and managing our loads throughout the tournament. Phase two starts now and its rash recover, train and work on some things tomorrow and we'll figure out who we got in the semifinal".
Simone Lee, Best scorer of United States: "It's really exciting. This is like a new group of girls that we're playing with right now. And I think we've just worked so hard to play together as a team and to beat Canada 3-0 was always really nice and to secure our spot in the semifinals on this awesome tournament it's even better".
Shannon Winzer, Coach of Canada: "I think it was a, you know, as much as we lost in three, I thought we played better volleyball than we have been playing and we're still struggling to block balls and I think against a team like the USA who attacked so well, and we need to be able to put up a better block than we did tonight. But some good things, some good service pressure in key moments. And I thought our attackers did a, you know, on the pins, did a really good job than what we've seen. So yeah, yeah, it's fine.  We knew that you know regardless of the outcome of this game we were going to finish second or third, so we really want to rest some players as well, but our expectation is still to get into a gold medal game".