SANTIAGO, Chile, October 25, 2023.- In women's Beach Volleyball semifinals at Santiago 2023, Corinne Quiggle/Sarah Murphy from the United States will face Ana Patricia/Duda from Brazil, while Brandie Wilkerson/Melissa Humana-Paredes from Canada will play Ana Gallay/Fernanda Pereyra from Argentina.
Quiggle/Murphy (USA) won 2-0 (21-18, 21-16) against María Rivas/Chris Vorpahl from Chile, who had the support of hundreds of fans at the Parque Peñalolén Beach Volleyball Center.
Melissa/Brandie (CAN) had no trouble defeating María González/Allanis Navas from Puerto Rico, winning 2-0 (21-11, 21-14).
On the other hand, the world runners-up Duda/Ana Patricia (BRA) won 2-0 (21-12, 21-9) against Lisbeth Allcca/Claudia Gaona from Peru.
Gallay/Pereyra (ARG), silver medalists in the previous edition of the Games in Lima, advanced to the semifinals after winning 2-0 (21-16, 21-17) against Abril Flores/Atenas Gutierrez from Mexico. The Mexican team put up a strong fight until point 15, but from there, the Argentine pair Gallay/Pereyra managed to pull away.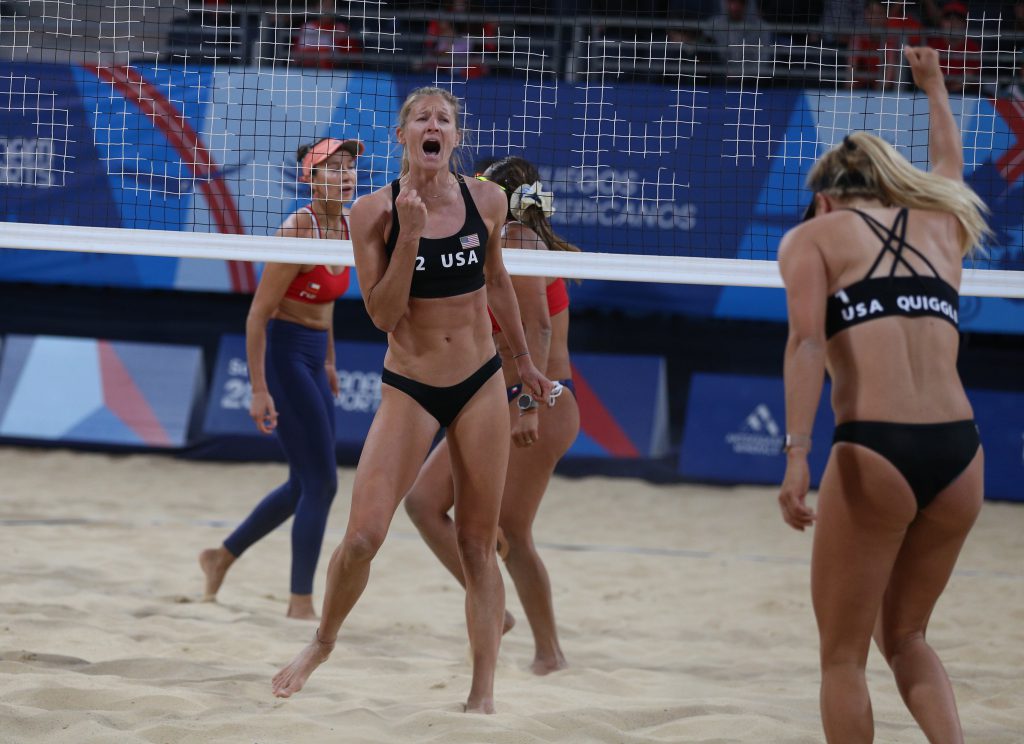 Games on Thursday, October 26:
Classification 5/8
Allcca/Gaona (PER) vs Rivas Zapata/Chris (CHI)
Gutierrez/Flores (MEX) vs González/Navas (PUR)
Position 11: Karelys/Ariana (ECU) vs Erika/Michelle (PAR)
Position 9: Payano/Almanzar (DOM) vs Diana/Margarita G. (COL)
Semifinals
Ana Patricia/Duda (BRA) vs Quiggle/Murphy (USA)
Gallay/Pereyra (ARG) vs Brandie/Melissa (CAN)
Wednesday's results, October 26:
Position 13
Williams/Quesada (CRC) 2-1 (21-18, 15-21, 15-8) N. Girón/Alvarado (GUA)
Position 15
Bianchi/Acuña (URU) 2-0 (21-19, 21-14) Soler/Molina (ESA)
Classification 9/12
Erika/Michelle (PAR) 1-2 (21-16, 19-21, 12-15) Diana/Margarita G. (COL)
Payano/Almanzar (DOM) 2-0 (21-17, 21-14) Karelys/Ariana (ECU)
Quarterfinals
Quiggle/Murphy USA 2-0 (21-18, 21-16) Rivas Zapata/Chris CHI
Ana Patrícia/Duda BRA 2-0 (21-12, 21-9) Allcca/Gaona PER
Brandie/Melissa CAN 2-0 (21-11, 21-14) Gonzalez/Navas PUR
Gallay/Pereyra ARG 2-0 (21-16, 21-17) Gutierrez/Flores MEX