AGUASCALIENTES, Mexico, April 17, 2023.- The 2023 Beach Volleyball NORCECA Tour season is set to kick off in Aguascalientes, Mexico from April 20-24.
Aguascalientes has been the opening event of the NORCECA Beach Tour on three occasions since they joined the NORCECA Tour, hosting in 2018, 2019 and 2022.
The Mexican National Volleyball Federation alongside the Aguascalientes Volleyball Association is preparing for a successful season opener to be staged at the iconic location of Plaza de Armas in downtown of the City of Aguascalientes, the geographic center of the country which is represented by a column called "Exedra" in front of the Government Palace with the Mexican emblem of the eagle devouring the snake.
Fifteen women's teams and seventeen men's teams have been registered for this year's competition in Aguascalientes, representing thirteen countries, expecting to arrive in Aguascalientes on Thursday to go through the preliminary inquiries.
Host Mexico fields four women's teams and three in the men's division, while USA and Canada registered two teams per gender.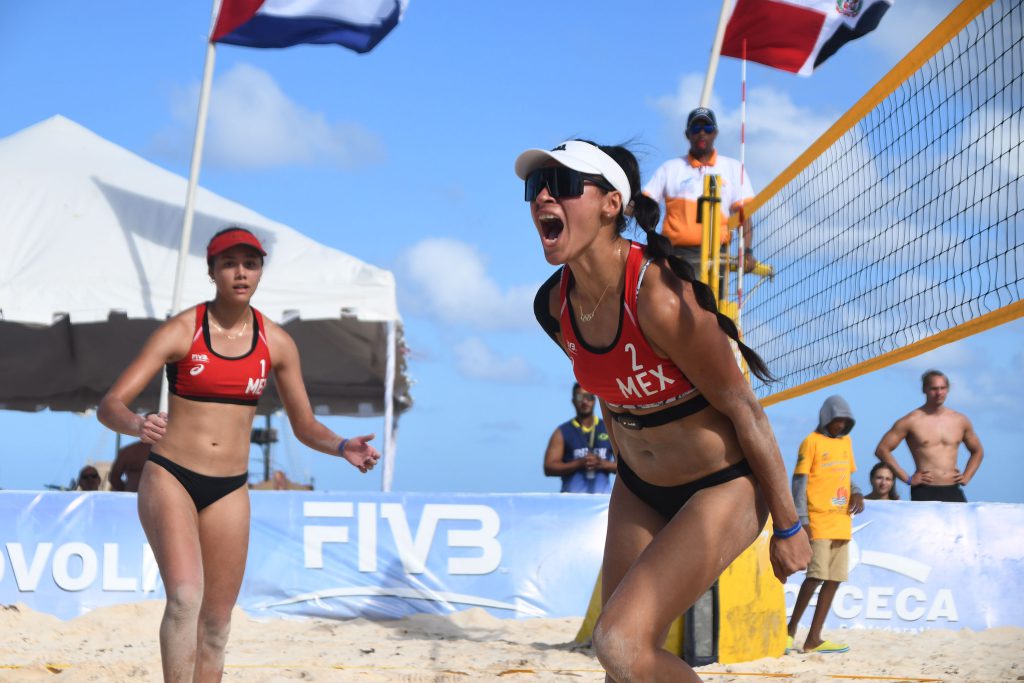 Cayman Islands, Costa Rica, Dominican Republic, Guatemala, Nicaragua and the U.S. Virgin Islands have one team per gender. Bahamas, St. Kitts and Nevis, and Trinidad and Tobago registered one team in the men's division.
This year the NORCECA Tour will revisit the beautiful beaches of Varadero, Cuba and Cayman Islands in May for the second and third stages.
The event will move to Macao Beach in Punta Cana, Dominican Republic in June, followed by two stages in Trinidad and Tobago in Pigeon Beach in July and Maracas Bay in September; and then it's back to the Dominican Republic in Puerto Plata and Juan Dolio Beach in the last week of September and first week of October.
Women's Teams CAN Molly McBaien/Marie-Alex Bélanger, Megan McNamara/Nicole McNamara; CAY Ileann Powery/ Deajra Tulloch; CRC Ángel Williams Paniagua/ Ximena Núñez Muñoz; DOM Bethania Almánzar/ Jeneiry W. Rosario Hernández; ESA Yvonne Soler/Laura Molina; GUA Natalia María Girón Boesche/ Estefanie Bethancourth Guerra; MEX Atenas A. Gutiérrez Guzmán/ Abril Cristina Flores Castro, Yeray Y. Vidaurrazaga Blanco/ Esperanza K. Albarrán Castro, Ana Patricia Valle/ Itzel Karina Vargas Méndez, Julieta A. Muñoz Estrada/ Susana Torres García; NCA Socorro Margarita López Jalinas/ Lolette Eleonor Rodríguez Saunders; USA Katie Lindstrom/ Teegan Van Gunst, Geena Urango/ Carly Skjod; ISV Amber Bennett/ Cristina Almeida-Anz
Men's Teams BAH Jon Isaacs/ Eugene Stuart; CAN Jake MacNeil/ Alexander William Russell, Samuel Schachter/ Daniel Dearing; CAY Jesario Ebanks/ Casey Santamaria; CRC Daniel Dyner Villa/ Jhostin Varela Guerrero; DOM Hayerling F. De Jesús Goris/ Oscar José Martínez López; ESA Armando J. Guatemala Hernández/ Franklin Orlando Flores Girón; GUA Andy Alexis Leonardo Blanco/ Luis Augusto García Betancourt; MEX Jorge Barajas/Ricardo Galindo, Gabriel Cruz Mendoza/ Isaías Oziel Aguirre Gallegos, Juan Virgen/ Miguel Sarabia Delgado; NCA Rubén Alejandro Mora Romero/ Dany Antonio López Alvarado; SKN St Clair Hodge/ Shawn Seabrookes; TRI Daneil Williams/ Fabien Whitfield; USA Silila Tucker/ Troy Field, Chase Frishman/ Cody Caldwell; ISV Bryce Mayer/ Robert Cronshaw