AGUASCALIENTES, Mexico, April 23, 2023.- Chase Frishman and Cody Caldwell won the championship match of the first stage of the NORCECA Beach Volleyball Tour in Aguascalientes in a tie-break 2-1 (14-21, 22-20, 15-7) over the home team of Juan Virgen and Miguel Sarabia.
Chase and Cody had a tough start against powerhouse Mexico's Juan Virgen and Miguel Sarabia whose energy in the first set kept them off balance.
"In the first set they beat us well and got the crowd going, I was kind of exhausted. Mexico is a very respectful team, Virgen an Olympian and Sarabia super skilled," said Chase Frishman. "In the second set my partner had a couple of big plays which turned the momentum and could feel his belief which catapulted us; my side-out started to steady out giving me confidence" he added.
For Chase this is his second gold medal, he won in Cuba back in 2018 which is a great comeback to the international tour of NORCECA. As for Cody Caldwell, not only is it his first medal ever, but it's his first time competing at NORCECA.
Caldwell explained about what they did to turn things in their favor, "Mexico played the first set with a lot of force, and we couldn't touch them. We changed our strategy, we started serving more aggressively and I slowed down my block, it was the defense strategy that made the difference".
For Juan Virgen and Miguel Sarabia this is their third silver medal together at NORCECA.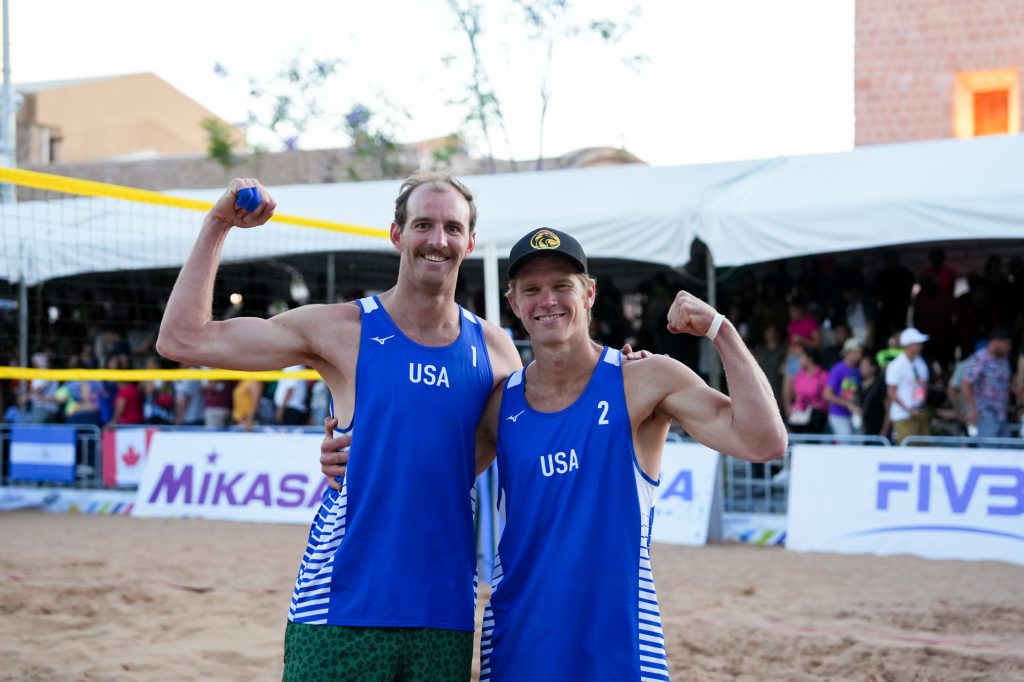 On their way to the gold medal match, Frishman and Caldwell won their semifinal 2-0 (21-14, 21-18) against Canadians Kopp and Chambers. Virgin and Sarabia won the all-Mexican semifinal to Gabriel Cruz and Oziel Aguirre 2-0 (21-15, 21-16).
Liam Kopp and Arran Chambers of Canada won the bronze medal match controlling Mexicans Cruz and Aguirre 21-8, 21-14. This is Kopp and Chambers fourth NORCECA tournament together and their second medal; they also won the bronze medal in Cayman Islands last year. For Liam it's his third bronze medal.
Results and photo gallery at Aguascalientes 2023 NORCECA Beach Tour
Canadians Jake MacNeil and Alexander Russell won fifth place recovering from dropping the first set and then from a two-point deficit (12-14) in the tie-break win 2-1 (17-21, 21-16, 17-15) over Mexicans Jorge Barajas and Ricardo Galindo.
Earlier MacNeil and Russell beat Andy Blanco/Luis Garcia of Guatemala 2-0 (21-16, 24-22) and Barajas/Galindo prevailed 21-13, 21-10 against Americans Brandon Joyner/Alex Diaz Manzano.
Blanco/Garcia earned seventh place due to an injury from Joyner/Diaz Manzano (USA) and Mora/López of Nicaragua won the match for ninth place to Dyner/Varela of Costa Rica 21-17, 21-12.