SEVEN MILES BEACH, Cayman Islands (May 21, 2023) – The duo of Alanis Navas and Maria Gonzalez from Puerto Rico won their second title in the history of the NORCECA Tour after conquering Caiman Islands.
The Puerto Ricans defeated Natalia Giron / Estefanie Bethancourt of Guatemala in the title match in straight sets 21-14, 21-15.
Girón / Bethancourt become the second team from Guatemala to reach the final, Susana Alvarado alongside Lula Ramírez finished second in 2012.
Navas and Gonzalez add their second continental title, their first was in 2022 at Hato Mayor, Dominican Republic. It is the third occasion that Puerto Rico wins at Seven Miles Beach previously Yarleen Santiago / Dariam Acevedo won in 2010 and 2011.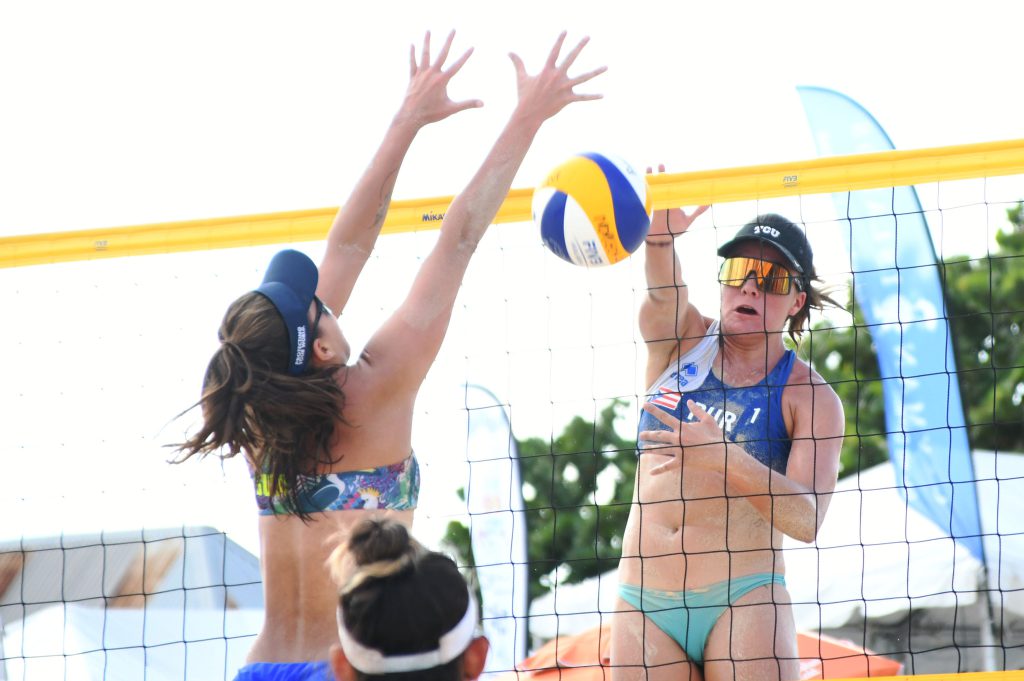 In the match for third place Ruby Sorra / Lea Monkhouse of Canada defeated Cubans Yenifer Rivera/Amanda Armenteros in two sets (21-19, 21-18).
The final day began with the semifinal matches, with Natalia Giron / Estefanie Bethancourt of Guatemala reaching the country's second final after defeating Yenifer Rivera / Amanda Armenteros of Cuba (21-17, 21-14).
In the other semifinal, Alanis Navas / Maria Gonzalez of Puerto Rico had to battle three sets to defeat Canadians Ruby Sorra / Lea Monkhouse (19-21, 21-15, 18-16).
Womens Semifinals – Navas / González (PUR) d. Sorra / Monkhouse (CAN) (19-21, 21-15, 18-16); Giron / Bethancourt (GUA) d. Rivera / Amanda (CUB) (21-17, 21-14); 11th place – López / Silva (NCA) d. Thompson / Gandolfi 9caY) (21-17, 21-17); 9th place – Albarran / Torres (MEX) d. Corah / Goodman (CAN) (15-23, 21-12); 7th place – Kelly Smith (JAM) d. Gutierrez / Flores (MEX) (injury); 5th place – Chacon / DeBerg (USA) d. Soler / Molina (ESA) (21-12, 21-9); 3rd place – Sorra / Monkhouse (CAN) d. Rivera / Amanda (CUB) (21-19, 21-18); Championship Match – Navas / González (PUR) d. Giron / Bethancourt (GUA) (21-14, 21-15)