SANTIAGO, Chile, October 17, 2023 – The Beach Volleyball tournament at the Santiago 2023 Pan American Games to be held at the Beach Volleyball Center at Peñalolén Park from October 21 to 27 will bring together 32 teams, with 16 pairs per gender.
Teams will compete in a preliminary pool stage, with four groups of four teams in each gender.
The top teams in each pool will advance to the quarterfinals, while the second and third-placed teams will play in the round of 16 to determine the eight best teams in the tournament. From there on, semifinals and medal matches will be played.
Additionally, the teams that finish last in their group will compete for the 13th place, just as the losers in the round of 16 will vie for the 9th place, and those defeated in the quarterfinals will play for the fifth position.
Pool Distribution
Women
Pool A: Chile, Mexico, Ecuador, Costa Rica
Pool B: United States, Argentina, Independent Athletes (Guatemala), Peru
Pool C: Brazil, Puerto Rico, Colombia, El Salvador
Pool D: Canada, Paraguay, Dominican Republic, Uruguay
Men
Pool A: Chile, Mexico, Paraguay, Nicaragua
Pool B: United States, Uruguay, Independent Athletes (Guatemala), Bolivia
Pool C: Brazil, Cuba, Colombia, El Salvador
Pool D: Canada, Argentina, Costa Rica, Ecuador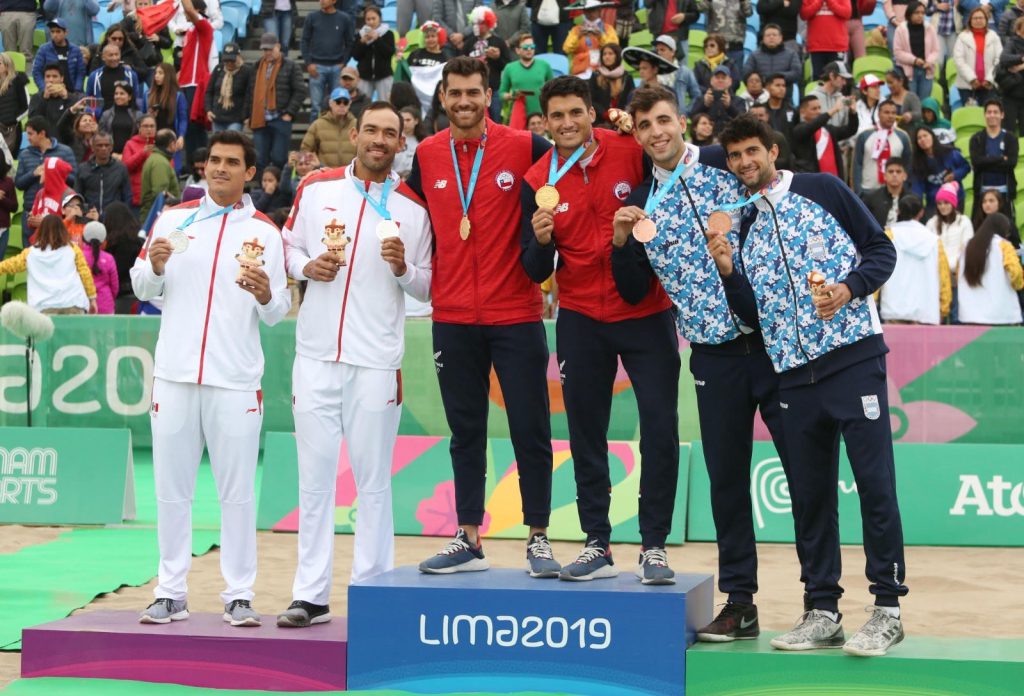 Pool Stage Schedule
SATURDAY, OCTOBER 21
Session 1
Women's Tournament
10:30. Group D: Canada vs. Uruguay
11:00. Pool B: United States vs. Peru
11:30. Pool D: Paraguay vs. Dominican Republic
12:00. Pool B: Argentina vs. Independent Athletes Team
Men's Tournament
12:30. Pool D: Canada vs. Ecuador
13:00. Pool B: United States vs. Bolivia
13:30. Pool D: Argentina vs. Costa Rica
14:00. Pool B: Uruguay vs. Independent Athletes Team
Session 2
Women's Tournament
16:30. Pool C: Brazil vs. El Salvador
17:00. Pool A: Mexico vs. Ecuador
17:30. Pool C: Puerto Rico vs. Colombia
Men's Tournament
18:00. Pool A: Mexico vs. Paraguay
18:30. Pool C: Brazil vs. El Salvador
Women's Tournament
19:00. Pool A: Chile vs. Costa Rica
Men's Tournament
19:30. Pool C: Cuba vs. Colombia
20:00. Pool A: Chile vs. Nicaragua
SUNDAY, OCTOBER 22
Session 1
Women's Tournament
10:30. Pool D: Canada vs. Dominican Republic
11:00. Pool B: United States vs. Independent Athletes Team
11:30. Pool D: Paraguay vs. Uruguay
12:00. Pool B: Argentina vs. Peru
Men's Tournament
12:30. Pool D: Canada vs. Costa Rica
13:00. Pool B: United States vs. Independent Athletes Team
13:30. Pool D: Argentina vs. Ecuador
14:00. Pool B: Uruguay vs. Bolivia
Session 2
Women's Tournament
16:30. Pool C: Brazil vs. Colombia
17:00. Pool A: Mexico vs. Costa Rica
17:30. Pool p C: Puerto Rico vs. El Salvador
Men's Tournament
18:00. Pool A: Mexico vs. Nicaragua
18:30. Pool C: Brazil vs. Colombia
Women's Tournament
19:00. Pool A: Chile vs. Ecuador
Men's Tournament
19:30. Pool C: Cuba vs. El Salvador
20:00. Pool A: Chile vs. Paraguay
MONDAY, OCTOBER 23
Session 1
Women's Tournament
10:30. Pool D: Canada vs. Paraguay
11:00. Pool B: United States vs. Argentina
11:30. Pool D: Dominican Republic vs. Uruguay
12:00. Pool B: Independent Athletes Team vs. Peru
Men's Tournament
12:30. Pool D: Canada vs. Argentina
13:00. Pool B: United States vs. Uruguay
13:30. Pool D: Costa Rica vs. Ecuador
14:00. Pool B: Independent Athletes Team vs. Bolivia
Session 2
Women's Tournament
16:30. Pool C: Brazil vs. Puerto Rico
17:00. Pool A: Ecuador vs. Costa Rica
17:30. Pool C: Colombia vs. El Salvador
Men's Tournament
18:00. Pool A: Paraguay vs. Nicaragua
18:30. Pool C: Brazil vs. Cuba
Women's Tournament
19:00. Pool A: Chile vs. Mexico
Men's Tournament
19:30. Pool C: Colombia vs. El Salvador
20:00. Pool A: Chile vs. Mexico