SANTIAGO, CHILE, October 17, 2023 – The Volleyball competition at the Pan American Games Santiago 2023 will kick off with the Women's Volleyball tournament from October 21 to October 26 at Parque O'Higgins Arena.
The eight teams participating in the competition are divided into two pools. Pool A consists of Argentina, Brazil, Cuba, and Puerto Rico, while Pool B is composed of Colombia, the Dominican Republic, Mexico, and the host country, Chile.
The Dominican Republic is the reigning champion. The Dominicans secured their second gold medal in the history of the Pan American Games, winning the title in the last edition in Lima 2019 over Colombia, ending a sixteen-year drought since their first gold medal as hosts in 2003. The silver medal was Colombia's first medal in the history of the event.
Cuba is the team with the most titles, having won eight gold medals. The last time Cuba reached a championship match was in Guadalajara 2011 when they fell against Brazil, the second team with the most gold medals, four in total. Coincidently, Brazil won their last Pan American Games in Guadalajara 2011.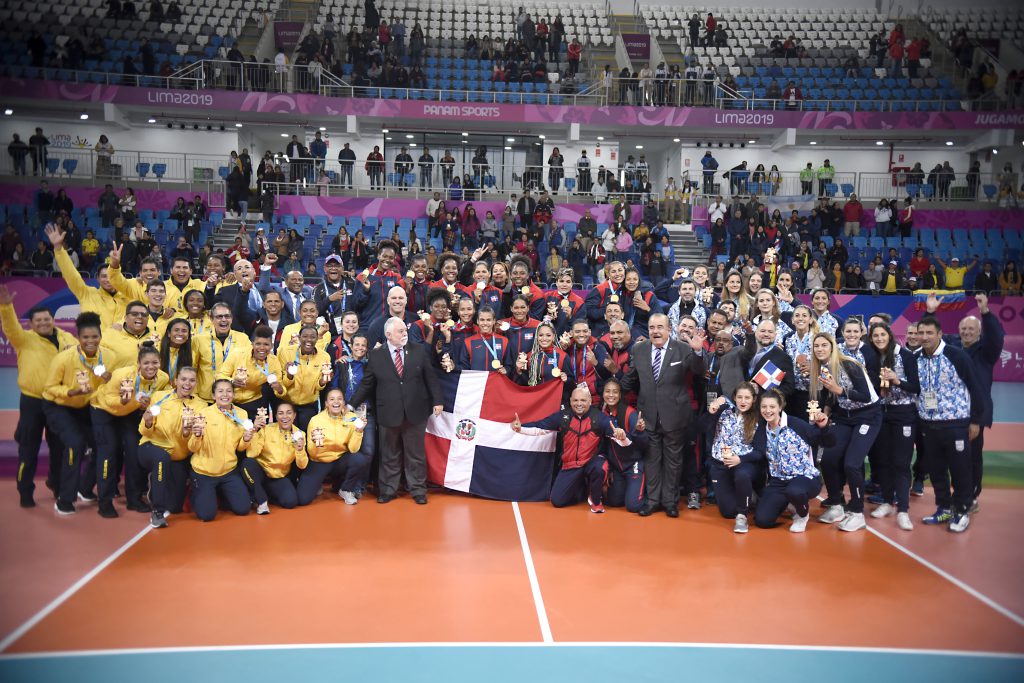 The round-robin preliminary pool stage begins on Saturday, October 21. The top team from each pool will advance to the semifinals. The second and third-place teams will compete in the quarterfinals, with the winner completing the semifinal matchups to be held on Wednesday, October 25. The competition ends on Thursday, October 26, with the medal matches, and prior to that, positions five to eight will be determined.
Group Stage Schedule
Saturday, October 21
10:30 – Pool A: Brazil vs. Cuba
13:30 – Pool A: Puerto Rico vs. Argentina
17:30 – Pool B: Colombia vs. Mexico
20:30 – Pool B: Chile vs. Dominican Republic
Sunday, October 22
10:30 – Pool A: Puerto Rico vs. Cuba
13:30 – Pool A: Brazil vs. Argentina
17:30 – Pool B: Dominican Republic vs. Mexico
20:30 – Pool B: Chile vs. Colombia
Monday, October 23
10:30 – Pool A: Brazil vs. Puerto Rico
13:30 – Pool A: Argentina vs. Cuba
17:30 – Pool B: Dominican Republic vs. Colombia
20:30 – Pool B: Chile vs. Mexico
Women's Podium
| | | | |
| --- | --- | --- | --- |
| YEAR | GOLD | SILVER | BRONZE |
| 1955 | MEX | USA | BRA |
| 1959 | BRA | USA | PER |
| 1963 | BRA | USA | MEX |
| 1967 | USA | PER | CUB |
| 1971 | CUB | PER | MEX |
| 1975 | CUB | PER | MEX |
| 1979 | CUB | PER | BRA |
| 1983 | CUB | USA | PER |
| 1987 | CUB | PER | USA |
| 1991 | CUB | BRA | PER |
| 1995 | CUB | USA | CAN |
| 1999 | BRA | CUB | USA |
| 2003 | DOM | CUB | USA |
| 2007 | CUB | BRA | USA |
| 2011 | BRA | CUB | USA |
| 2015 | USA | BRA | DOM |
| 2019 | DOM | COL | ARG |
Composition of Women's Medals
| | | | | |
| --- | --- | --- | --- | --- |
| COUNTRY | GOLD | SILVER | BRONZE | TOTAL |
| CUB | 8 | 3 | 1 | 12 |
| BRA | 4 | 3 | 2 | 9 |
| USA | 2 | 5 | 5 | 12 |
| DOM | 2 | 0 | 1 | 3 |
| MEX | 1 | 0 | 3 | 4 |
| PER | 0 | 5 | 3 | 8 |
| COL | 0 | 1 | 0 | 1 |
| CAN | 0 | 0 | 1 | 1 |
| ARG | 0 | 0 | 1 | 1 |