TLAXCALA, Mexico, October 12, 2023.- Theo Brunner/Trevor Crabb and Miles Partrain/Andy Benesh of the United States made into the men's quarterfinals of the 2023 FIVB Beach Volleyball World Championship winning thier Round of 16 matches on Thursday.
Watch the 2023 FIVB Beach Volleyball World Championships live on VBTV.
Theo Brunner and Trevor Crabb topped Australians Thomas Hodges and Zachery Schubert in two sets (21-17, 21-17).
In the quarterfinals, Theo and Trevor will face Brazilians Pedro Solberg/Gustavo 'Guto' Carvalhaes who overcame compatriots Evandro Gonçalves/Arthur Lanci in a tie-break (15-21, 24-22, 15-11).
Miles Partain and Andy Benesh beat Italians Alex Ranghieri and Adrian Carambula in straight sets (21-14, 21-17).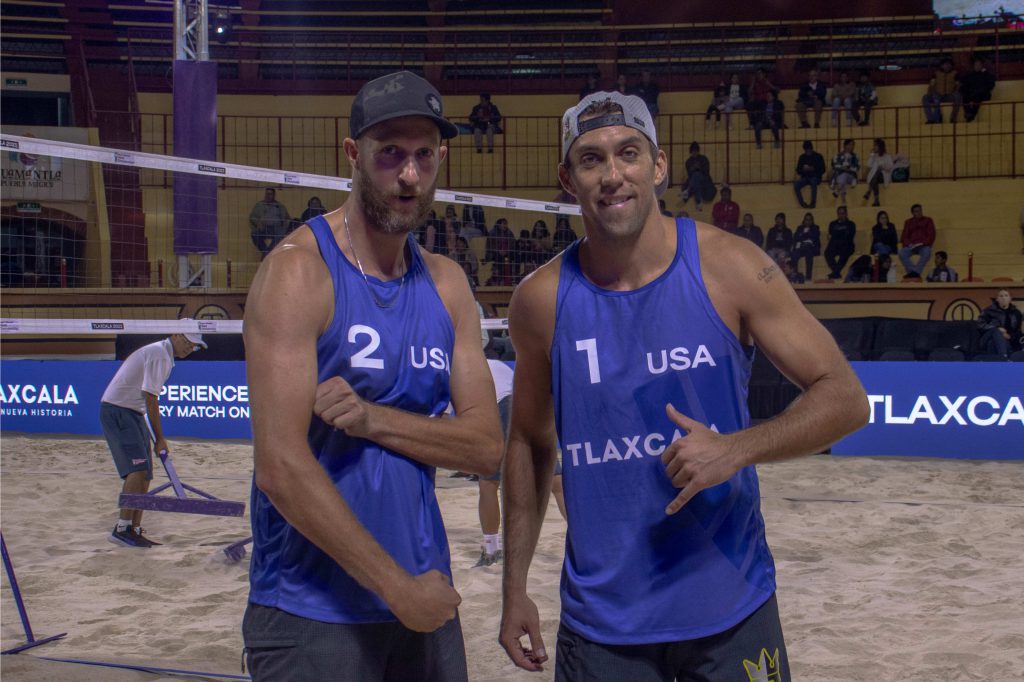 Partrain and Benesh will meet Poles Michal Bryl and Bartosz Łosiak in Friday's quarterfinals. The Poles eliminated Germans Nils Ehlers and Clemens Wickler in two sets (21-18, 21-16).
Also advancing, reigning Olympic and world champions Anders Mol and Christian Sørum of Norway beat Italians Paolo Nicolai and Samuele Cottafava 2-0 (21-19, 21-17) in the Round of 16 and will now play Czechs Ondrej Perusic and David Schweiner, who prevailed over Italians Daniele Lupo and Enrico Rossi in two sets (21-15, 21-17).
Stefan Boermans/Yorick de Groot of the Netherlands obtained a three-set (21-18, 16-21, 15-13) victory over compatriots Matthew Immers/Steven Van de Velde, and will now face David Åhman and Jonatan Hellvig of Sweden who eliminated Alexander Brouwer and Robert Meeuwsen of the Netherlands with a two-set (21-13, 21-11) victory.
The men's quarterfinals will start in Tlaxcala, at 16:00 local time (22:00 UTC) and will continue with matches in Tlaxcala at 18:00 local time (00:00 UTC, Saturday) and Apizaco at 19:00 local time (01:00 UTC, Saturday) before concluding with an encounter in Huamantla at 20:00 local time (00:20 UTC, Saturday).
Beach Volleyball World Championships – Match Schedule and Results