SANTIAGO, Chile, October 26, 2023 – Brandie Wilkerson/Melissa Humana-Paredes from Canada and the 2023 world runners-up Ana Patricia/Duda from Brazil will face off in the Women's Beach Volleyball final of the nineteenth Pan American Games Santiago 2023 at Parque Peñalolén on Friday.
Both pairs looked unstoppable from in pool-play and in the semifinals, securing their spot in the finals undefeated, without obstacles.
Canadians Brandie Wilkerson/Melissa Humana-Paredes defeated Ana Gallay/Fernanda Pereyra from Argentina 2-0 (21-15, 21-15). For Canada, this is their first medal in the Pan American Games since beach volleyball was introduced in the event in 1999.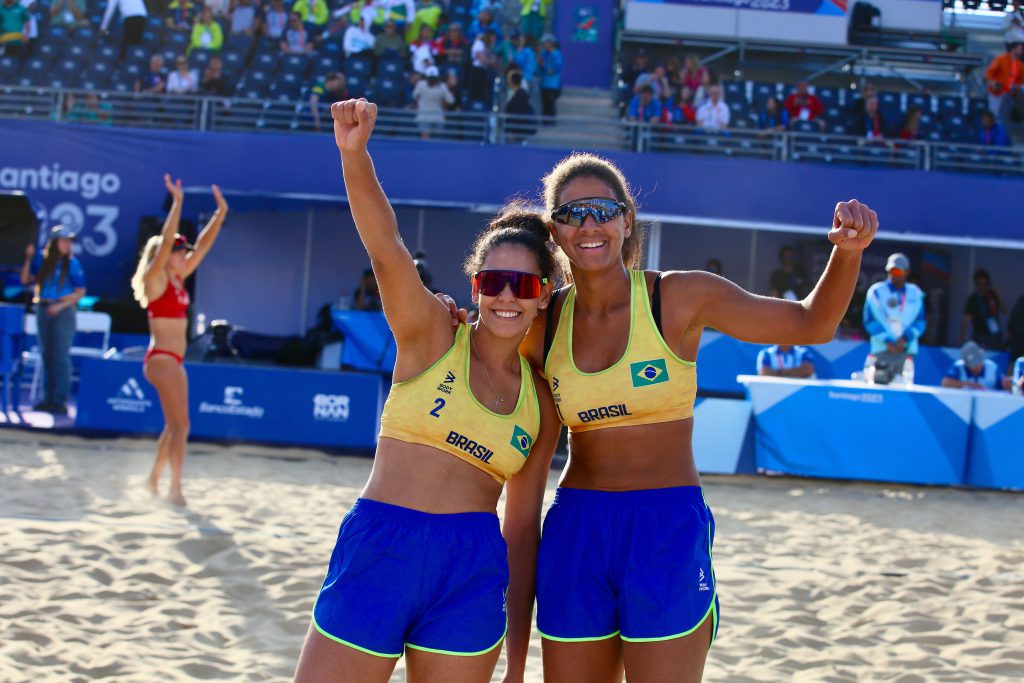 Meanwhile, Brazil, returning to a final since 2011, will seek its fourth gold medal (they also have three bronze medals). Ana Patricia/Duda won 2-0 (21-11, 21-18) against Corine Quiggle/Sarah Lewis from the United States.
Ana Gallay and Fernanda Pereyra who silver medal in Lima 2019, four years ago. In addition, Gallay won gold in Toronto 2015. The Argentinians will compete for the bronze medal against the American pair Quiggle/Lewis.
The United States won the gold medal in the Lima 2019 edition.
In other matches, Atenas Gutiérrez/Abril Flores from Mexico won 2-1 (17-21, 21-12, 15-11) against María González/Allanis Navas from Puerto Rico, and they will face Lisbeth Allcca/Claudia Gaona from Peru for the fifth place. Allcca/Gaona won 2-0 (21-18, 22-20) against María Rivas Zapata/Chris Vorpahl from Chile.
Matches for Friday, October 27:
For 7th place: González/Navas (PUR) vs. Rivas Zapata/Chris (CHI)
For 5th place: Gutiérrez/Flores (MEX) vs. Allcca/Gaona (PER)
For the bronze medal: Gallay/Pereyra (ARG) vs. Quiggle/Murphy
For the gold medal: Brandie/Melissa (CAN) vs. Ana Patricia/Duda (BRA)
Results from Thursday, October 26:
Classification 5/8
Allcca/Gaona (PER) 2-0 (21-18, 22-20) Rivas Zapata/Chris (CHI)
Gutierrez/Flores (MEX) 2-1 (17-21, 21-12, 15-11) González/Navas (PUR)
11th place: Karelys/Ariana (ECU) 0-2 (17-21, 20-22) Erika/Michelle (PAR)
For 9th place: Payano/Almanzar (DOM) 2-0 (21-13, 21-13) Diana/Margarita G. (COL)