QUEBEC CITY, CANADA. September 03, 2023: Canada pleased its sold-out home crowd today, winning the bronze medal 3-1(25-21, 25-17, 17-25, 25-16) over Cuba on the final day of the 2023 NORCECA Senior Women's Volleyball Continental Championship at the PEPS' Amphithéatre Desjardins-Université Laval.
Canada's offense produced 53 attack points, compared with 47 for Cuba; dominated in blocking (16-8). Cuba led in service aces 7-5 and errors were 17-18 in Canada's favor.
Kiera Van Ryk of Canada again led all scoring with 24 points; followed by teammates Jazmine White (14, including 6 blocks), Hilary Howe (10) and Emily Maglio (10).
Greisy Fine led Cuba in scoring with 16 points.  Cuba finishes fourth overall.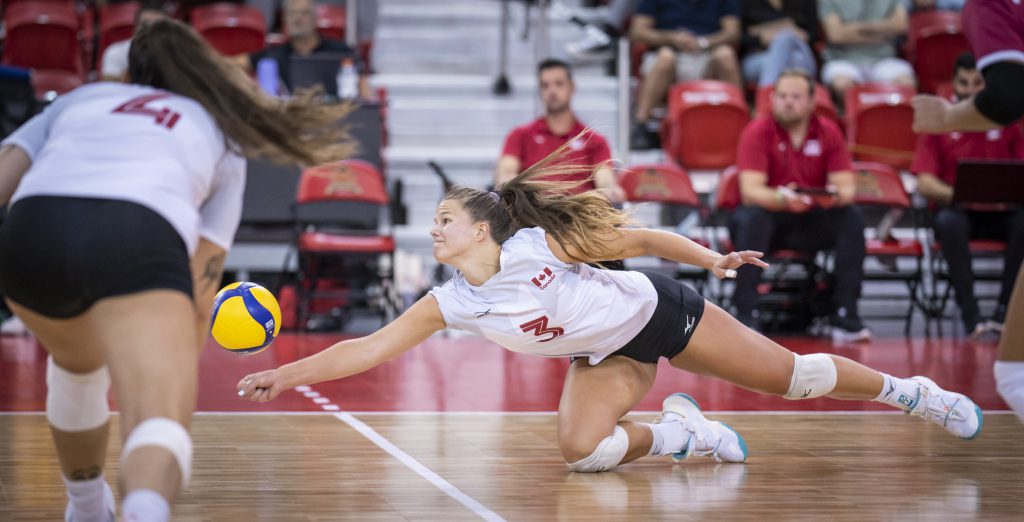 Shannon Winzer, head coach of Canada: "I thought the third set was messy, but while we struggled again with first contact in the first two sets, we showed some patience. We know that we are a physical team, compared with Cuba, and we really wanted to show that today. It wasn't the cleanest volleyball we have played this week, but we did what we had to do to pull off the win. I think it was a real team effort today.
This is preparation for the Olympic qualifier – we wanted to try out some subs in a few different situations and we wanted to try out different lineups and starting rotations. Coming away top three in NORCECA is excellent, but it's also good preparation. We had a chance to play the Dominican team, who we will face again in China, and we had a good showing against them and learned a lot."
Hilary Howe, player of Canada: "We went into this tournament really wanting to gun for the final; so the bronze-medal match is always challenging when you want to be in the final. But I'm proud that pulled it together and did the best we could to get the medal and finish strong in the tournament. It was good for us to come together and compete again before the Olympic Qualifier."
Osmani García, head coach of Cuba: "It was a match that was defined by anxiety. The inexperience of some players led to anxiety during the game, but we believe that we are still progressing as a team. We won a set and in all of them, we were ahead of Canada, but we couldn't maintain the lead due to the pressure of competing for a medal; dominating this pressure can only be achieved through playing, having competitive experience, and not just training. We still have many things to work on with this young team, and we have high hopes for continuing to elevate Cuban women's volleyball."