OSTRAVA, Czech Republic, June 1, 2023.- On Thursday, USA's Terese Cannon & Sarah Sponcil were the first team to score two victories at Volleyball World Beach Pro Tour Ostrava Elite16 women's main draw.
However, Canadian qualifiers Melissa Humana-Paredes & Brandie Wilkerson were the first duo to secure their spot in the women's quarterfinals after also sweeping both their games.
Watch all matches at the Beach Pro Tour Ostrava Elite16 event live on VBTV.
Opening court 2 for action in the early morning, Cannon & Sponcil, seeded bottom 16th, engaged in a Pool A battle with fellow Americans Kristen Nuss & Taryn Kloth and battled their way to a 2-0 (21-17, 22-20) victory with a 23-point contribution from Sponcil.
In the second leg of pool play, Cannon & Sponcil repeated their result from the first match and managed a 2-0 (21-17, 22-20) shutout of Anastasija & Tina. At the same time, Duda & Ana Patricia bounced back from losing the first set to Nuss & Kloth and saved their chances of advancing to the quarterfinals with a 2-1 (18-21, 21-18, 15-7) comeback victory. Ana Patricia hammered out as many as 33 points against 27 from Kloth.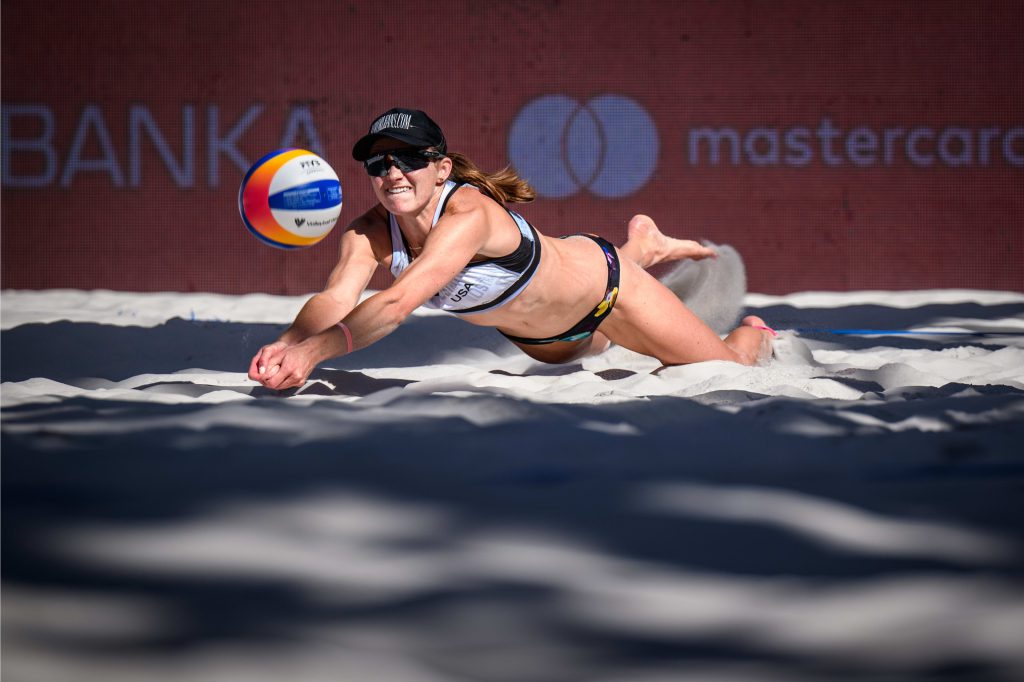 In Pool D, 13th-seeded Melissa & Brandie started their day with a 2-0 (21-17, 21-18) shutout of fifth-seeded Nina Brunner & Tanja Huberli of Switzerland. Brandie was the best scorer of the match with 20 points, including three aces and three blocks. In the afternoon, the Canadians disappointed the home crowd with a 2-0 (21-15, 21-17) sweep of their game against Czechia's Barbora Hermannova & Marie-Sara Stochlova to secure a top-two finish in the pool after the last leg on Friday.
Straight-set matches marked the first leg in Pool C. USA's Sara Hughes & Kelly Cheng found no match in the world's number three team Barbara Seixas & Carol Solberg of Brazil, who had to make their way to the main draw through Wednesday's qualifiers. The Americans dominated the game to master a 2-0 (21-15, 21-17) sweep with a 21-point match high from Cheng. At the same time, at centre court, Tokyo 2020 Olympic silver medalists Taliqua Clancy & Mariafe Artacho Del Solar of Australia, seeded third, hammered out a 2-0 (21-14, 21-18) shutout of Americans Betsi Flint & Julia Scoles.
Women's pool play resumes on Friday morning at 08:30 local time (06:30 UTC).
In men, Germans Clemens Wickler & Nils Ehlers started with a win, a 2-1 (19-21, 21-17, 15-6) comeback against American qualifiers Miles Partain & Andrew Benesh. The Americans then bounced back with a 2-0 (21-16, 21-14) sweep of their meeting with the Chilean cousins Grimalt with a 24-point tally from Partain.
USA's Trevor Crabb & Theodore Brunner bounced back from their loss to French Youssef Krou & Arnaud Gauthier-Rat 2-0 (21-17, 21-15) with a 2-1 (19-21, 21-19, 15-11) comeback victory over Brazilians Pedro Solberg & Guto, as Brunner hammered out 29 points, including seven blocks and two aces.
Men's pool play resumes on Friday morning at 10:10 local time (08:10 UTC).