OSTRAVA, Czech Republic, June 4, 2023.- Terese Cannon & Sarah Sponcil of the United States won the silver medal and Canadians Brandie Wilkerson and Melissa Humana-Paredes won the bronze at the Volleyball World Beach Pro Tour Elite16 event in Ostrava.
· Watch Beach Pro Tour Ostrava Elite16 replays on VBTV.
Terese Cannon & Sarah Sponcil started their Ostrava campaign from Wednesday's qualifiers and made it all the way to Sunday's final. It was the fourth Beach Pro Tour podium for their team. Tokyo 2020 Olympian Sponcil had already been on the Ostrava podium once, as she and her previous partner Kelly Claes (now Cheng) took the 2021 4-star gold in the Czech city, which is when they qualified for the Games in Japan.
Also from the qualifiers, Melissa Humana-Paredes & Brandie Wilkerson, completed the podium with bronze. It was only the third Beach Pro Tour appearance for the recently formed pairing of Canadian Olympians and they already have their first medal. Brandie had a 2018 4-star silver from Ostrava with Heather Bansley.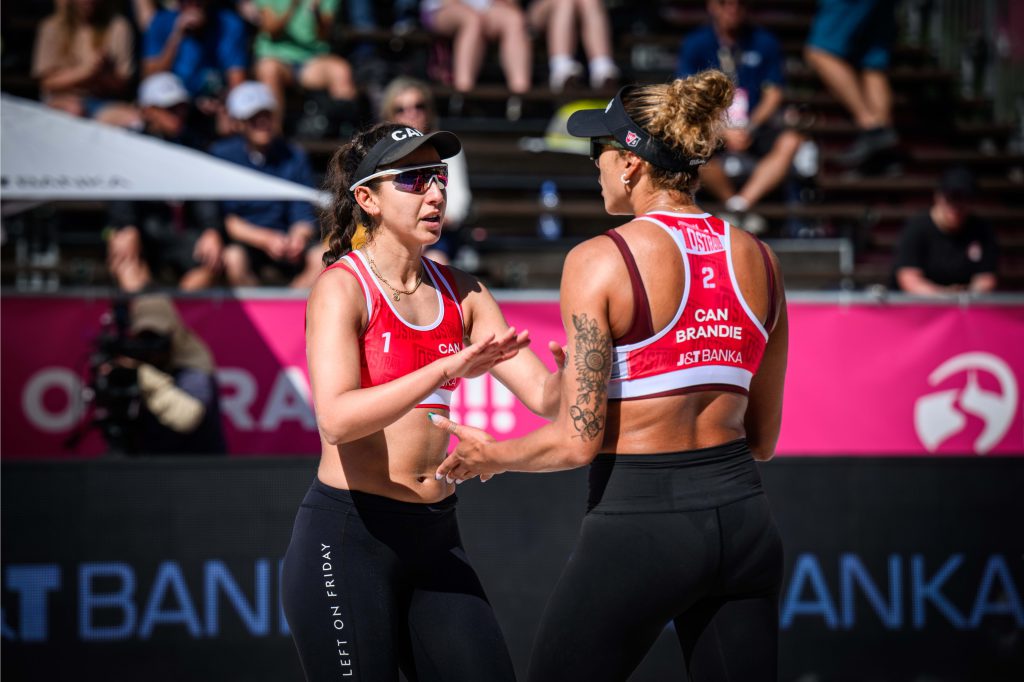 Cannon & Sponcil, seeded bottom 16th in the main draw bracket, dominated the first set of Sunday's big final against Ana Patricia & Duda, but the top-seeded Brazilians fought back to triumph after a 2-1 (17-21, 21-14, 15-12) victory, mostly thanks to their solid performance in offence.
In the bronze medal match, fifth-seeded Nina Brunner & Tanja Huberli of Switzerland had control over the scoreboard only during the first few rallies of the first set, but then 13th-seeded Melissa & Brandie pushed forward on all counts and dominated the rest of the game on the way to a 2-0 (21-16, 21-14) shutout.

Earlier in the semifinals, Cannon & Sponcil opened for the day with a hard-fought 2-1 (19-21, 23-21, 15-13) comeback against Melissa & Brandie.