SEVEN MILES BEACH, Cayman Islands (May 18, 2023) – One of the most traditional and fun tournaments in the history of the Norceca Tour returns to Seven Miles Beach in Grand Cayman this weekend.
This will be the third event of the 2023 season.
Kennedy McGowan, President of the Cayman Islands National Federation, said he was very pleased to be part of the tour again. "We will have three days of a high level of beach volleyball"
The stage brings together 20 men's teams and 20 women's teams that represent the Cayman Islands, United States, Canada, Mexico, Puerto Rico, Nicaragua, Costa Rica, El Salvador, Jamaica, Antigua, Anguilla, Bahamas, Bermuda, Haiti, Dominican Republic, Saint Lucia, Saint Kitts & Nevis, Guatemala, Trinidad & Tobago and Dominica.
Watch Live on YouTube Cayman Sports Channel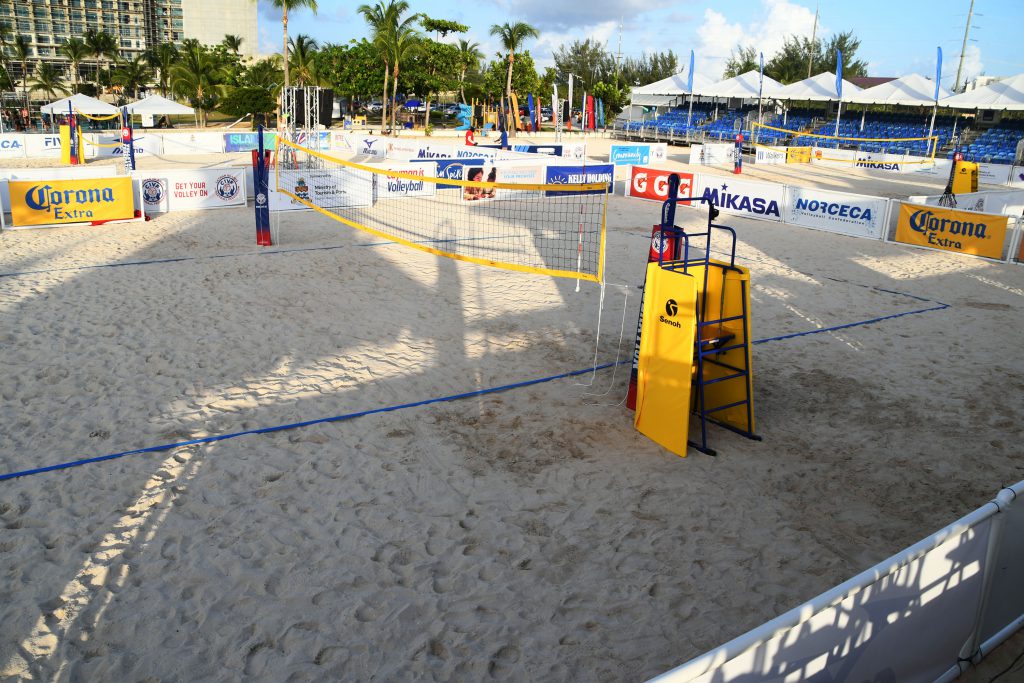 Mens: William Kolinske / Hagan Smith, Jake Urrutia / Ian Satterfield (USA); Juan Virgen / Miguel Sarabia, Jorge Barajas / Gabriel Cruz (MEX); Russell Macneil / Jake Macneil, Rouzbeh rahnavard / Simon Feclean (CAN); Jefferson De Jesus Cascante / Denis Jose Lopez (NCA); Andy Leonardo / Luis Garcia (GUA); Daniel Williams / Yulius Brown (CRC); Daneil Williams / Fabien Whittfield (TTO); Franklin Flores / Armando Guatemala (ESA); Brian Kwasny / Gabriel Ospina (ISV); St. Clair Hodge / Shawn Seabrookes (SKN); Casey Santamaria / Jesario ebanks, Jesper Barrozo / Tarek wright (CAY); Olando Joseph / Irvens Benjamin (HAI); Jon Isaacs / Eugene Stuart (BAH); Daniel Fiddick / Brian Amaro (BER); Aiden Hazzard / Da'Qwan Fredericks (AGU); Deon Vidal / Yahn Florent (DMA).
Womens: Katie Lindstrom / Teagan Van Gunst, Geena Urango / Carly Skjodt (USA); Atenas Gutierrez / Abril Flores, Esperanza Albarran / Susana Torres (MEX); Ruby Sorra / Lea monkhouse, Devin Cora / Adriel Goodman (CAN); Natalia Giron / Estefanie Bethancourt (GUA); Sofia Vega / Kianny Araya (CRC); Yvonne Soler / Laura molina (ESA); Allanis Navas / Maria Gonzalez (PUR); Taylor Buckner / Mannika Charles (ISV); Yenifer Rivera / Amanda Armenteros (CUB); Bethania Almanzar / Crisma Paniagua (DOM); Socorro Lopez / Nahima Silva (NCA); Chauna Kelly / Petal Smkith (JAM), Niyota Petera / Joelle Thomas (ANT); Allison settle / Hailey Moss (BER); Denila Prospere / Clio Phillio (LCA)