EDMONTON, CANADA. Sept. 20, 2023: Cuba defeated Puerto Rico in the second day of round-robin play at the NORCECA Pan American Cup Men's Final Six, September 19 to 24 at the Flair Airlines Hangar (Expo Centre), in Edmonton, Canada.
Puerto Rico fought hard to keep the contest going, but in the end it was Cuba 3, Puerto Rico 1 (25-22, 19-25, 26-24, 25-18).
Cuba led in attacking (59-41) and serves (5-3). Puerto Rico earned more blocking points (9-7) and Cuba made more errors (32-21).
Cuban Alejandro González Rodríguez led all scoring with 26 points (23 attacks, 1 block and 2 aces). Klistan Lawrence led Puerto Rico's effort with 17 points for the losing side.
Cuba is 1-1, and Puerto Rico is 0-2.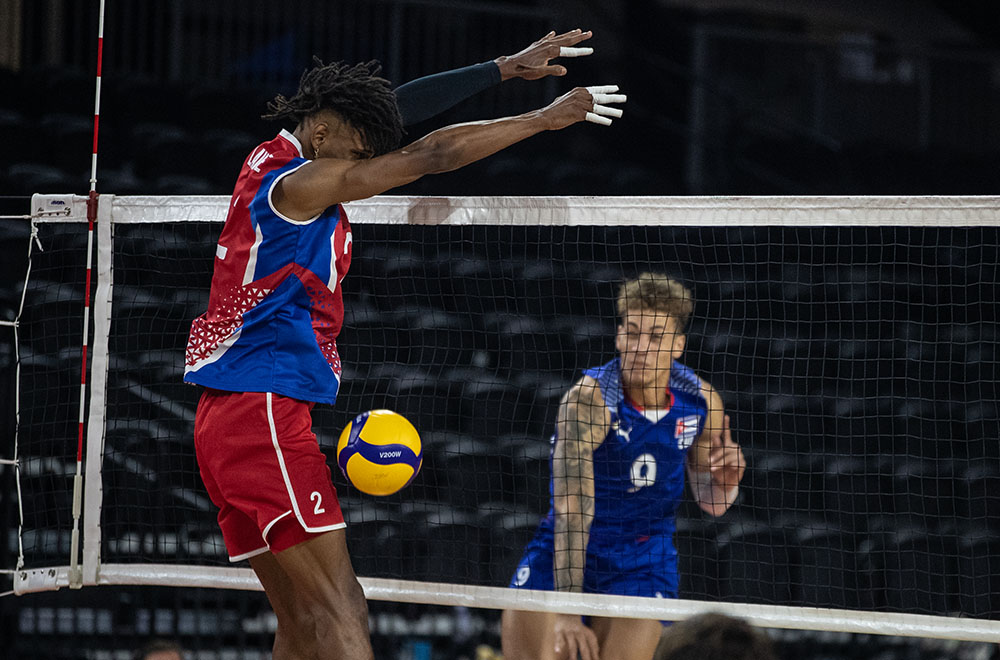 Manuel Espinosa, head coach of Cuba: "Well in this match we were motivated. Our players were able to follow what we had discussed in our technical meeting and pull through. I think Puerto Rico is not a lower-level team, it is a team that fights and battles for a victory, but we got the win this time. Congratulations to all of our players that have earned this win today."
Gerardo de Jesus Sanchez, head coach of Puerto Rico:  "Well, we had great match, against a Cuban team that has the strength and height. Our athletes are a little shorter in height but play volleyball well and this is what we use during the matches. We got a little desperate in the fourth set and that was the difference in there, we started really well but we were not able to keep the advantage."