SAN SALVADOR, El Salvador, June 28, 2023.- Defending champion Puerto Rico began the 2023 San Salvador CAC Games with a win 3-0 (25-15, 25-18, 25-18) over the team of Centro Caribe Sports (Guatemala) on Wednesday at the Sports Palace Carlos El Famoso Hernández.
Puerto Rico was in control of the action in their first Pool B performance, still, the team of Centro Caribe Sports (CCS) jumped to a 10-7 lead in the second set and reached the third to an even 18 score.
The CAC title holders produced 38 points from kills, against 24 and were more consistent in blocking (10-2) and in aces (8-1). CCS benefited from Puerto Rico's 24 unforced errors, while committing 14.
The leading scorer of the match was Puerto Rican opposite hitter Klistan Lawerence with 18 points on 12 kills, three blocks and three aces. Team captain Pedro Vargas followed with 12 points on 9 kills, one block and two aces.
Opposite Erik Flores led CCS with 10 points from 8 kills and 2 blocks.
Puerto Rico's next opponent is Trinidad & Tobago, Centro Caribe Sports (Guatemala) faces the host country El Salvador.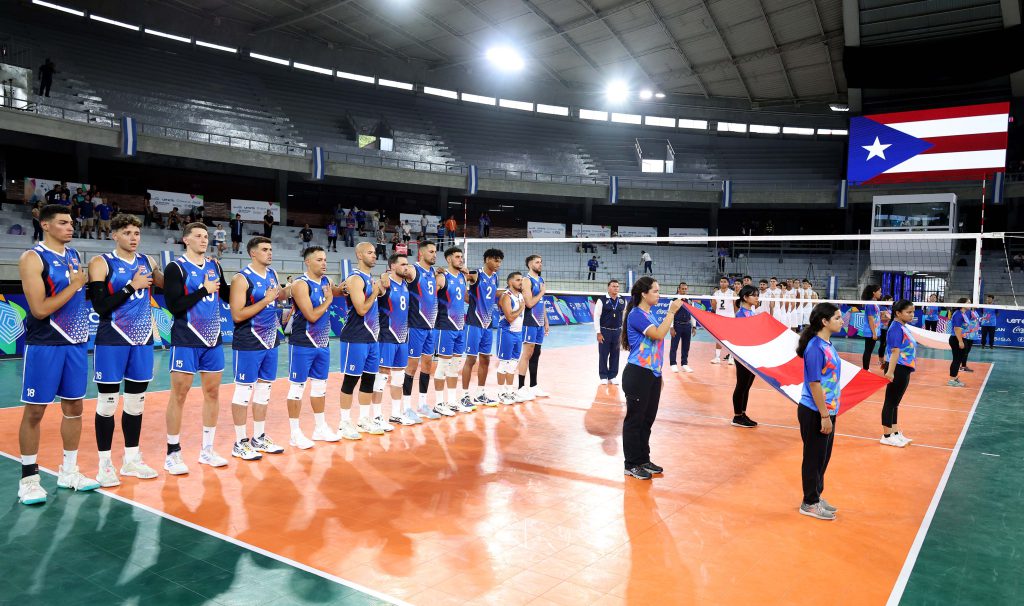 Pedro Molina, Captain of Puerto Rico: "There was a little of everything, they improved, and we slowed our intensity, Guatemala is a good team. We are focused on our side, in our errors, going point by point to improve. Our goal is to defend our title, it's a big weight on our shoulders, but we are working towards it".
Oswald Antonetti, Head coach of Puerto Rico: "The team was a bit tense in the beginning. Our younger players did well, they got into a good pace. We lacked a better rhythm, but we were consistent emotionally and in our performance. Guatemala is a good team, they serve well, they play orderly".
Carlos López, Captain CCS: "We lacked concentration at the beginning, we failed in scoring points we could have won and for moments we came back, then we were stopped by Puerto Rico's strength, they are an experienced team. Now we think about tomorrow's match".
Reider Lucas, Head Coach of CCS: "Fue un juego muy inestable, cometimos muchos errores y esperamos resolverlos. Este (Puerto Rico) es el equipo más fuerte en nuestro grupo, con mucho nivel y experiencia. Vamos empezando la competencia, a ver qué sucede".