HERMOSILLO, Mexico, July 20, 2023.- Defending Champions Dominican Republic beat Cuba 3-0 (25-20, 25-16, 25-23) to advance into the semifinals of the U23 Women's Pan American Cup being played at the Sonora Arena of Hermosillo, Mexico.
Dominican Republic won Pool A undefeated 3-0, earning a berth in Saturday's semifinals. Peru earlier beat Canada, both advance into quarterfinals as second and third place respectively. Cuba will play in classification matches for positions 5 to 8.
Cuba battled stronger forcing Dominicans to lose three-match points before their definitive 25-23 win.
Dominicans dominated thanks to their 11 to 3 advantage. The other skills were balanced, with Dominican Republic leading 37 to 35 in kills, a slim 2-1 in serves and scoring on 25 Cuban unforced errors against 20.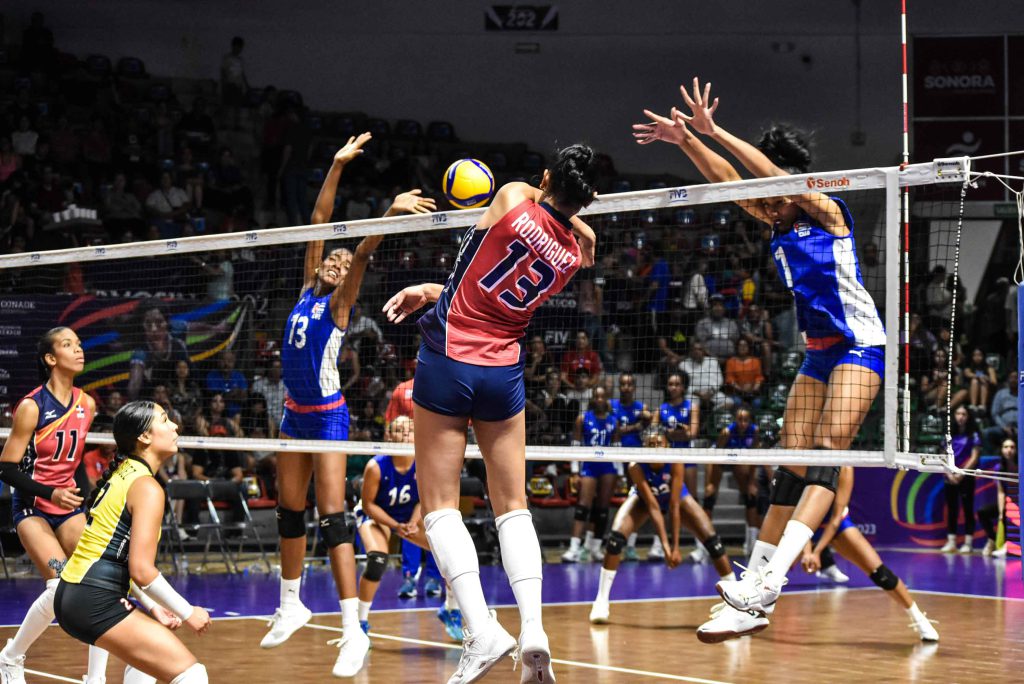 Dominican Republic's offense was led by middle blocker Geraldine Gonzalez who scored 13 points on 8 kills and a match-high of 5 impressive blocks. Madeline Guillen added 11 points on 7 kills, two blocks and two aces, while Flormarie Heredia collected 10 points from attacks.
Middle blocker Lisania Grafort and opposite hitter Claudia Tarin led Cuba with 9 points each. Outside hitter Thainalien Castillo contributed with 7 points.
Ariana Rodríguez, setter of Dominican Republic: "I am playing a new position, it's a challenge and a responsibility; sometimes things don't come out like I want them, and I get frustrated. The team was stable, but we can improve. With each match I'm improving".
Wagner Pacheco, coach of Dominican Republic: "Cuba served well, and we committed errors that we shouldn't have failed. The players responded well. Now we have a day off to rest and wait for our opponents in semifinals".
Edisleidys Reyes, middle blocker of Cuba: "Today we improved in strength and attitude, with more energy to look for the win. The last set was well contested, we had more confidence, we could have done it better from the beginning".
Wilfredo Robinson, coach of Cuba: "We showed our strength and quality of play. I gave everyone a chance because we are here to develop them for the world championship".