SANTIAGO, Chile, October 26, 2023. – Dominican Republic won its second consecutive Gold Medal at the Pan American Games after defeating Brazil 3-0 (26-24, 25-16, 25-19) in the final of the Women's Volleyball tournament at the 19th edition of the Games Santiago 2023, held at the Arena Parque O'Higgins.
The Dominican Republic has now earned three gold medals in the history of the Pan American Games (Santo Domingo 2003, Lima 2019, and Santiago 2023) and also holds a bronze medal from Toronto 2015. For Brazil, this is their third bronze medal (Mexico 1955, San Juan 1979, Santiago 2023).
Dominican Republic finished the event undefeated 5-0 and Brazil with a 4-1 win-loss record.
In the first set, the Dominican Republic came from behind 14-17 as Brazil, led by outside hitter Sabrina Machado and middle blocker Lorena Viezel, had the lead. However, thanks to the offensive efforts of the Martinez sisters, Brayelin and Jineiry, along with Candida Arias, the Dominicans tied the score at 17 points, and went on to win a thrilling 26-24 finish.
In the second set, opposite hitter Gaila González and outside hitter Yonkaira Peña joined the Dominican offensive, neutralizing Brazil and building a significant lead of 15-7, which proved unbeatable.
Despite Dominicans offensive errors, Sabrina Machado and Tainara helped Brazil recover from a four-point deficit (6-10) in the third set. Lorena, with precise blocking, contributed to keeping the score tied at 13 points. Eventually, the Dominican Republic regained control, sealing the gold medal with a direct serve point from Brayelin Martínez and a comfortable 25-19 lead.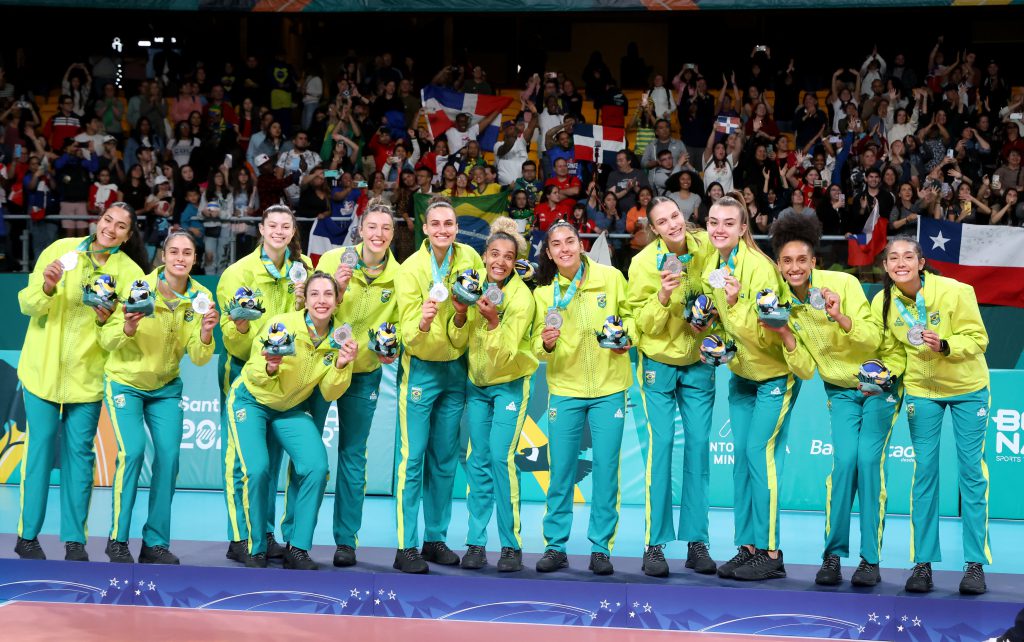 The Dominicans outperformed Brazil in every skill of the game, kills (43-31), blocking (11-8), and serves (3-1). Both teams committed 19 unforced errors.
Outside hitter Yonkaira Peña led the Dominican offense with 13 points, followed by opposite Gaila González with 12 points and outside hitter Brayelin Martínez with 11 points.
The top scorer of the match was Brazilian Sabrina Machado with 14 points. Middle blocker Lorena Viezel scored a match-high of 5 points on blocks.
Niverka Marte, captain of the Dominican Republic, said, "Brazil is a team that plays very well at every level. We are happy to have kept control of the entire game. It has been a beautiful year for all of us, and ending the year like this is the best. We close the year literally with a golden seal against a great rival".
Marcos Kwiek, coach of the Dominican Republic mentioned that it was a very tough year, "We had many commitments, very important competitions, and we achieved all the goals we set. We came here as favorites, knowing our quality, and I believe we didn't disappoint. Mission accomplished".
Naiane Rios, captain of Brazil, expressed, "Unfortunately, today we couldn't impose our game rhythm as we did in yesterday's match. We knew it would be a tough game, but it also depended on us. We move forward!"