HERMOSILLO, Mexico, July 22, 2023.- Five-time champion Dominican Republic beat Argentina 3-1 (20-25, 25-18, 25-13, 25-19) in semifinals to move into their sixth U23 Women's Pan American Cup championship match in a row and qualified to the Junior Pan American Games.
Dominicans have dominated the event since its inception and are seeking their sixth title. Dominican Republic earned a berth to the 2025 Junior Pan American Games as one of the top two ranked NORCECA teams of the event.
On Sunday´s gold medal match, Dominicans will face the winner of the semifinal between host Mexico and Peru, while the loser will play for the bronze medal against Argentina.
Argentina controlled the actions of the first set, jumping to a comfortable 13-8 lead, scoring on several opponent errors, and dominating in blocks. The second set was balanced but Dominicans carried with the win and then they moved into the third set to an 8-0 point lead, their best set of the match. The fourth set was balanced up to an even 18, when Dominicans used their strength in attacks and block-defense for the victory.
The defending champions led Argentina in attacks 51 to 46, in blocks 14 to 11. Both teams scored three points on serves. Dominicans scored 28 points on Argentina's errors while handing out 14 points from their own errors.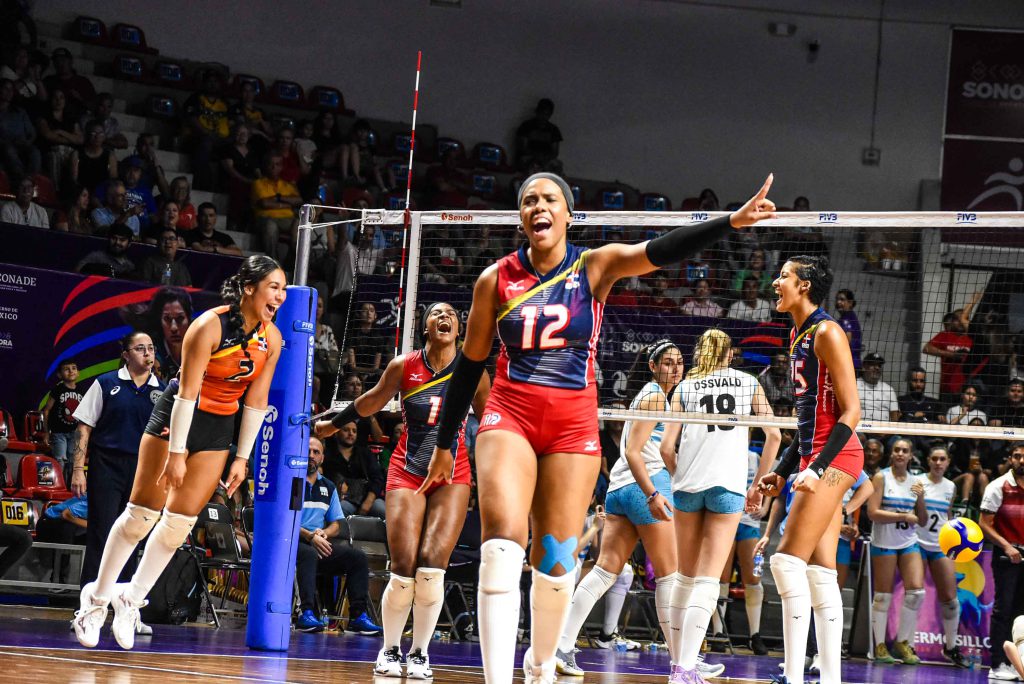 Outside hitter Madeline Guillen led all scorers with 23 points on 21 kills and four blocks. Her teammate Flormarie added 21 points on 16 kills, four blocks and one ace. Middle blocker Florangel also contributed to the semifinal win with 10 points.
Outside hitter Milena Margaria and middle blocker Avril Garcia led Argentina with 14 points each. Garcia scored a match-high of seven blocks. Outside hitter Nicole Perez collected 10 points.
Wagner Pacheco, coach of the Dominican Republic: "We are two good teams, playing tactically. In the first set, Argentina scored points on our errors, but we balanced the game with the change of setter and opposite, and that's when the game started to flow. In the second and third sets, we had few errors. The girls are happy".
Matías Ambrosini, coach of Argentina: "We had to play a neat, well-organized match because we knew about the potential of the Dominican Republic. The girls entered the game convinced and executing our game plan as we had designed it. I think we played a great match until halfway through the second set, and then they changed the setter and the team´s structure, which worked for them, and we struggled to respond. We gave everything we had, giving it our all, but it slipped away from us".