HERMOSILLO, Mexico, July 22, 2023.- Mexico beat Peru in Saturday's semifinals 3-0 (25-21, 25-17, 25-21) to reach their second championship match at the U23 Women's Pan American Cup being played at the Sonora Arena in Hermosillo, Mexico, in addition to winning a ticket to the next Junior Pan American Games.
Mexico will battle in Sunday's title match against five-time reigning champions Dominican Republic, who earlier prevailed in four sets over Argentina. This is the second occasion Mexicans face Dominicans to battle for gold, they met in the previous edition.
Mexico also won a berth to the 2025 Junior Pan American Games. Peru will face Argentina in the bronze medal match.
Despite the close scores, Mexico held the advantage in all three sets that had battled rallies. The crowd at the Sonora Arena cheered for their team enjoying their dominant force in every skill.
Mexico edged Peru with 43-37 advantage in attacks, 6-3 in blocks and 5-2 in aces. The host scored 20 points on Peruvian errors and while giving up 17.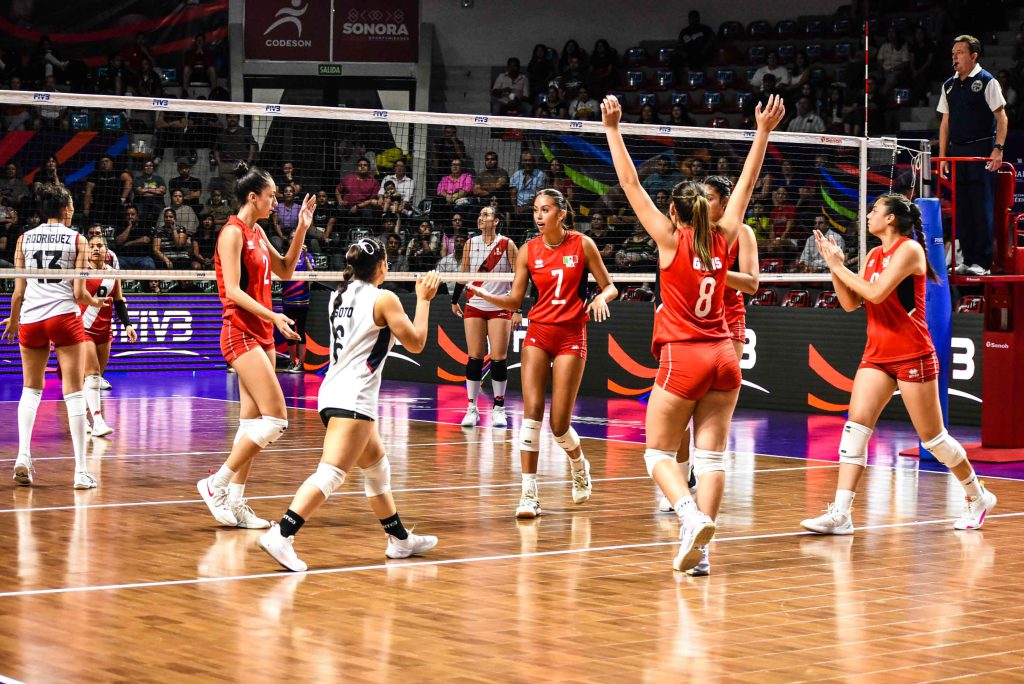 Outside hitter Sofía Maldonado led all scorers with 19 points on 15 kills, three blocks and on ace point. Middle blocker Arleth Marquez followed with 11 points and outside hitter Alexandra Goris chipped in with 7 points.
Aixa Vigil was the only player of Peru to score double digits, with 10 points on 9 kills and one ace. Opposite Maria Paula Rodriguez and team captain Alondra Alarcon produced 9 and 7 points respectively.
Luis Albero León, coach of Mexico: "It benefited us that we had a rest day yesterday, which we used for training, therapy, and rehabilitation. Today, the girls followed all the tactical instructions, which was reflected in the 3-0 score. Tomorrow will be a good match against the Dominican Republic, the girls are motivated, it's a rival we know well, and we will go in to earn the medal".
Francisco Hervas, coach of Peru: "Today, we didn't play well. We were less responsive, and we had a more serious atmosphere on the court in our previous matches. Losing a semifinal is disappointing, but we'll keep on working because that's why we came here. Tomorrow, we'll face Argentina for the bronze medal, a familiar rival".