SANTIAGO, Chile, October 21, 2023.- The men's Beach Volleyball tournament of the Pan American Games Santiago 2023 kicked off on Saturday, October 21, with some tightly contested matches and others that ended quickly.
In Group A, the pair Miguel Sarabia/Juan Virgen (MEX) staged a comeback after losing the first set to win 2-1 (19-21, 21-14, 15-13) against Giuliano Massare/Gonzalo Melgarejo (PAR). The Mexians were trailing 10-12 in the third set but managed to tie it up and secure the set and the victory.
Meanwhile, the hosts Marco Grimalt/Esteban Grimalt (CHI) closed the day with a 2-0 (21-13, 21-17) victory over Rubén Mora/Dany Lopez (NCA).
In Group B, Hagen Smith/Logan Webber (USA) overcame Ruddy Salvatierra/Luis Calvo (BOL) with a 2-0 (21-15, 21-15) win. Hans Hannibal/Nicolás Llambías (URU) defeated Andy Blanco/Luis García (GUA) with a 2-0 (21-14, 21-13) result.
In Group C, George/Andre (BRA) had no trouble securing a 2-0 (21-7, 21-13) victory over Armando Guatemala/Franklin Flores (ESA). Noslen Diaz/Jorge Alayo (CUB) also won without difficulties, 2-0 (21-8, 21-14), against Juan Noriega/Johan Murray (COL).
In Group D, the Ecuadorian pair, Dany León/Marcos Tenorio, delivered the first surprise of the tournament by defeating the Canadian team of Jake MacNeil/William Russell with a 2-0 (21-18, 22-20) score.
Meanwhile, Argentineans Nicolás Capogrosso/Tomás Capogrosso won 2-0 (21-12, 21-11) against Daniel Dyner/Jhostin Varela from Costa Rica.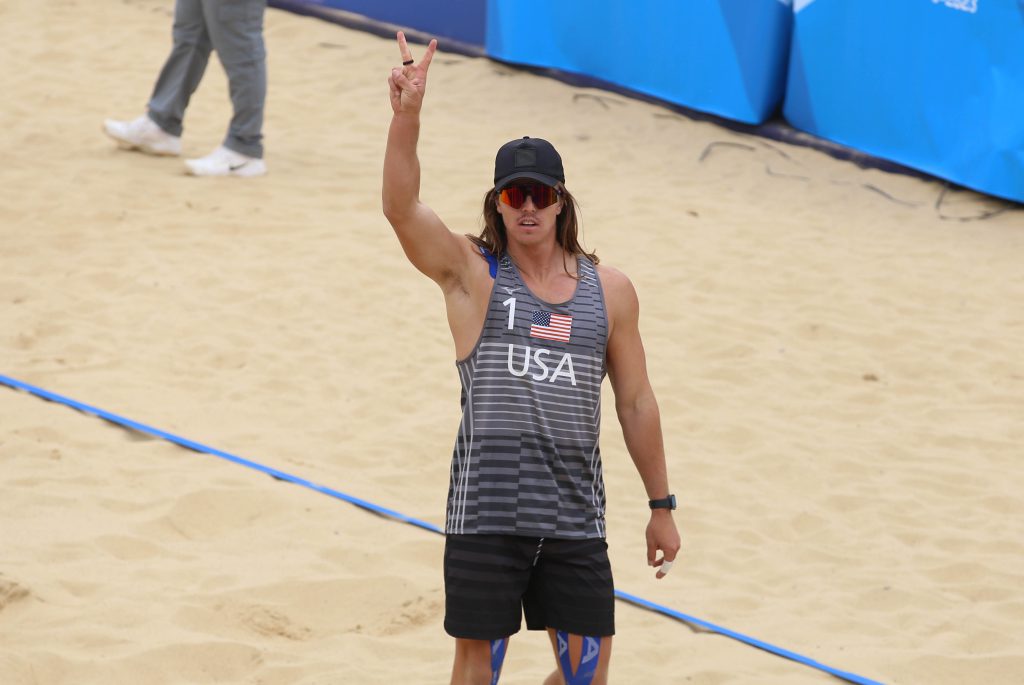 Hagen Smith celebrate
Sunday's matches for the second day:
MacNeil/Russell (CAN) vs D. Dyner/Varela (CRC) at 12:30
Capogrosso N./Capogrosso T. (ARG) vs Leon/Marcos (ECU) at 13:30
Smith/Webber (USA) vs Blanco/Garcia (GUA) at 13:00
Hannibal/Llambías (URU) vs Salvatierra/Calvo (BOL) at 14:00
Sarabia /Virgen (MEX) vs Mora/Lopez (NCA) at 18:00
George/Andre (BRA) vs Noriega/Murray (COL) at 18:30
Diaz/Alayo (CUB) vs Guatemala/Flores (ESA) at 19:30
Grimalt M./Grimalt E. (CHI) vs Giuliano/Gonzalo (PAR) at 20:00