PONCE, PUERTO RICO, August 7, 2023.- Canada achieved its first victory of the XX Women Senior Pan American Cup by beating Costa Rica 3-0 (25-12, 25-17, 25-15) on Monday at the Juan "Pachín "Vicéns Auditorium de Ponce.
After losing the first set, Costa Rica made adjustments and took an early lead in the next two sets but were unable to hold it and Canada took the win.
Canada (1-1) dominated Costa Rica (0-2) in spikes, 41-22, in blocks, 8-3, and in serves, 8-3.
Vicky Savard, from Canada, was the best scorer of the match with 16 points (13 kills, 2 blocks, one ace); Nyadholi Thokbuorn with 13 points (7 kills, 3 blocks, 3 aces); and Sydney Grills with 11 points (8 kills, 3 aces).
For Costa Rica, Tannia Carazo with nine points (7 attacks, 2 aces); Marcela Araya with five points (5 attacks); and Lakysha Nicolle Thompson with 5 points (3 kills, 2 blocks).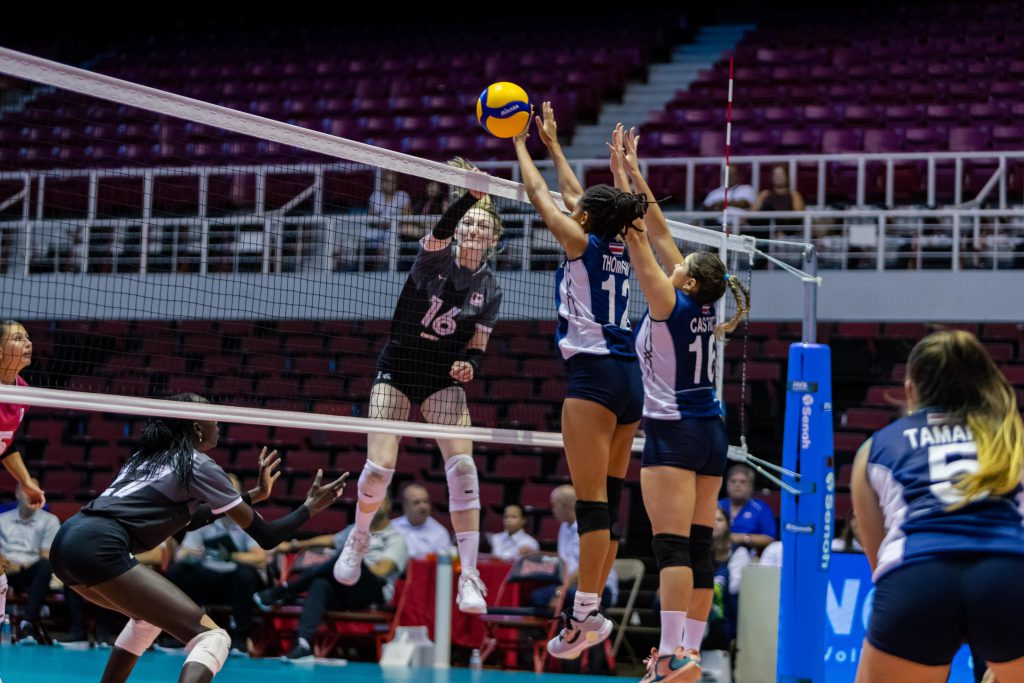 Costa Rica will play tomorrow against Peru at 2:00 p.m. and Canada has the day off.
Shannon Winzer, Coach of Canada: "I think we started off a lot better this game than we did the previous game. We managed first contact a lot better, which allowed us to run our offense and I thought we had a few players who had just outstanding service pressure that made it difficult for Costa Rica to control that first pass. So, I think we did some good things. We gave a lot of players a run tonight. And that only, you know, serves us well for the rest of the tournament".
Nyadholi Thokbuom, Middle Blocker of Canada: "We're really excited. This is the first time this group has played together, so we're really hyped up. We're very happy. I knew I was falling short in other parts of my game so the service line was the only thing that I could control, and I think I did pretty well on that".
Pablo Acuña, Coach of Costa Rica: "The last two sets we had an advantage, and it went away. The second (set) in rotation four, and the third (set), in rotation three. I think it was Canada's virtue that they served it very well, and we think we could have made an adjustment in reception earlier to press and win a set that would have changed the match. I like the team up to point 16, after that something happens mentally that is affecting us, and we can't close the set. But, we are here for that, to see what is happening to correct and make the changes".