PONCE, PUERTO RICO, August 7, 2023.- Peru lost 3-0 (25-23, 25-20, 25-13) to the United States in the second day of the XX Women Senior Pan American Cup at the Juan "Pachín" Vicens Auditorium in Ponce.
The United States is undefeated at 2-0 in Pool A with six straight sets.
With 12 blocks for points, the North American team dominated Peru, which had three. Likewise, the United States dominated in attacks, 40-37, and in serves they finished even, 4-4.
Logan Eggleston was the top scorer for the United States with 15 points (14 attacks, one block), Stephanie Samedy with 13 points (11 attacks, one block, one ace) and Madeleine Gates with 11 points (6 attacks, 5 blocks).
For Peru, Karla Ortiz with 12 points (12 attacks), María Paula Rodríguez with 10 points (10 in attacks); and Ysabella Sánchez with nine points (7 attacks, one block and ace).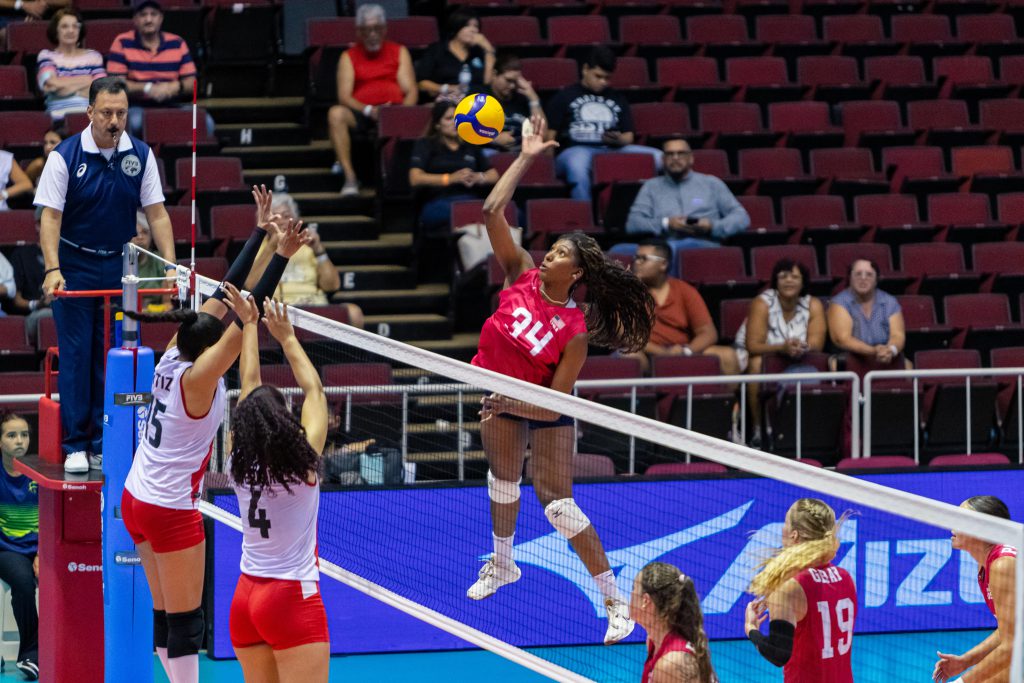 Peru (0-1) will play tomorrow against Costa Rica (0-2) at 2:00 p.m., and the United States (2-0) against Colombia (1-0) at 4:00 p.m.
Brad Rostratter, Coach of United States: "It was great. We've gotten to get everyone in and everyone kind of get the first match jitters out of the way, and it was nice to see us put some things together through those last two sets, through the home stretch. It's just the next step and we just have been preparing on what's ahead of us and what's in front of us and we played better today and we're trying to play better tomorrow against Colombia".
Logan Eggleston, Best scorer of United States: "It was a fun game to play. I think we're getting used to each other as a team with a lot of really awesome talent. And we're just having fun getting to play together. Our expectation is always to win, and we just played at a really high level and I think we're doing a really good job at the beginning and it's going to keep getting better".
Francisco Manuel Hervas Tirado, Coach of Peru: "I think that the first two sets we have endured very well and we have had our options, doing little things that we have been working on and we have been satisfied there, although we have lost the third. The third, we haven't been able to find the rhythm of the game again and a team like the United States, you pay for that, you pay for it on the scoreboard. We always talk with the girls that the first game is always difficult regardless of the rival because it's normal. We must continue working and keep thinking about the game that comes tomorrow".