SANTIAGO, Chile, November 4, 2023. – Colombia made history winning their first-ever medal in the history of the Pan American Games, after defeating Cuba 3-1 (32-31, 15-25, 29-27, 25-17) for the bronze medal at Santiago 2023 in the Arena Parque O'Higgins.
Both teams finished the Santiago Games with a record of three games won and three lost. Colombia had lost to Cuba previously in pool-play in straight sets .
Colombia's blocking made a difference, dominating Cuba 16-9, and leading in attacks 56-54. Cuba led in aces 7-2 and scored 29 points from Colombia's errors compared to 27.
Colombia's offense was led by their middle blockers; team captain Leandro Mejía with 19 points on 13 attacks and a match-high of 6 stuffed blocks, and Daniel Aponza with 17 points on 12 attacks and 5 blocks. Outside hitter Andrés Piza added 12 points.
Cuban team captain Miguel Angel López was its leading scorer with 19 points (16 attacks, 3 aces). Miguel Gutiérrez added 18 points (14 attacks, 3 blocks, one ace), and Alejandro González contributed 12 points (9 attacks, one block, 2 aces).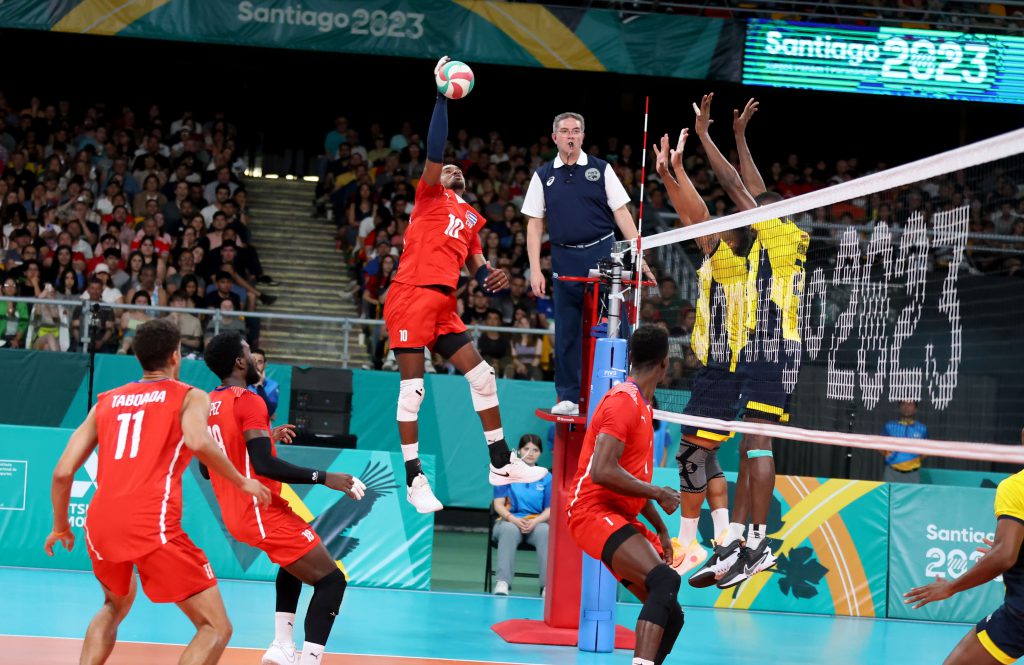 An exciting first set won by Colombia marked the start of the bronze medal match, with both teams missing set points. In the second set, Cuba's offense and serves outperformed Colombia, and benefited from eleven Colombian errors.
In the third set, Colombia made a comeback from a four-point deficit (17-21), leveling the score to 21 and eventually securing a dramatic 29-27 victory. With solid blocking, Colombia dominated Cuba in the fourth set.
Colombia's coach, Jorge Schmidt, expressed, "The first word I want to say is merit. We worked for this, we aimed for this, and it's not arrogance on my part, those who know me well are aware of that. It's a result of dedication. We deserve this outcome. We faced some setbacks in this game, but this is all part of a team that wants to establish itself on the global stage".
On the other hand, Cuba's coach, Jesus Angel López, stated "The team was put together in a hurry, it wasn't possible to have some players here at the Pan American Games. We have the feeling that we could have won a medal in this tournament despite the team's flaws in terms of the roster. But for many players, this was their first Pan American Games, so a fourth-place finish is a good result. We certainly have a bitter taste for not winning the medal and returning home without it".