UBERLANDIA, Brazil, April 30, 2023.- Americans Taryn Kloth and Kristen Nuss recovered from a first-set loss to celebrate their first victory at an Elite16 event at Praia Clube following their three-set (16-21, 24-22, 15-13) win over Australians Taliqua Clancy and Mariafe Artacho in the gold medal match.
This week's Volleyball World Beach Pro Tour Elite16 event in Uberlândia didn't start the way Taryn Kloth and Kristen Nuss planned, but the Americans couldn't have hoped for a better finish as they stood at the top of the podium in Brazil at the conclusion of the tournament on Sunday.
Brazilians Eduarda 'Duda' Lisboa and Ana Patrícia Ramos, who defeated the Americans in their opening match on Thursday, took bronze in front of their home fans.
All Beach Pro Tour Uberlândia Elite16 matches are available on VBTV.
The same resilience the Americans showed to recover from their opening-match loss and advance all the way to the gold medal match was also displayed in the final, as Kloth and Nuss came back from a first-set setback to turn the tables and top the Tokyo Olympic silver medallists in the tiebreaker.
"They're an incredible team," Nuss said about their comeback. "We respect them a lot and it's always fun when we get to play them. One of my bracelets says 'trust' and that's what we did after we lost the first set. We trusted our team and trusted our training. We live in Louisiana, where it's just as hot and humid as here, so we really felt like we were home. We were feeling good, so it was just about trusting our team."
The Australians were also the opponents Kloth and Nuss faced when they won their second Beach Pro Tour title, at last year's Kuşadası Challenge. The two now have four gold medals at the international level, having also won last year's Coolangatta Futures and the 2023 La Paz Challenge.
"We are absolutely thrilled," Kloth remarked. "We put everything we had to win each of the matches we played this week. We had so much fun and played in front of an incredible crowd the entire time. We're obviously on a high right now, but tomorrow we'll go back and do the same things we've been doing. We know the Olympic race is going to be really tight and we have to keep getting stronger."
Beach Pro Tour Uberlândia Elite16 – Match Schedule & Results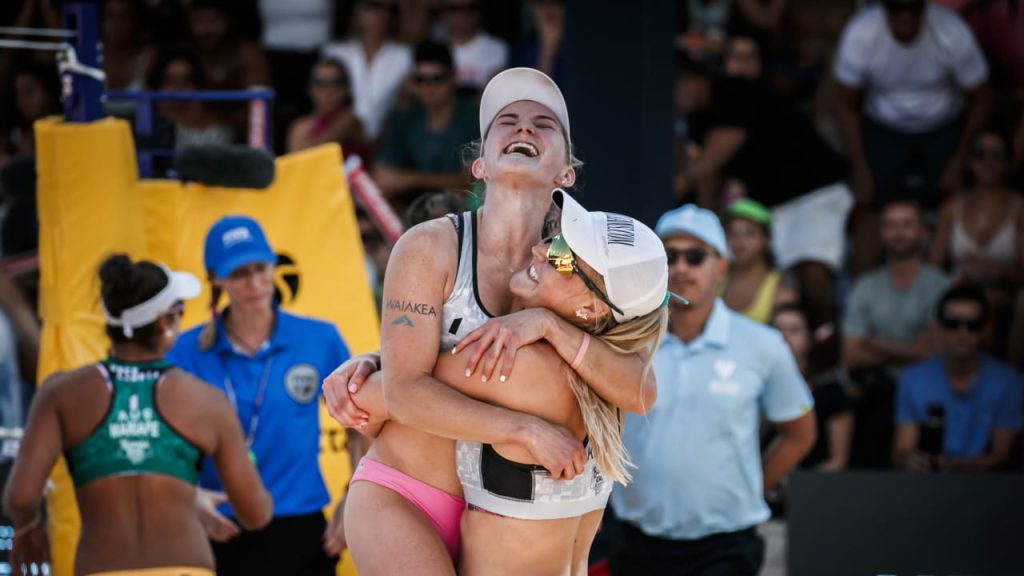 Last year's Uberlândia Elite16 champions Duda and Ana Patrícia made it to the podium again in the city where they live by topping Americans Kelly Cheng and Sara Hughes in two sets (21-16, 21-13) in the bronze medal match.
Earlier, in the semifinals, Clancy and Mariafe downed Duda and Ana Patrícia 2-0 (21-16, 25-23), while Kloth and Nuss prevailed in the all-American semifinal against Cheng and Hughes also in two sets (21-17, 21-11).
The next event on the 2023 Beach Pro Tour schedule will be the Madrid Futures, which will have the men playing in the Spanish capital from May 11-14 and the women competing from May 18-21. Ostrava, Czechia, will host the next Elite16 tournament from May 31-June 4.
NORCECA final positions
WOMEN 1. Nuss/Kloth (USA); 4. Cheng/Hughes (USA); 9. Cannon/Sponcil (USA); 13. Scoles/Flint (USA); 21. Kolinske/Harward(USA)
MEN 5. Schalk/Bourne (USA); 17. Schachter/Dearing (CAN); 21. Crabb/T. Sander (USA)