PONCE, PUERTO RICO, August 11, 2023.- Puerto Rico, host country of the XX Senior Women's Volleyball Pan American Cup, gave its fans another exciting match in five sets by defeating Colombia to claim the last available spot for the semifinals of the tournament that takes place at the Juan "Pachín" Vicens Auditorium in Ponce.
Puerto Rico made a great comeback after a 1-2 deficit in sets against Colombia to get the victory with scores of 25-20, 17-25, 20-25, 25-20,15-11.
The Puerto Ricans lost the fourth set, 17-19, but managed to tie it (19-19). Colombia called a timeout, but Puerto Rico returned to the court and took off, 21-19. Colombia requested its second time out. Dariana Hollingsworth, Pilar Victoriá, Paola Rojas and Alondra Vázquez made the four points needed to win the fifth set, the match and a ticket to the semifinal.
Alondra Vázquez was the best scorer for Puerto Rico with 18 points (18 kills), Dariana Hollinsgworth with 15 points (14 kills, 1 ace); and Pilar Victoria with 12 points, all in attacks. For Colombia, Ana Karina Olaya with 19 points (18 attacks, 1 ace); Dayana Segovia with 18 points (13 attacks, 2 blocks, 3 aces); and Amanda Coneo with 16 points (15 attacks, 1 block).
Puerto Rico and Colombia finished the game with the same attacks, 57-57. In blocks, the locals dominated Colombia, 8-6; and the South Americans beat Puerto Rico, 8-4, in aces.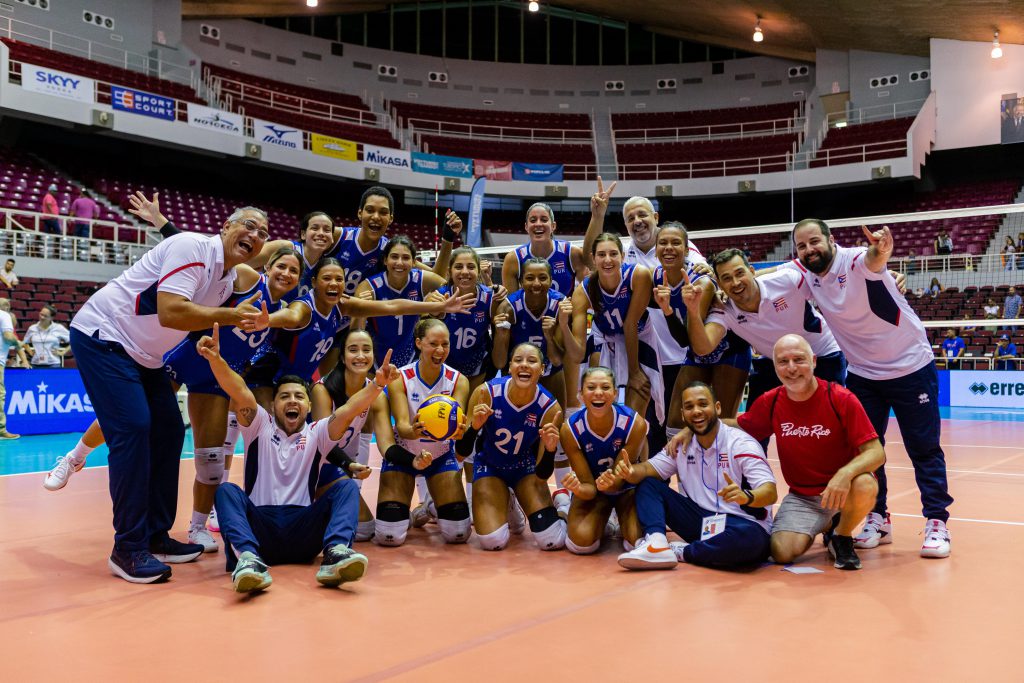 Colombia will play for the classification for positions 5 to 8 at 2:00 p.m. against Mexico, and Puerto Rico will face the Dominican Republic at 8:00 p.m. in the semifinal.
Fernando Morales, Coach of Puerto Rico: "It was a victory with a lot of character. I think yesterday's game drained us a bit, and we didn't have a lot of energy. This is the best victory of the summer because on a day when we weren't playing well and we were able to stay disciplined, patient, there was trust between them, we trusted the game plan and we were able to get it out. And great teams put out great games when they don't play well. Tomorrow, again, with the Dominican Republic we will do the same game plan that worked. We will see what we can change to take the victory. Being in the semifinal is another objective achieved and tomorrow is a fight, which is the first opportunity to win a medal. Let's go all out tomorrow."
Alondra Vázquez, Top Scorer for Puerto Rico: "We are happy because qualifying for the semifinals was one of our goals, as well as qualifying for the Pan American Games, and we also want to be on the medal podium. Colombia is a great team. We knew it would be a tough game, that we had to be patient, and we knew they were coming to play well too. At first, we started a bit cold, but then we warmed up. This is a team effort. We practice hard to work as a team, and I'm happy to be part of this teamwork."
Antonio Rizola Neto, Coach of Colombia: "The idea was always to reach the semifinal. We are making sacrifices with players who are not physically well, and with a setter because María Alejandra (Marín), our captain-setter, is not playing. Angie Melisa is standing out very well on her own with all the pressure on her, and it's very difficult. I don't have the option of taking her out of the court to preserve María Alejandra's health. We're not happy about not making it to the semifinal, but we must acknowledge that we played a 3-2 match very well and had the possibility of winning the game. I'm pleased with the commitment and fight of my team. Tomorrow we will continue fighting with the determination that characterizes our team."