QUEBEC CITY, CANADA. August 31, 2023: The 2023 NORCECA Senior Women's Volleyball Continental Championship saw its first five-set match today, with Puerto Rico beating Mexico 3-2 (27-25, 17-25, 14-25, 25-23, 15-11).
The first set was a back-and-forth battle, but Mexico handily won the next two. Puerto Rico adjusted its strategy to come back and win the fourth set and tie-break.
Despite the loss, Mexico had the edge in attack points (65-61), blocks (15-12), aces (6-2) and the teams were equal in errors at 23.
Mexico's Grecia Castro López led scoring with 23 points; while Puerto Rico's Paola Santiago was the winning teams top scorer with 20.
Puerto Rico will face Cuba in the quarterfinals tomorrow.
The tournament runs through to September 3 at the PEPS' Amphithéatre Desjardins-Université Laval, Quebec.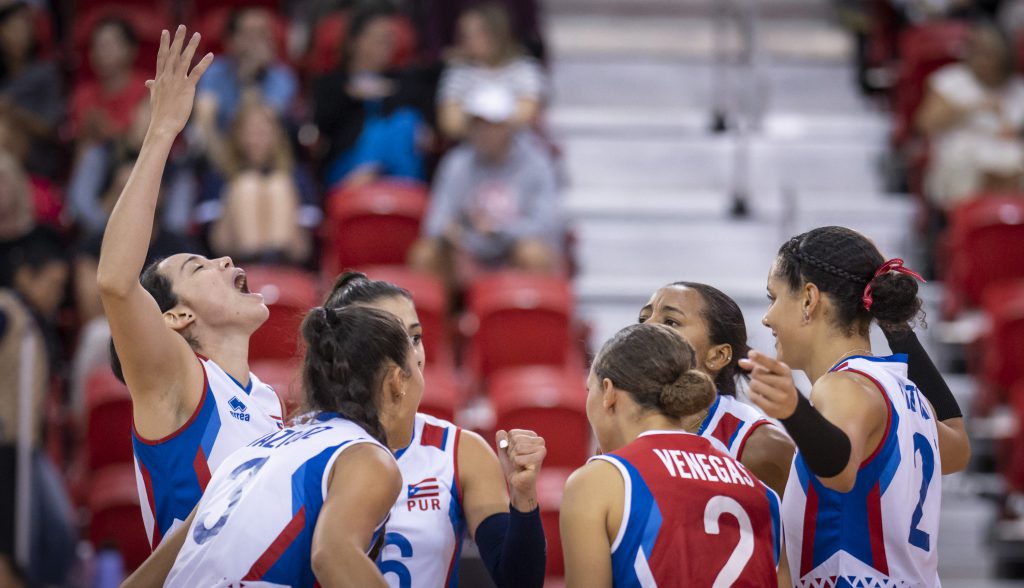 Fernando Morales, head coach of Puerto Rico: "Puerto Rico against Mexico is always a really hard match and almost always five sets. They came out strong and we didn't… the first set made it possible to go to five…. We adjusted our block, which was all over the place in the first three sets and then we adjusted – we blocked a lot of balls and it gave us a chance to dig a lot of balls in transition. … We are happy as we wanted to finish second and get a better match-up in the quarterfinals."
Nicola Negro, head coach of Mexico: "It was a game that I think honestly we could have closed 3-0. We managed the end of the first set really badly; and then won two sets at 17 and 14, so we could have put a big difference between us and Puerto Rico. But then when you let them come back, this is a team that knows how to play. The fourth set was point by point, and the tie-break we were already in a difficult position. This was a big chance for us to play Cuba tomorrow (in the quarterfinals) and to think that we could say something in this competition. But I know we have to work a lot – first of all on our mentality before the technical part of the game."