QUEBEC CITY, CANADA. August 31, 2023: Two top NORCECA teams faced off tonight in Quebec City at the 2023 NORCECA Senior Women's Volleyball Continental Championship, which runs until September 3 at the PEPS' Amphithéatre Desjardins-Université Laval.
It was Olympic gold medalists USA who came out on top 3-0 (25-22, 25-22, 25-16) despite a strong start by Dominican Republic.
USA was strong in its offense, and took 39 points on attack, compared with 33 by the Caribbean nation. The US also led in blocks (10-7) and made fewer errors 17, compared with 25. Dominican led in aces (3-1).
It was a team effort by USA, with Jordan Thompson leading in scoring with 15 points. Yonkaira Paola Peña and Brayelin Martinez led Dominican with 12 points each.
The win puts USA in the semis, while the Dominicans face Mexico at 5 pm Eastern time tomorrow in the quarterfinals. Puerto Rico and Cuba will play in the second quarterfinal at 7:30 pm local time.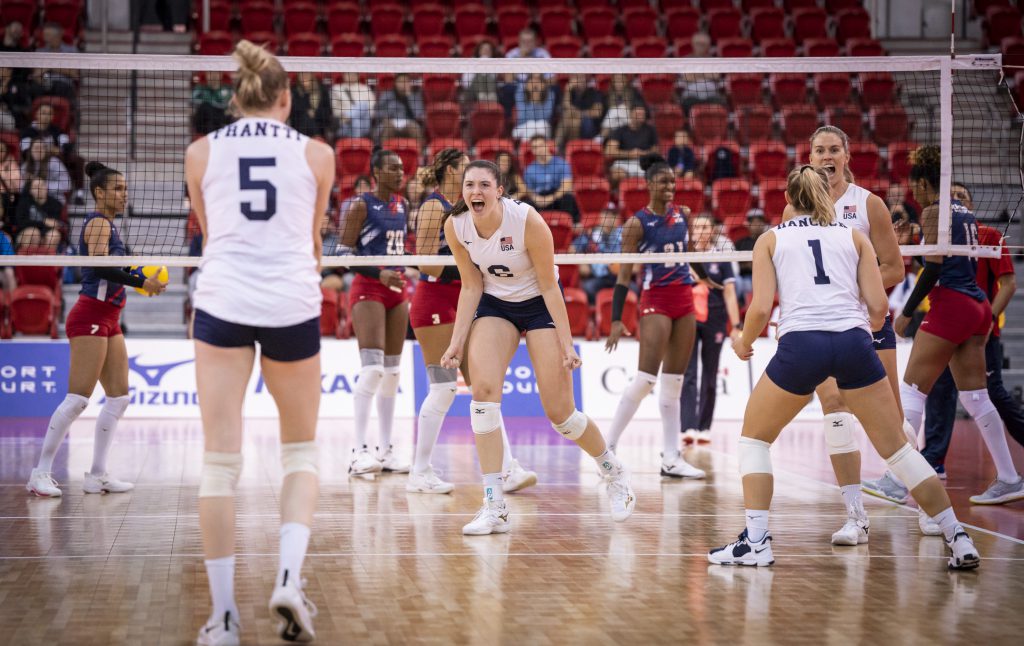 Karch Kiraly, head coach of USA: "Dominican is a really good team and a very dangerous team that eliminated Serbia from this year's VNL; that beat China, the silver medalist in VNL. We love it when we get a chance to play a really good team across the net. They started pushing us right out of the gate; we were not clean at all (in the first set). The good news was that we got better as we went along."
Marcos Kwiek, head coach of Dominican Republic: "I think we played two very good sets, at a high level, we started well, point by point. We dropped our intensity in the third set. The United States is a team that's very tough to face if you stop serving well because they play very fast. We had some good moments, and we need to take advantage of these matches at this level, these opportunities are good for our team's growth. Now, we need to prepare well to face Mexico in the quarterfinals, we'll study them, train for it tomorrow, and be ready."