POZA RICA, Mexico, November 12, 2023.- Puerto Rico defeated Mexico 3-1 (25-23, 24-26, 25-16, 25-20) to win the first edition of the NORCECA Boys' U17 Continental Championship on Sunday at Miguel Hidalgo Gymnasium in Poza Rica, Veracruz, Mexico.
Puerto Rico finished the event with a 5-0 record and Mexico with 5-1. Both teams, along with Cuba, qualified to the 2024 FIVB Boys' U17 World Championship, as the three top finishers of the NORCECA U17 Championship.
Puerto Rico's 14-7 advantage in blocks were crucial in winning the gold medal match, as well as their 30 points on Mexico's errors. Both teams leveled in 51 kill points. Mexico held a 7-4 margin in aces and scored on 20 opponent errors.
Opposite hitter Erick Vazquez of Puerto Rico scored a match-high of 25 points on 23 kills and two blocks. Middle blocker Fernando Castello contributed to the win with 15 points on match-high of 9 stuff blocks and 6 kills. Outside hitter Adrian Carrillo added 11 points.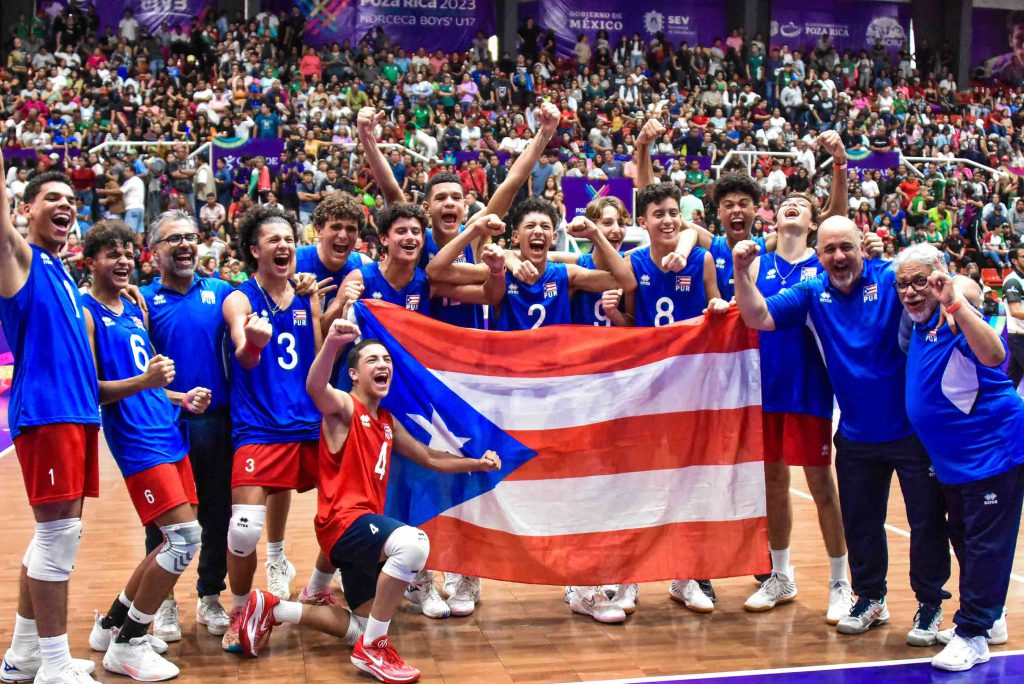 Outside hitter Emi Diaz led Mexico with 21 points on 17 kills, 5 blocks and a match-high of 4 aces. Opposite hitter Ricardo Gonzalez contributed 18 points on 17 kills and one ace.
Puerto Rico dominated the first set mainly with their tough kills, but Mexico managed to tie at 23 points with González's attack and Villalobos' block. However, Puerto Rico closed the set with an ace from Aponte. Mexico leveled the match winning the second after losing a set point to Castello's block. Puerto Rico controlled the third set, establishing a significant lead from the beginning (11-6), against an erratic opponent, and sealed the victory in the fourth set led by Vazquez and Castello, this last one secured the gold medal point with a stuff block".
Gustavo Alvarez, captain of Puerto Rico said "It's really exciting to win in front of the fans, a gym at its full capacity and it's an honor to win the tournament, I really liked the tournament. I believe our serves and defense were very effective to take the win".