PONCE, PUERTO RICO, August 7, 2023.- Puerto Rico and Argentina staged a five-set battle to close the second day of the XX Women Senior Pan American Cup at the Juan "Pachín" Vicéns Auditorium in Ponce.
Puerto Rico (2-0) marches undefeated in Group B by defeating Argentina (1-1) with scores of 20-25, 25-18, 25-18, 23-25 and 15-7.
The Boricuas made 22 blocking points, eight of them from middle blocker Paola Rojas who shined in the fifth set in her team's victory.
With the set tied, 6-6, the Puerto Ricans scored six consecutive points to take the lead, 12-6, and define the match.
Puerto Rican Brittany Abercrombie was the top scorer with 18 points (15 kills, 2 blocks, 1 ace); Pilar Victoria with 17 points (15 attacks, 2 blocks); and Paola Santiago with 15 points (11 attacks, 3 blocks and an ace).
From Argentina, Bianca Cugno with 13 points (9 kills, 3 blocks, one ace); Bianca Farriol with 13 points (8 kills, 5 blocks); and Candelaria Herrera with nine points (8 attacks, one block).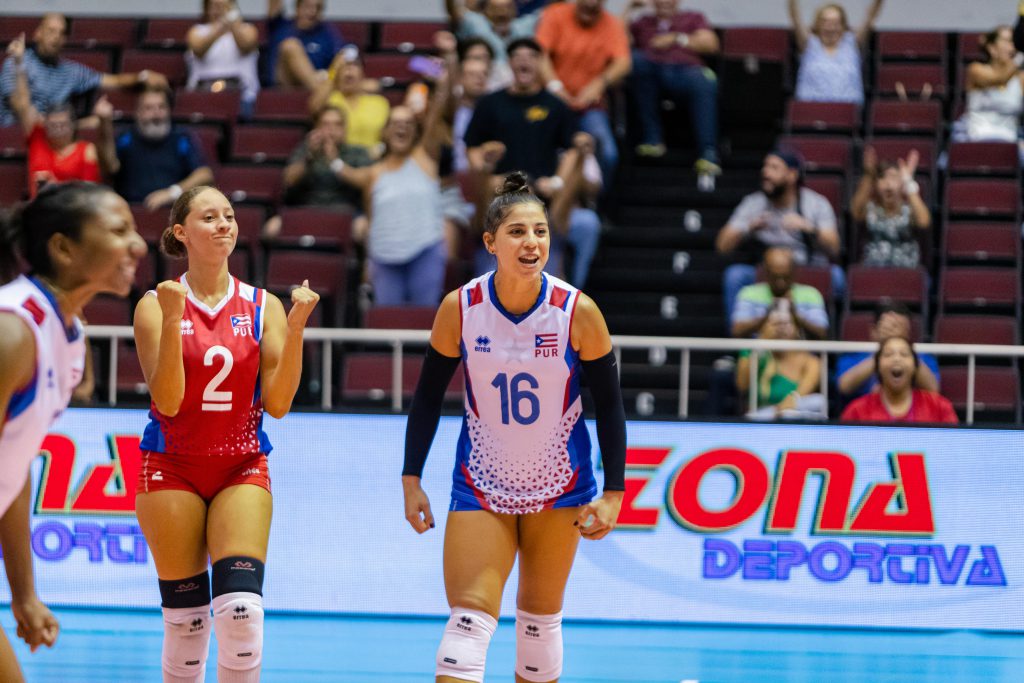 Puerto Rico will play tomorrow against Mexico (0-1) at 6:00 p.m., and Argentina (1-1) against the Dominican Republic (1-0) at 8:00 p.m.
Fernando Morales, Coach of Puerto Rico: "Puerto Rico is not known for its blocking but for its defense, but the blocking gave us the game in the fifth set. The game plan worked. The good news is that we were able to win without Brittany (Abercrombie), who was hurt. We stayed calm in the fifth set and were able to dominate. Tomorrow is the game (against Mexico) to secure the second position, and on Thursday to fight the first against the Dominican Republic".
Pilar Victoriá, Player from Puerto Rico: "It was a collective game. Those who came from the bench did the job and we played very united. We knew this game would be one of the hardest. We came to play, but obviously we wanted to win. We know that Argentina has a great history in South American volleyball and winning against Argentina is very important to us. We are happy to be able to win this game."
Daniel Jorge Castellani, Coach of Argentina: "It's a bitter result because I think we could have played a little better. It wasn't a good game for us but, nevertheless, what I rescue is what we fought for, we looked for solutions, options, and despite not having a great game, we were able to stay in the game and be competitive. At the end of the fifth set, the team fell off a bit."