SANTIAGO, Chile, October 21, 2023 – The Men's Beach Volleyball Tournament at the 2023 Santiago Pan American Games has reached a point of maximum anticipation where the top positions in each group will be decided on Monday will determine the top positions in each group.
In Group A, Mexicans Miguel Sarabia/Juan Virgen prevailed 2-0 (21-15, 21-17) against Rubén Mora/Dany Lopez (NCA), while Chile's Marco Grimalt/Esteban Grimalt defeated Giuliano Massare/Gonzalo Melgarejo (PAR) 2-0 (21-18, 21-13).
On Monday, Sarabia/Virgen will clash against the Grimalt cousins, champions of the last edition of the Pan American Games held in Lima in 2019, for first place of group A,
In Group B, Hagen Smith/Logan Webber (USA) had to dig deep to win 2-1 (21-15, 18-21, 15-10) against Andy Leonardo/Luis García (PANAM), while Hans Hannibal/Nicolás Llambías (URU) won 2-0 (21-16, 23-21) against Ruddy Salvatierra/Luis Calvo (BOL).
In Group C, George/Andre (BRA) continued without complications and prevailed 2-0 (21-15, 21-10) against Juan Noriega/Johan Murray (COL). Meanwhile, Noslen Diaz/Jorge Alayo (CUB) comfortably won 2-0 (21-13, 21-12) against Armando Guatemala/Franklin Flores (ESA), setting the stage for Brazil and Cuba to decide the group's top spot.
In Group D, Canadians Jake MacNeil/William Russell achieved a 2-0 victory (21-11, 21-14) against Daniel Dyner/Jhostin Varela of Costa Rica. Argentinians Nicolás Capogrosso/Tomás Capogrosso won 2-0 (21-17, 21-13) against Dany León/Marcos Tenorio of Ecuador.
This is the most challenging group, as Ecuadorians León/Tenorio's victory over Canada on the first day of competition, has left Argentina, Canada, and Ecuador with chances of qualification.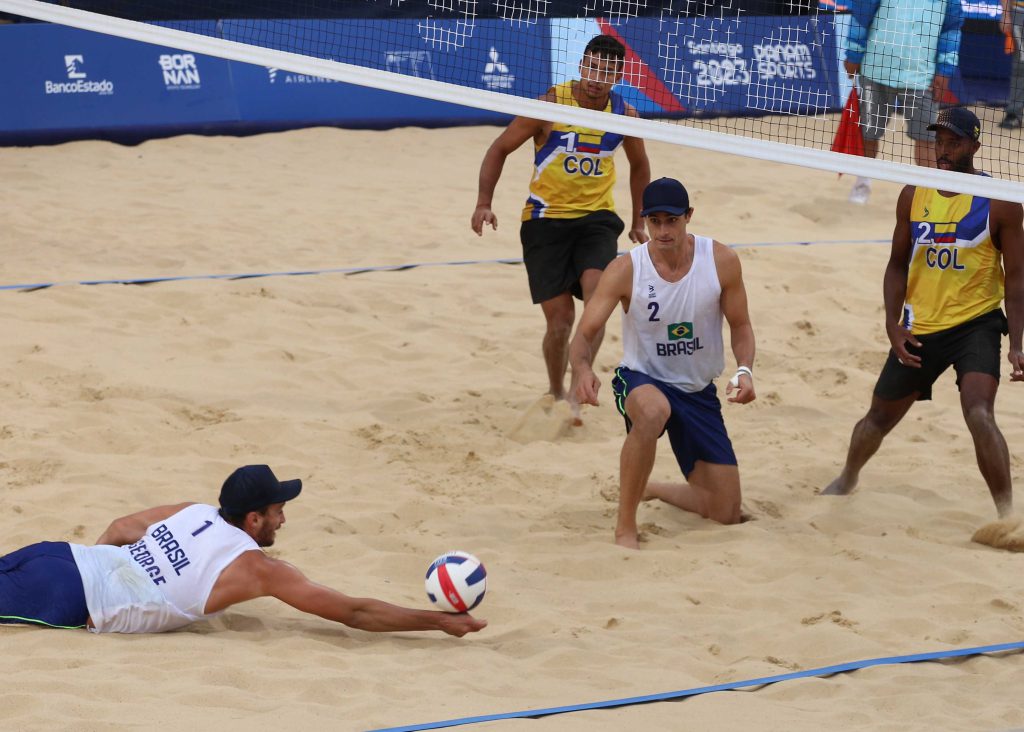 Monday's Matches:
MacNeil/Russell (CAN) vs Capogrosso N./Capogrosso T. (ARG) 12:30
Smith/Webber (USA) Hannibal/Llambías (URU) 13:00
D. Dyner/Varela (CRC) Leon/Marcos (ECU) 13:30
Blanco/Garcia (GUA) Salvatierra/Calvo (BOL) 14:00
Giuliano/Gonzalo (PAR) Mora/Lopez (NCA) 18:00
George/Andre (BRA) Diaz/Alayo (CUB) 18:30
Noriega/Murray (COL) Guatemala/Flores (ESA) 19:30
Grimalt M./Grimalt E. (CHI) Sarabia/Virgen (MEX) 20:00