SANTIAGO, Chile, October 30, 2023.- Host Chile got the 2023 Santiago Pan American Games off to a strong start with a 3-1 (25-20, 21-25, 25-22, 25-21) victory over Dominican Republic on Monday at the Arena Parque O'Higgins.
On day two of competition in Pool B, Chile (1-0) will face Puerto Rico (0-1), and the Dominican Republic (0-1) will go up against Argentina (1-0).
Chile didn't disappoint its fans in their first victory in Pool B, which started with a strongly contested first set that was tied at 14 points, and Chile managed to pull through on opponent errors and the offensive efforts of Vicente Parraguirre and Dusan Bonacic, which ultimately disrupted the Dominicans, led by Luther Rosario and Héctor Cruz.
Despite losing the second set, when the Dominican Republic made a comeback with consecutive points from Héctor Cruz, and supported by Rafael Burgos and Wilfrido Hernández, Chile managed to win the third set, maintaining a strong offense, and holding the lead from the beginning. Finally, Chile closed the victory in the fourth set.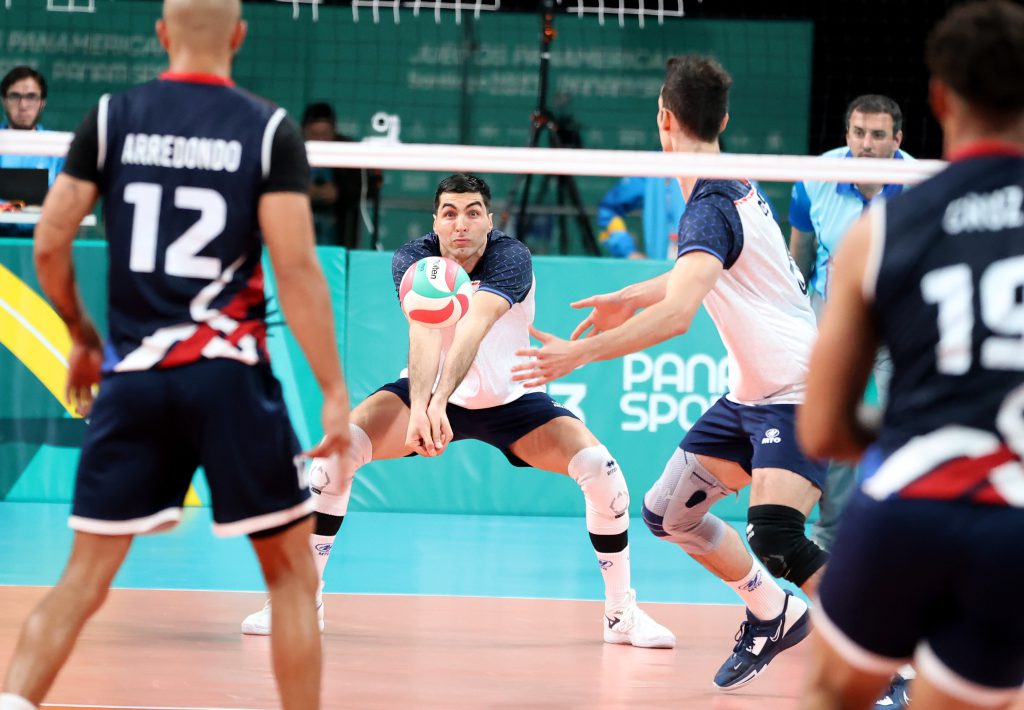 Chile led in attacks 52-46 and in service points 5-2, benefiting from 31 opponent errors against 26. The Dominican Republic dominated in blocks 14-8.
Chile's outside hitter, Vicente Parraguirre, led all scorers with 29 points on 22 attacks, 4 blocks, and 3 aces. Chile's captain, Dusan Bonacic, scored 14 points, all on attacks.
Héctor Cruz led the Dominican Republic with 22 points on 20 kills and two blocks. Wilfrido Hernández added 11 points on kills and Henry López contributed 10.
"Playing in an arena like this, with so many people who even after the match keep cheering, it fills my soul! It makes me love my country and our flag even more. We are very grateful for this packed arena; it was a dream come true", said Chile's captain, Dusan Bonacic. About the match, he commented, "It was very tough; the first set was challenging for us with good counterattacks, and we put pressure with serves. In the second set, after point 20, the Dominican Republic put a lot of pressure on us with their serve and counterattacks. But the second and third sets were really point by point; it was really beautiful to play, and we gave it our all to win. Now, it's late, and we have to rest because Puerto Rico is up next".
Dominican top scorer, Héctor Alexis Cruz, commented, "The match was very closely contested. We did a good job, there was little that we didn't adjust well. We're moving forward because it was only the first game, and we can continue to make adjustments".