SANTIAGO, Chile, October 31, 2023 – Cuba defeated Colombia 3-0 (25-22, 25-23, 25-23) in their second victory in the Men's Volleyball tournament at the 2023 Pan American Games in Santiago, held at the Parque O'Higgins Arena.
Cuba secured their spot in the next round with 2-0 record in Pool A and will face Brazil (10:30am) on Wednesday in their last pool-play match. Colombia is 0-2 and faces Mexico (1:30pm).
It wasn't easy for Cuba; in the first set they were carried by the offensive efforts of Alejandro Gonzalez and Miguel Angel López. However, in the second set, Colombia managed to push harder after recovering from a 5-point deficit (12-17) with Leandro Mejía's serves and Gustavo Larrahondo and Andrés Piza offense, in addition to Cuba's errors. The third set was tied at 21 points, with visible improvements in blocking from Colombia, but it wasn't enough to overcome Cuba's strength in attacks.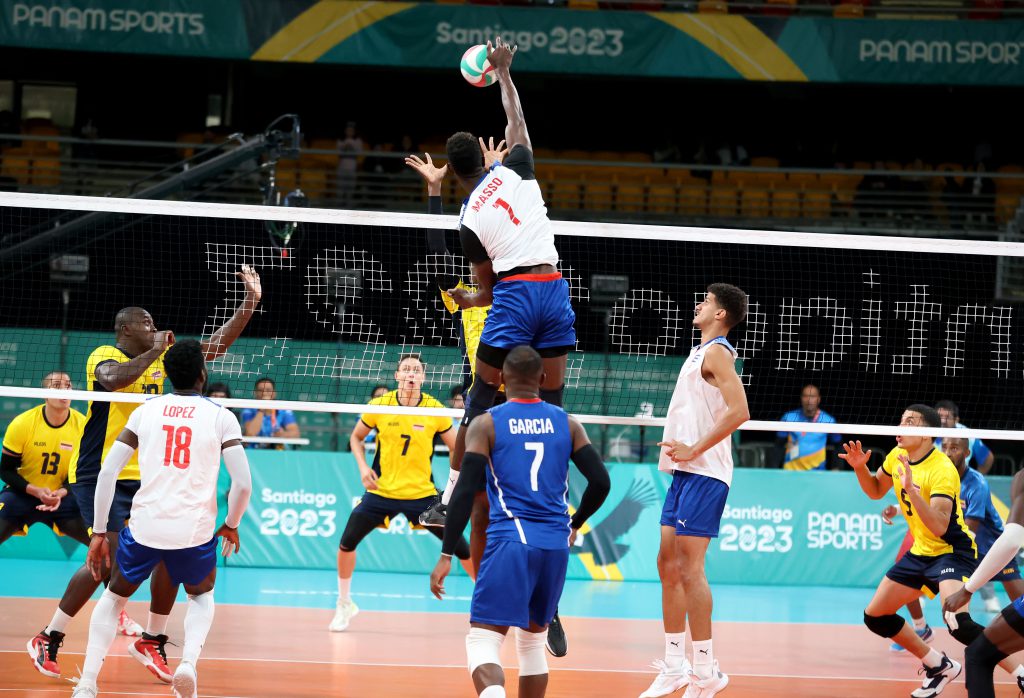 Cuba outperformed Colombia in attacks 36-25 and in service points 7-5. However, Colombia made fewer errors, 24-30. Both teams scored 8 points on blocks.
Cuban captain, Miguel Angel López, led all scorers with 20 points, on 13 kills, 3 blocks, and a match-high of 4 aces. Opposite Alejandro González contributed 16 points, also on 13 kills, one block and 2 aces.
For Colombia, the opposite Gustavo Larrahondo led with 12 points, on 10 kills, one block, and one service. Followed by outside hitter Andrés Piza, who had 9 points.
Cuban opposite Alejandro Gonzalez, stated, "The team's performance was very good. I arrived last night to join the team, but I felt very comfortable with the setter, and I was able to do my job well. We did everything we needed to do and won the match. I'm very happy and satisfied!"
Andrés Piza of Colombia said, "I think we fell a bit short. Colombia has much more to offer than what we showed. We want a medal in these Pan American Games, where the team has grown. Maybe we're not disappointed, but rather frustrated because we know we can play at a higher level. It's important to keep growing and training more to secure these sets in the future."