TEPIC, Mexico, March 23, 2023.- The last four spots in each gender in the main draw of the 2023 Volleyball World Beach Pro Tour Tepic Elite16 were filled on Wednesday, when the qualifier took place in the two sand courts set up at the Amado Nervo Auditorium.
After the completion of the 24 matches of the day, men's duos from Italy, the Netherlands and USA, and women's teams from France, Italy, Spain and USA earned the right of competing among the 16 tandems that will fight for the titles in Mexico.
Watch the Beach Pro Tour Tepic Elite16 live or on demand on VBTV.
The main draw begins on Thursday, at 9:00 local time (16:00 UTC) and the first 16 pool matches in each gender will be played. By the end of the day, each team will have played a pair of matches in Tepic.
Americans Tri Bourne and Chaim Schalk were among the four men's teams that succeeded in the men's qualifier. A new team for the 2023 season, the two are playing in just their second tournament as partners and looking to bounce back from a 19th-place finish last week in La Paz, where they dropped both of their matches.
"Honestly, we didn't feel at our best out there, but we're working, we're a new team," Schalk remarked. "We're working through stuff and it was awesome to find that energy and will to make it happen no matter what today. These qualifiers are absolutely gnarly, there are some amazing teams from all over the world here and to get through it was huge for us. We're hungry and want to make a long run in the tournament."
The Americans were challenged by a pair of Austrian teams on the qualifier in Tepic, overcoming Martin Ermacora and Philipp Waller in two sets (21-17, 21-15) and Robin Seidl and Moritz Pristauz in the tie-breaker (16-21, 21-19, 15-13).
Bourne and Schalk will be in Pool B in the main draw, where they're going to face Sweden's David Åhman/Jonatan Hellvig, Czechia's Ondrej Perusic/David Schweiner and Germany's Nils Ehlers/Clemens Wickler.
Their fellow Americans and former partners Trevor Crabb and Theo Brunner will complete Pool C, where they will compete with the Netherlands' Alexander Brouwer/Robert Meeuwsen, Italy's Adrian Carambula/Alex Ranghieri and Estonia's Kusti Nõlvak/Mart Tiisaar. The USA duo moved forward with triumphs over Canada's Sam Schachter/Dan Dearing and Brazil's Andre Loyola/George Wanderley.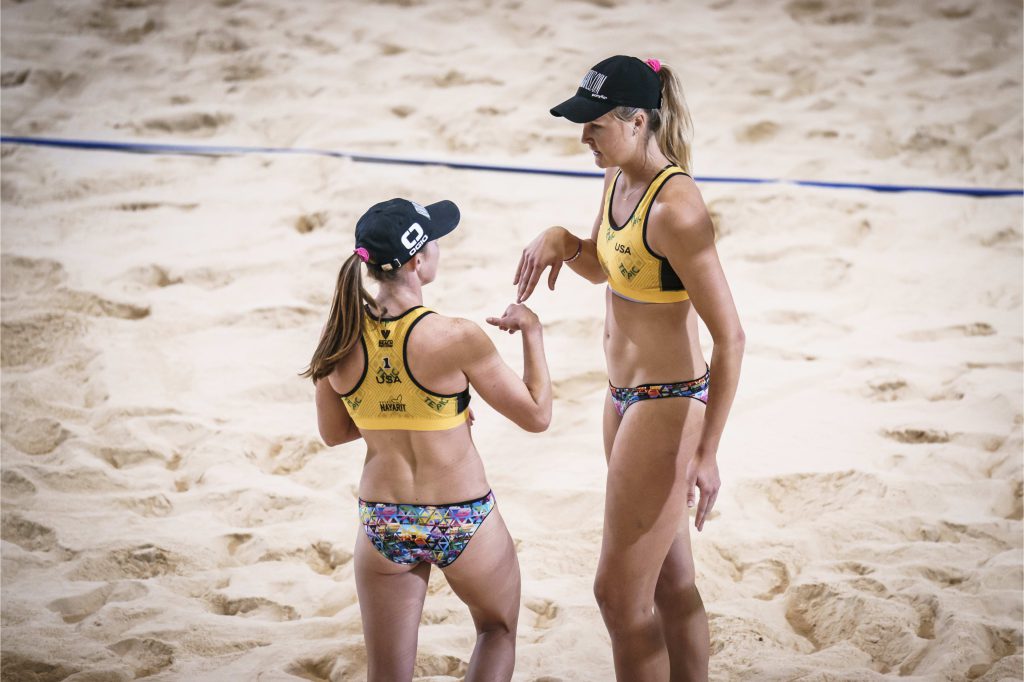 Beach Pro Tour Tepic Elite16 – Match Schedule & Results
Among the four women's teams advancing in the women's qualifier were USA's Taryn Kloth and Kristen Nuss, the winners of last week's La Paz Challenge. After topping Mexico's Esperanza Albarran/Yeray Vidaurrazaga and Japan's Miki Ishii/Sayaka Mizoe in the qualifier, they will now have fellow Americans Kelly Cheng and Sara Hughes, Australia's Mariafe Artacho/Taliqua Clancy and Mexico's Abril Flores/Atenas Gutierrez as their next opponents on Pool D.
10 NORCECA teams in the Main Draw
Women Sarah Hughes / Kelly Cheng – USA, Julia Scoles / Betsi Flint – USA, Melissa Humana-Paredes / Brandi Wilkerson – Canada, Sarah Pavan / Sophie Bukovec – Canada, Terese Cannon / Sarah Sponcil – USA, Atenas Gutierrez / Abril Flores – Mexico
Men Juan Virgen / Miguel Sarabia – Mexico, Tri Bourne / Chaim Schalk – USA, Trevor Crabb / Theo Brunner – USA