OSTRAVA, Czech Republic, May 31, 2023.- American men duos of Trevor Crabb & Theodore Brunner and Miles Partain & Andrew Benesh, USA's Terese Cannon & Sarah Sponcil and Canada's Melissa Humana-Paredes & Brandie Wilkerson in women, earned a spot in the main draw at the 2023 Volleyball World Beach Pro Tour Elite16 event in Ostrava that got underway on Wednesday with the qualification brackets.
· Watch all matches at the Beach Pro Tour Ostrava Elite16 event live on VBTV.
Cannon & Sponcil were the first team to qualify for Thursday's main draw. After a 2-0 (21-13, 21-15) shutout of China's Xinxin Wang & Lingdi Zhu, the Americans then faced Lithuania's Monika Paulikiene and Aine Raupelyte, and despite the opponents' driven performance in the first set, produced a 2-0 (22-20, 21-10) shutout.
Qualification bracket seeding leaders Melissa & Brandie were merciless in both of their matches, first cruising to a 2-0 (21-2, 21-7) blowout of Czechia's Anna Pavelkova & Katerina Pavelkova, then hammering out a 2-0 (21-17, 21-13) sweep of Switzerland's Esmee Bobner & Zoe Verge-Depre, to book the last vacancy in the 16-team women's main draw.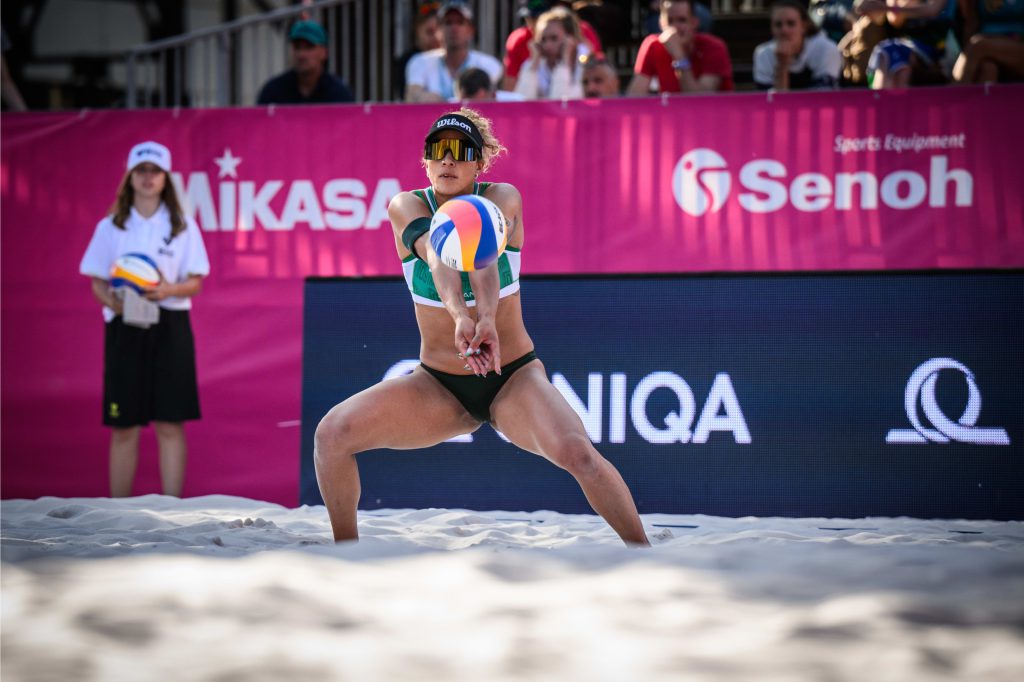 In men, Crabb & Brunner had to deal with a match against compatriots, but in the first round, when they claimed a 2-0 (21-15, 21-16) win over fellow Americans Chaim Schalk & Tri Bourne. Their second match offered a fierce three-set battle with Austria's Robin Seidl & Moritz Pristauz, in which Crabb & Brunner came back from a set down to squeeze out a narrow 2-1 (24-26, 21-18, 18-16) victory.
Partain & Benesh followed a similar path through the qualifier grind. First, they knocked out French hopefuls Arthur Canet & Teo Rotar with a 2-0 (21-15, 21-15) sweep, but then they had to battle back from a set down against Estonia's Kusti Nolvak & Mart Tiisaar to stop the clocks deep into the tie-breaker overtime at a 2-1 (15-21, 21-11, 19-17) victory.
Main draw action on Thursday starts at 08:30 local time (06:30 UTC) with women's pool play, as reigning world champions Eduarda Santos Lisboa (Duda) & Ana Patricia Ramos of Brazil take on reigning European champions Anastasija Samoilova & Tina Graudina of Latvia at centre court, while Cannon & Sponcil engage in an all-American duel with Taryn Kloth & Kristen Nuss on court 2.
Teams from NORCECA who entered the women's main draw from the beginning are all from USA: Sara Hughes/Kelly Cheng, Kristen Nuss/Taryn Kloth, Julia Scoles/Betsi Flint.