TEGUCIGALPA, Honduras, November 20, 2023.- Eight national teams will battle in Tegucigalpa, Honduras, at the first edition of the NORCECA Girls' Under 17 Continental Championship to earn three tickets to the inaugural FIVB Age-Group World Championship to be held in 2024.
The head coaches had the chance to give their first statements on the eve of the competition.
Amy Wilson, Head Coach of Canada: "Our team prepared by coming together and practicing, we also did some sessions on zoom for team bonding as we are spread out from across the country.  What I expect from this event is some self-growth, self-improvement within our athletes as well as our coaching staff, to continue to work hard and to get to the play-offs".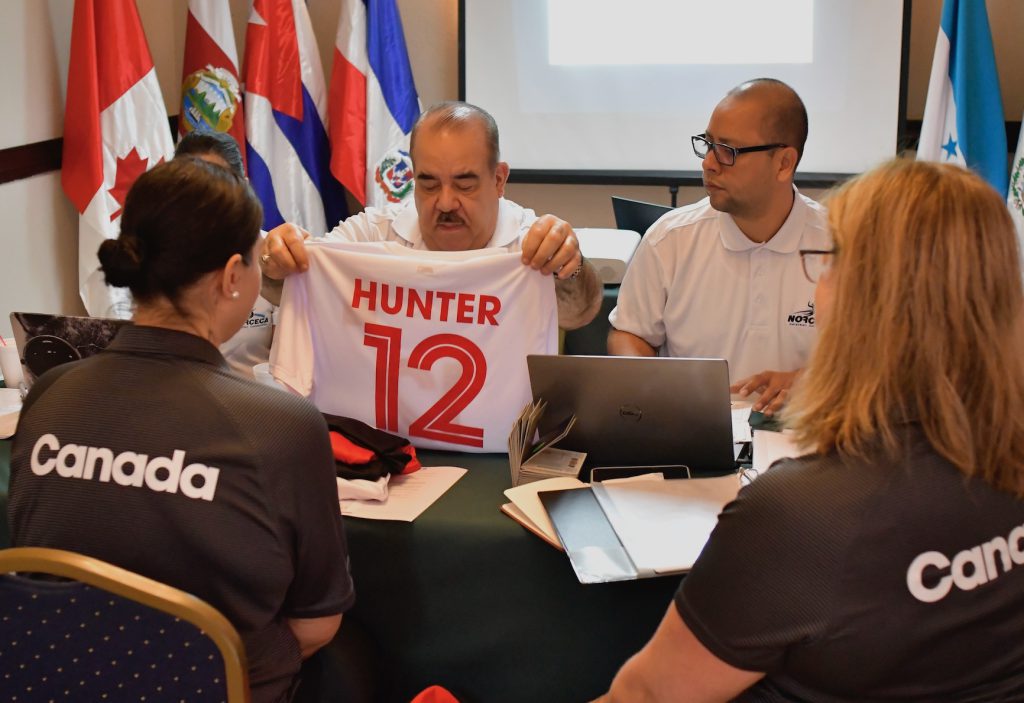 Nicolás Docquier, Head Coach of Costa Rica: "We have prepared very well, the girls have been in competition in our local tournaments and that gives us an advantage. We haven't had many days together, nevertheless, the athletes are committed to the team, it's a new experience for them and for me as head coach. We are excited, happy and we will give our all on the court".
Rogelio Goytizolo, Head Coach of Cuba: "It's really good that we are going to inaugurate a competition that had never been held before in the area. We are seeking an improvement in the performance of the women's team in Cuba, and it is very important to do it from the bases, creating a higher level of competitiveness. We hope to gain the best results from the competition. We are here to book a ticket to the World Championship; the girls are coming with high hopes to accomplish it".
Wilson Sánchez, Head Coach of Dominican Republic: "Being the first edition of this age-group event and considering that the players are younger, there will be a lot of pressure among them, but we hope to have a nice tournament regardless of that. Since there are no preparation matches, we will solve any difficulties that arise along the way. In this age-group, players want to show their abilities, so it will be a very nice tournament, and we are asking them to enjoy it, doing their best. The goal as a country, given the level of the Dominican Republic has shown, is to reach the finals".
Marcos Sugiyama, Head Coach of Honduras: "The team has been training hard for the past month and a half, and we are making changes so that the athletes stop thinking like they do in school training, to that of training in a national team; it has been positive to change the story we are building. The goal is to battle every day, play well every day, and be close to those national teams that win championships, the journey is long, but we are ready to battle".
Ignacio Sánchez, Head Coach of Mexico: "We are coming well, we have worked hard. We have selected players from all across the country, doing scouting during our national festivals. We think the team is strong enough to compete for a berth for Worlds and a medal".
Claudia Noguera, Head Coach of Nicaragua: "Like everyone in this tournament, the team is new, but we have four players who have competed in Central American events, in addition to their growth they have undergone in our national Under-19 league, and that brings a bit of experience. All of them are enthusiastic to represent the country in a first event of this age-group, which is important for the development of young athletes in Central American and NORCECA".
Juan Carlos Nuñez, Head Coach of Puerto Rico: "This is a valuable opportunity to be here at this tournament, it's the first time we call this age-group in Puerto Rico. It is a valuable opportunity to be in a tournament like this; its is the first call in Puerto Rico for this age-group. We are bringing talented girls, but due to the timing of the tournament, there were difficulties in gathering them and training for such an event. The athletes come from playing in the school tournament in Puerto Rico and have been active individually. As a team, we were together for a month, but not every day. I always set high goals, so we will aim to be in the top three positions".