TEGUCIGALPA, Honduras, November 18, 2023. – Mr. Félix Ambrosio Sabio González of Honduras was reelected President of the Association of Central American Volleyball Federations AFECAVOL for the 2024-2028 term during the 2023 Ordinary and Election General Assembly held in Tegucigalpa, Honduras on November 18.
The seven National Volleyball Federations of Central America chose Félix Sabio for a second term as the President of the Zonal Association, a member of the NORCECA Volleyball Confederation.
The AFECAVOL Executive Committee is composed as follows:
President: Félix Sabio González, Honduras
First Vice President: Bertha Cuadra Cuadra, Nicaragua
Second Vice President: Allan Sharp, Belize
General Secretary: Carlos Enrique Santis Rangel, Guatemala
Treasurer: Shean Jyh Liou, El Salvador
First Vocal: Carlos Echandi, Costa Rica
Second Vocal: Marco Pérez, Panama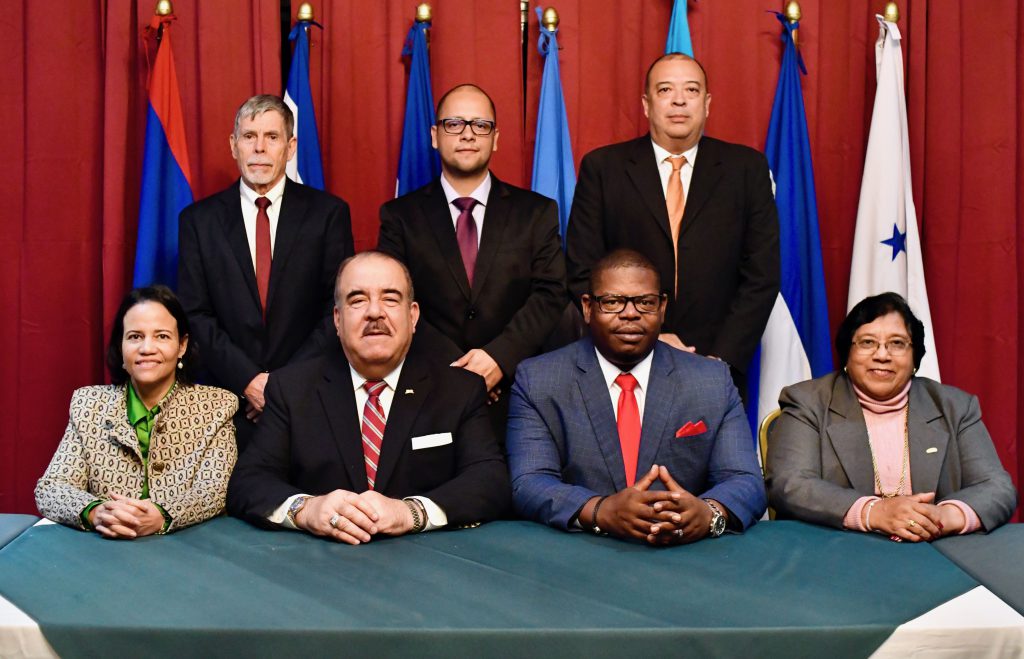 The Ordinary General Assembly had the active participation of NORCECA President, Mr. Cristóbal Marte Hoffiz, who addressed the assembly, commending AFECAVOL's work in 2023, stating, "Among the three Zonal Associations of NORCECA, AFECAVOL is an example of development and organization in our region. Its members have faced and overcome adversities in each of their countries, and with the work and assistance of NORCECA, they have managed to overcome them".
President Marte Hoffiz emphasized congratulating AFECAVOL for fulfilling its competition schedule and ensuring the development of volleyball in Central America.
"AFECAVOL is an institution that has looked after the development of the zone and not just an individual country. In that sense, the evaluation by NORCECA is positive", added Marte Hoffiz.
During the working session, the 2023 reports from the Presidency, Treasury, and Administrative Secretariat of AFECAVOL were approved. Additionally, working commissions presented reports for 2023 and proposals for 2024.
President Cristóbal Marte Hoffiz also presented the NORCECA Presidency report and informed the assembly that he would run for the NORCECA Presidency in the upcoming 2024 Congress for his last four-year term according to the FIVB constitution.
One of the highlights during the session was President Sabio´s new initiative and approval to create the AFECAVOL Women's and Men's Volleyball Final Four senior events, where the top four countries in the AFECAVOL ranking will compete.
In the 2024 plans, is the effort to organize the Central American Beach Volleyball Tour and incorporate it into the NORCECA Tour.
The host countries for the 2024 Competitions were also decided (dates to be confirmed).
Volleyball:
– VI Central American Women's U-23 Championship *rescheduled* (born in 2002) – El Salvador
– I Central American Girls' U17 Championship (born in 2008) – Nicaragua
– I Central American Boys' U17 Championship (born in 2008) – Costa Rica
– XV Central American Women's U19 Championship (born in 2006) – Honduras
– XV Central American Men's U19 Championship (born in 2006) – El Salvador
– XX Central American Women's U21 Championship (born in 2004) – Belize
– XX Central American Men's U21 Championship (born in 2004) – Panama
– I Central American Men's Final Four Championship – Guatemala
– I Central American Women's Final Four Championship – Costa Rica/Nicaragua/Honduras
Beach Volleyball:
– The AFECAVOL Executive Committee will session in a future date to decide dates, integrate events into the NORCECA Tour, and determine the host countries and dates for U17 and U19 Central American Championships.
President Félix Sabio expressed his gratitude for the commitment and support of all members in January 2020, just two months after the global Covid-19 pandemic declaration.
President Félix Sabio's message was of gratitude for the AFECAVOL members' commitment to support and contribute to his presidency when he took the position in January 2019, just two months before the global Covid-19 Pandemic was declared.
"We took on challenges and overcame them. We will continue to be a reference in NORCECA as the most active, organized, and forward-thinking Zonal Association. A lot of events are scheduled for 2024, where we will add four new events to our competition calendar, which I am convinced will be a success", said Félix Sabio.
He also informed the assembly that AFECAVOL's upcoming Assemblies will take place in November and concluded the session by thanking the trust and support of NORCECA President Cristóbal Marte and NORCECA General Director Arateide Cáceres".